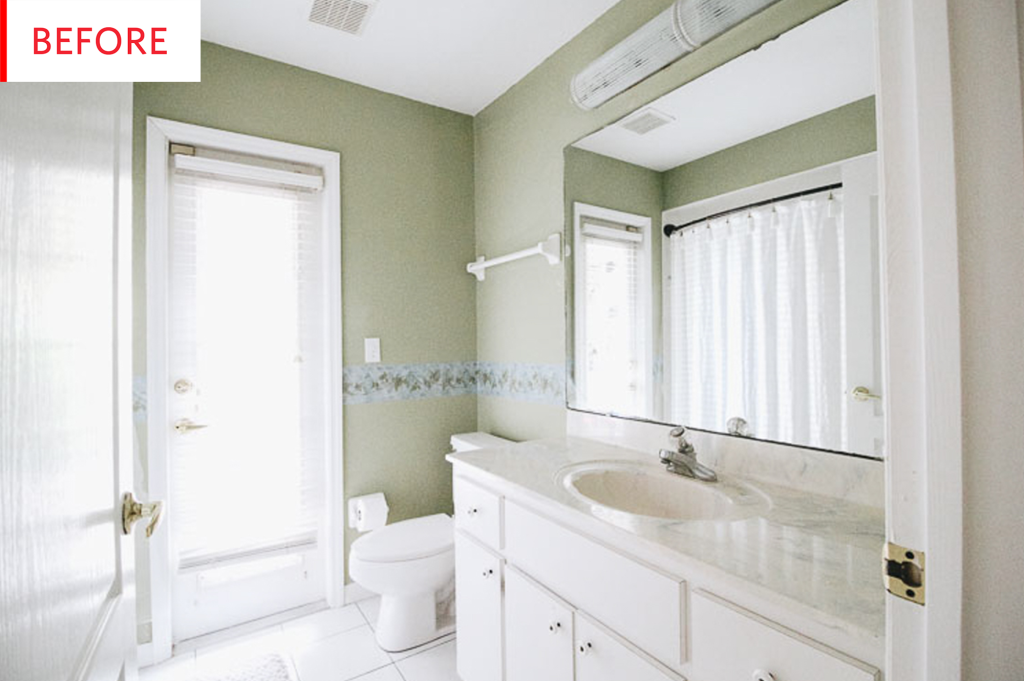 Although this guest bathroom had a lot going for it—spaciousness, tons of natural light, lots of counter space—it was also, in the words of its owner, "truly a flashback to 1993 in all its bathroom glory." The scalloped sink and peeled wallpaper had to go, so the entire bathroom got a 21st-century makeover.
It can be easy to leave a guest bathroom as a last priority, especially if you don't happen to have any guests, but this one is used on a regular basis:
Not only is this our guest bathroom, but it's also the bathroom our son uses. We wanted to create a bathroom that beautifully and calmly welcomed our guests, while also providing a space that would grow with our family. Being the DIY family that we are, we were anxious to tackle our first major renovation starting with this guest bathroom.
Elizabeth Rishel of Within the Grove rose to the occasion and created this wonderful sort of rustic-glam bathroom. The scallop tiles—so much better than a scalloped sink—have an Art Deco feel, while the black, white, and wood palette keeps things grounded. The faucet and mirror are simple but seriously stylish, the hand soap and candle are right at hand for guests, and the sconces are, again, glamorously rustic.
This 25-year-old bathroom certainly photographs nicely with all that bright light, clean white, and acres of storage, but Elizabeth is here to tell the real story:
Not a single design element had been touched in this guest bathroom since the home was built in the 1990s. The before is truly a flashback to 1993 in all its bathroom glory. We're talking about a scallop sink, layers of peeling wallpaper, '90s lighting, a drop-down ceiling over the shower, light blue grout, and a vanity that paint couldn't even save.
This vanity—handmade by Elizabeth by the way, no big deal—is ridiculously gorgeous. It's decidedly modern but it also has the gravitas of an antique piece. There's still plenty of storage, but now there's open storage that's much more helpful to guests.
The hexagonal floor is so beautiful and subtle; hex tile floors are often high contrast and boldly geometric, whereas this one is almost organic. The door, in addition to adding daylight and ventilation, is really lovely. The dark gray paint—Irony by Clare, which provided Within the Grove with free paint—frames the view through the door quite nicely and is a nice transition tone between all the black and white.
That stool is adorable, and it's always nice to have a spot in the bathroom to sit down and put on socks/tights, cut/paint toenails, or just rest while brushing teeth and perusing Twitter. The paint-dipped legs are a good touch, coordinating the stool with the wood vanity and its white top. And obviously a shoutout to the bamboo shade, which provides essential privacy while letting in a bit of light.
Since we already had this renovation on our to-do list, we decided to tackle it for the Fall 2018 One Room Challenge. We took this space down to the studs and transformed it within 33 days. With a budget of $2,000 we were able to stay under by renovating the space on our own.
Throughout the process there were a few setbacks and last-minute surprising decisions. Our wet saw broke from the very beginning, the wrong tile was purchased (we didn't know if we could find more of the original) and decided last minute to build our own vanity in hopes we could find a countertop in time. With everything that went wrong, the solutions beautifully worked in our favor to get everything done in time.
A last-minute vanity-building decision sounds incredibly stressful, so kudos to Elizabeth and family for being so good at rolling with the punches.
Here's a glimpse of that peeling wallpaper, as well as some excellent demolition and renovation advice from Elizabeth:
There are a few things we learned after completing our first renovation project. For starters, don't hesitate to say yes when a friend or family member offers to help or to ask for help yourself. Especially if you have little ones running around where it might make a renovation a little more difficult.
Also, clean up as you demo the space. Have a smaller bucket or trash can on hand so you can easily haul it off to the back of a truck or larger container. Which leads me to my last piece of advice: haul your demo away as soon as possible. You may need to borrow a friend's truck but you'll thank yourself at the end of a hard work day when you've already gotten rid of all the demo and it isn't sitting by the road.
The new towel hooks are a much better distance from the toilet, and those hooks are fantastic companions to the vanity. But who can look at anything besides that gorgeous tiled wall in all its monochromatic glory? Fortunately, Elizabeth loves it too:
The reveal of this bathroom is beyond what we expected since this was our first major renovation while also trying tiling for the first time. To see our vision come to life is what we truly love about this space. The simplicity of the design yet the shock value of the scallop tile in the shower will forever be our favorite part of the design.
If we could do one thing differently with this space, it would be how we completed the shower demo. We ended up destroying our bathtub during the process of taking down and installing new drywall and tiles by not covering the tub properly. It's something you'd never know from the photos. It ended up taking an extra day to fill in dents and paint our tub to make it like new again.
Thank you, Elizabeth Rishel of Within the Grove!