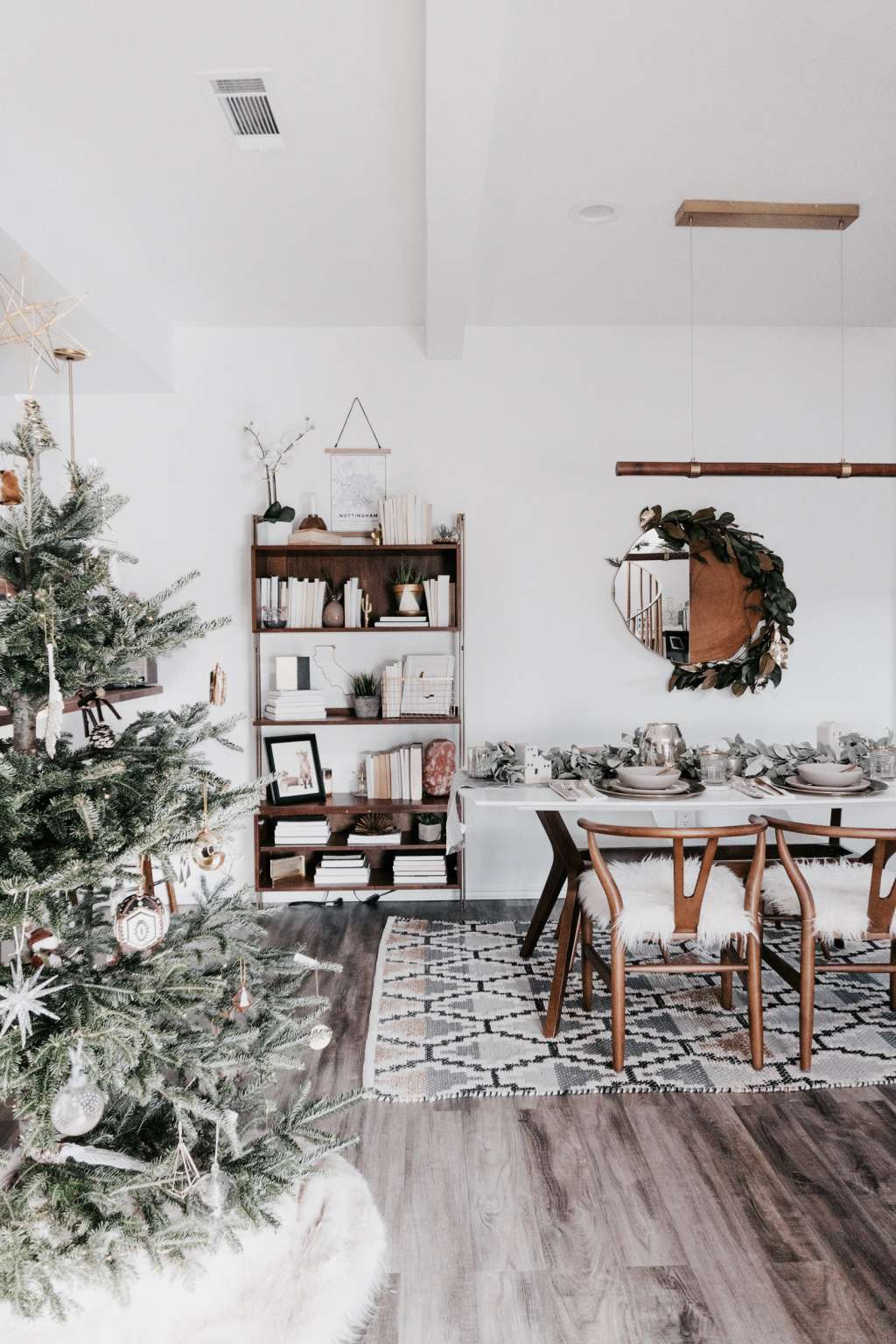 Name: Hannah Wilson and husband
Location: Dallas, Texas
Size: 1,300 square feet
Years Lived In: 6 months, owned
We've established a bit of a tradition around Christmastime here at Apartment Therapy in recent years: Checking in on recent favorite house tours to see how they've decorated their home for the holidays. Whether you're looking for extraordinarily last-minute decor inspiration, or, like me, you just love looking at a lovely spread of festive cheer, you'll enjoy the beautiful and boho vibes of this Dallas home decorated for Christmas.
The husband-and-wife design duo behind the home remodeling/design company called Blank Slate Renovations, Hannah Wilson and her husband totally redid the look of what was once a serious '80s-style nightmare into a modern Scandi/boho style dream.
Hannah wrote in her house tour survey that she's a "sucker for anything mid-century modern or Scandinavian/boho, and a combination of the two is even better! Clean lines mixed with various, natural textures is my element… At the moment, Scandinavian minimalism particularly intrigues me. I love how blending neutral palettes, organic materials, natural lighting, and live plants blurs the lines between the outdoors and indoors."
Now decorated for the holidays, you can see the couple has stuck with their Scandi/boho look even while getting festive. As with their everyday decor, their holiday decorations stick to a neutral color palette of soft colors derived from nature, and the dominant materials are natural, too. White and wood create a soothing environment, while adorable details bring joy. And just like how they use live plants around their home year long to infuse the space with an outdoors vibe, they made sure to incorporate live garlands and a live tree for their decor, as well.
"The goal for this year's Christmas theme was minimalism, with a neutral palette to complement our Scandi look. Instead of spending oodles of cash on festive decor, we attempted to blend our everyday look with pops of greenery, wooden garland, and a few twinkle lights—simple but jolly!" said Hannah.
Hannah says that she sourced many of their holiday decorations from stores like West Elm [she received some items from them for free, not in conjunction with this piece for Apartment Therapy, however], World Market, Target, and Hobby Lobby. "Some of the more personalized ornaments and figurines that have remained with us through the years have come from various handmade shops, such as Etsy."
Lastly, I asked her to share holiday decorating advice: "In order to avoid drastically changing themes every year—unless of course that's your thing (by all means do if it is!)—try to stick with pieces you really love. Neutral colors are pretty versatile and always help if you wanna change it up a little each year. At the end of the day, just do you. Whether it's with simple wooden beads or crazy hot pink tinsel; we all 'make merry' in our own way. So go for it! And have the very happiest of holidays."
To see their home not decked out for the holidays, check out their original house tour. And be sure to click on the before and after post to see what the condo looked like pre-remodel!
More beautiful homes decked out for the Christmas:
Thanks, Hannah!
---