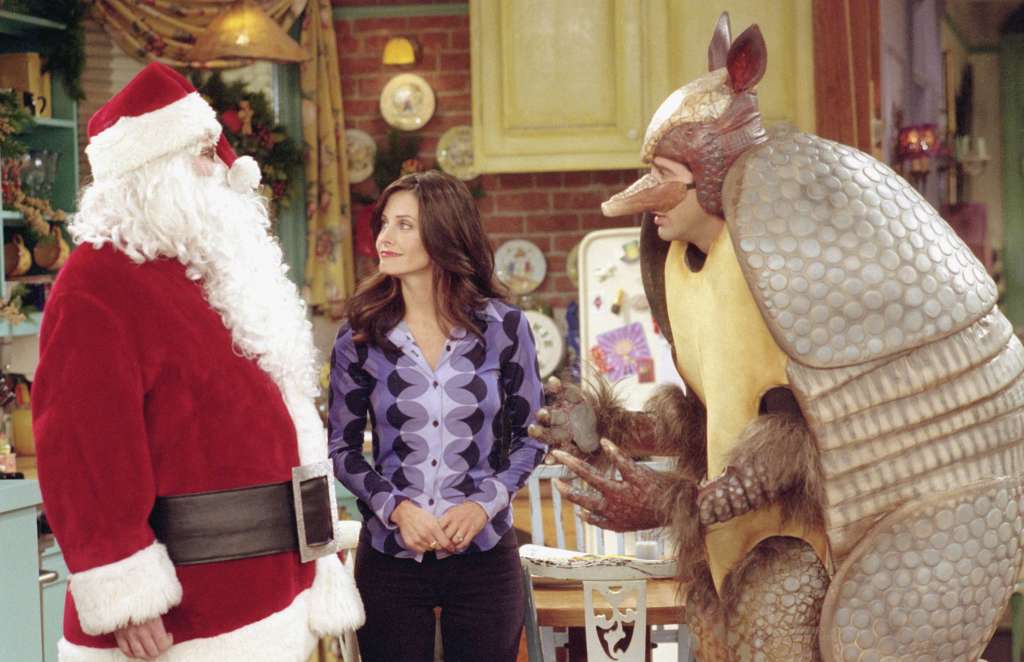 Any diehard "Friends" fan knows that the one holiday that truly belonged to our favorite six coffee addicts is Thanksgiving—with the eating pants, the ladyfingers and beef sautéed with peas and onions, and the truth about how Chandler lost a toe. But don't think for a second the show ignored this festive time of year. Monica, Chandler, Joey, Phoebe, Rachel, and Ross enjoyed hijinks around Hanukkah, Christmas, and New Year's, just as much as that other holiday. But which "Friends" holiday season episode reigns supreme? To figure it out, we weighed both the funny and the festive in all of the holiday episodes throughout the show's 10-season run. See where your favorite falls on our list.
11. Season 9, Episode 10: "The One with Christmas in Tulsa"
Barely even an episode, season 9's holiday outing is mostly just a clip show dedicated to Christmases past and the strength of Monica and Chandler's relationship (he's stuck working in Tulsa for the holidays). Listen, I'm always here for jokes about stolen ham and Chandler showing just how much he loves his wife (they're the best couple on "Friends," yeah I said it) by rejecting advances from a co-worker and quitting his job because he hates being so far from Monica, but this episode is only funny because of the clip montages from previous episodes. Hard pass!
10. Season 8, Episode 11: "The One with the Creepy Holiday Card"
Although it is a delight to watch Phoebe try to help a pregnant and horny Rachel by offering up (and then taking back) the Evander Holyfield cardboard cutout that helped her through her very randy pregnancy stage, the rest of this episode is a clunker. With Chandler spending time at the strip club with his newly single boss (Bing!), the only holiday storyline is left to Ross, who somehow gets stuck sending out holiday cards with his very new girlfriend, Mona. And by "somehow" I of course mean, he wants to avoid having the "Where is this going" conversation and ends up thinking sending joint holiday cards and saying "I love you" is the easier way. Oh, Ross.
9. Season 1, Episode 10: "The One with the Monkey"
The first "Friends" holiday episode isn't the funniest on this list, and its holiday spirit is mainly tied up in the pact the six pals make to go stag on New Year's Eve (a pact they of course all break, but through shenanigans end up alone anyway), but it is an excellent episode to watch if you're looking for the perfect early-season "Friends" time capsule. Marcel! Janice! David! Fun Bobby! Lots of important side characters make an appearance, and hey, that's always a good time. Unless you're Fun Bobby whose grandfather just died. Sorry, Fun Bobby.
8. Season 7, Episode 9: "The One with All the Candy"
Yes, this is all about Monica making some nice candy (some might call them "little drops of heaven") in an effort to get to know her neighbors better during the holidays and her neighbors turning into an angry mob demanding more and more candy (even Joey turns on her!), but it might be best remembered as the one when Phoebe learns how to ride a bike. Well, sort of learns. By the end of the episode, Ross has only gotten her on training wheels. As glorious as it is to watch Phoebe fulfill a dream, the episode is dampened by the whole "Rachel writes an inappropriate work evaluation for Tag" plot. More bikes, less tushy, I say.
7. Season 4, Episode 10: "The One with The Girl From Poughkeepsie"
"Monica, Monica, have a happy Hanukkah!" Phoebe's holiday song about her friends—well except for Rachel and Chandler—is the most holiday this episode gets, and there is a boring subplot about Ross getting exhausted from dating "long distance," but don't totally discount it. Both Chandler and Joey get a chance to show how much they care about their gal pals in their own unique ways: Chandler, yes, is a terrible wingman for Rachel, but he does try his best! And Joey helps Monica win respect from the waitstaff at her restaurant by becoming a waiter she can fire in front of them. Honestly, it's worth turning this episode on just to hear Joey say "It looks like it's going to be a lean Christmas at the Dragon house this year."
6. Season 3, Episode 10: "The One When Rachel Quits"
Well, it's definitely Gunther's worst Christmas. Emboldened by Chandler and Joey telling her that she needs the fear of unemployment to help her find her true calling, Rachel quits her job at Central Perk after proving time and time again that she is awful at being a waitress. It's horrible advice, but it does give us a moment to remember a time when we had to literally mail out resumes. And yes, this episode also gives us the delightful storyline of Ross having to sell "Brown Bird" (the "Friends" version of the Girl Scouts) cookies after accidentally breaking a Brown Bird's leg (oh hi, Mae Whitman!), but it will always be remembered for its ending in which the gang buys all the dead Christmas trees from the tree lot where Joey's working just to make Phoebe feel better about them "not fulfilling their destinies." It's always nice when "Friends" can make you both laugh and cry.
(Image credit: NBC / Getty Images)
5. Season 2, Episode 9: "The One with Phoebe's Dad"
Phoebs had some emotional holiday episodes in the first half of the series. Season 1 gave us her falling in love with David and then him leaving for Minsk, and in season 2 she learns that her father is not a "famous tree surgeon in Burma," but a pharmacist who lives in upstate New York. The holidays are rough for Phoebe Buffay! But this episode isn't. Full of heart and humor, Joey and Chandler offer moral support and tag along as Phoebe makes the trek upstate only to lose her nerve outside of her dad's house. Back in the city, Monica and Rachel's holiday party turns tropical when Ross breaks the radiator. Rachel utters the Ross burn, "nice seizing, gel boy" and honestly, that is one of the most underrated Friends lines in history. The best part though is Joey and Chandler's gas station gifts for the whole crew. Naturally, Phoebe loves her toilet seat covers.
4. Season 5, Episode 11: "The One with All the Resolutions"
What this episode lacks in festiveness—it takes place post-Christmas, just as New Year's Eve ends—it more than makes up for in jokes. I mean, you guys, this is the episode in which Ross, whose New Year's Resolution is to try something new every day, wears leather pants on a date. Is there anyone among us who does not now know that using baby powder followed by lotion will form some kind of paste? This is right in the middle of the "Monica and Chandler secretly date" arc—a thoroughly excellent run of episodes—so the best fallout from making a resolution is easily Rachel, who promises not to gossip, figuring out the Monica and Chandler are totally doing it. Watching Rachel and Joey, who was the first to know the truth, try to figure out if they both know the same thing is peak Friends.
3. Season 5, Episode 10: "The One with The Inappropriate Sister"
Who cares about the holidays, this episode is a goldmine of favorite "Friends" moments. Aside from Joey and Chandler inventing fireball, the main story is that Rachel's relationship with the cute guy in her building Danny is cut short when she sees just how "close" he is with his sister. I'll never not laugh at Joey's delayed realization that yes, Danny and Krista are siblings. But there's also Joey writing a play that forces Ross and Chandler to make up after a fight which includes the line "Could I be any more sorry?" and Ross and Monica demonstrate how they used to wrestle as kids. Of course, most appropriate to this list is Phoebe collecting holiday donations outside of Macy's. Does anything get you in the Christmas spirit as much as watching Phoebe yell at old ladies who are only trying to help?
2. Season 6, Episode 10: "The One with The Routine"
Please don't tell the Gellars that the routine came in second. Listen! It was so close. If not for the insanely cheesy—even for Friends standards—ending in which Joey and his hottie dancer roommate Janine finally kiss, the routine storyline alone could've taken first place. (Rachel, Phoebe, and Chandler trying to figure out where Monica hid their Christmas gifts is funny but not the winning storyline here.) The show seriously underused the dorky dynamic of the Gellar siblings, but when it had Monica and Ross let their sibling freak flags fly, oh, it was a magical thing to behold. From how excited they get when they're invited to dance at the pre-recorded bit of "Dick Clark's Rockin' New Year's Eve" to the actual routine they deploy in order to get primo placing on the set of the show, Monica and Ross are hilarious from start to finish in this episode.
1. Season 7, Episode 10: "The One with The Holiday Armadillo"
Is it the obvious choice? Sure. But is it deserving of the win? You bet. Not only is the A-story about Ross wanting to teach his son about Hanukkah and having it turn into a disaster both hilarious and thoughtful, the B-story in which Phoebe tries to ensure Rachel will move back in with her once their apartment is renovated even though she's having fun living with Joey is also excellent. It turns out Rachel, too, loves a drum set and she isn't the one scared of tarantulas—Joey is. Plus, any time you hear Chandler say "But I didn't get to shake my belly like a bowl full of jelly," an angel gets its wings. So yes, apparently Superman flew all of the Jews out of Egypt and also this Friends holiday episode is still the best.