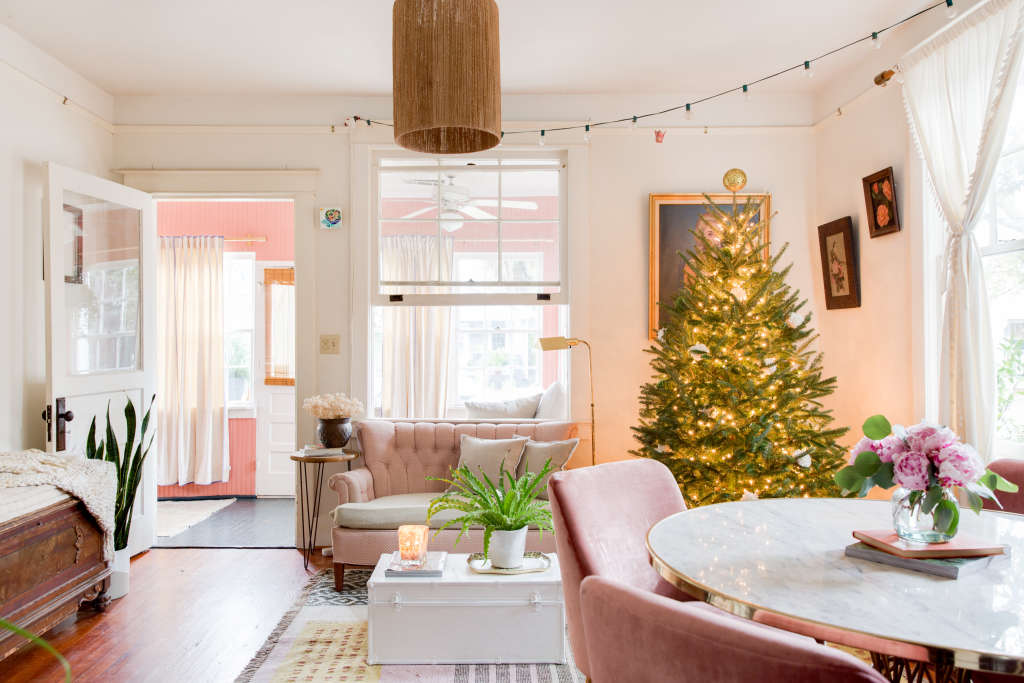 Name: Chambers Austelle
Location: Charleston, South Carolina
Size: 1,374 square feet
Years lived in: 5.5 years, renting
Chambers Austelle is a renowned artist based in Charleston, South Carolina. She's actually lived in Charleston all her life; she grew up learning to swim at her family home on East Battery. This connection to her city continues to be strong and she's heavily involved in the artistic community. Fittingly, she and her cute pup, Piper, live right in the heart of the action downtown in the quaintest little creative, art-filled bungalow.
Not only is Chambers an amazing contemporary painter, she also welds the Carolopolis Awards that are annually awarded to qualified property owners by the Preservation Society of Charleston; they are placed on historical homes that are recognized for the property's historic background, preservation, restoration, and rehabilitation.
Apartment Therapy Survey:
My Style: An eclectic mix of traditional and modern.
Inspiration: Parisian homes.
Favorite Element: The layout of the house. It has the best bones and I love how you navigate through the space.
Biggest Challenge: Dog hair!
What Friends Say: "Ugh, I love your house!" and "There's so many little rooms. It's like a 'Harry Potter' house."
Biggest Embarrassment: Again, dog hair!
Proudest DIY: The hand-painted accent wall in the foyer and the adjacent gallery wall. I scoured old antique stores for ornate, antique frames for the portraits by Janet Hill Studio.
Biggest Indulgence: My new vintage rug from Royal Rug Vintage.
Best Advice: Mix and match new with old. Make sure you're creating a space that fits you.
Dream Sources: Poppy Lane
Resources:
ENTRYWAY/PORCH
Console – Celadon
Candles, Woven Basket, and Books on Console – Celadon
Glass Table Lamp on Console – Target
Spider Plant – Hyams
Woven Planter – Celadon
Floor baskets – Celadon
Carlo Mid Century Chair – West Elm
Pillow — Celadon
Fiddle Leaf Fig Tree — Hyams
"Patience Is A Virtue" Print (sold out) – Chambers Austelle
Vintage Rug – Celadon
Copper Birdcage Pendant Light – Kekoni
Mid Century Wooden Curtain Rod – West Elm
Ivory Petra Velvet Curtains – Anthropologie
Mustard Daybed Quilt – Wayfair
Faux Fur Arctic Throw – West Elm
Daybed Pillows – Celadon
Rubber Plant and Wooden Stand – Celadon
Antique Iranian Rug
Banana Plant — Hyams
Antique Birdcage – Thrift store find
LIVING ROOM
Snake Plant — Hyams
Half Dipped Planter – West Elm
Antique Mirror
Antique Chest
Pillow Top – Pier One
Pillows – West Elm
Marled Basket Weave Throw – West Elm
Vintage Coat Rack
Antique Mirror
Stone Bust Planter — Hyams
Mini Vases – Celadon
Artwork – Chambers Austelle
Sherpa Stocking – Target
DIY Pom Pom Garland – Supplies from Artist and Craftsman Supply
Polka Dot Basket – Madewell
Throw – Celadon
Felt Mistletoe – West Elm
Seaford Pedestal Dining Table – Anthropologie
Velvet Elowen Dining Chairs – Anthropologie
Peony Floral Arrangement — Whole Foods
Hanging Planter — Hyams
Art – William Meisburger; tkerdman.com; Lydia Salais; Nic Jenkins; Chambers Austelle; Watercolor Portrait circa 1918
Mid Century Wooden Curtain Rod – West Elm
Palma Fringe Curtains – UO
Tree Skirt – Celadon
Grandmother's Portrait
Vintage Floral Paintings
Vintage Floor Lamp
Grandmother's 1940s Cocktail Couch
Throw Pillows – Celadon
Custom-made Side Table
Organic Mercury Candle – West Elm
Ikat Mix Rug – West Elm
FOYER
Antique Round Table
White Vase – Target
Vintage Red Rug – royalrugvintage
Terrace Floating Frame (photograph of grandmother and great uncle as children) – West Elm
Warwick Bar Cabinet – Target
Vases – Vintage finds
Marble Bottle Opener – West Elm
Bar Tray – West Elm
Landscape Painting – Chambers Austelle
Winter Floral Arrangement – Whole Foods
Yule Candle – 42 Pressed
Art – Family Portrait; janethillstudio; Vintage dog portrait; Katerina Popova; John Jamison; Chambers Austelle
Delford Arm Chair – Celadon
Grandmother's Antique Secretary
Mother's Clay Vase
Portrait of Tom Waits – Chambers Austelle
Rustic Living Rug – Anthropologie
Casper Modern Acrylic Chair – Amazon
Vintage Plant Stand
Mini Norfolk Pine Tree – Lowe's
Limited Edition Audubon Print – Hitnes
Antique Wall Mirror
Glass Pendant – Lowe's
KITCHEN
Hanging Planter – Celadon
Purple Clay Vase – Anthropologie
2019 Lemon Kitchen Wall Calendar – Rifle Paper Co.
Grandmother's Vintage Embroideries
Small Pink Vase – Celadon
Cooking Books – Celadon
Plants above Cabinets – Haegur
Vintage Rug Runner – Celadon
SHE DEN
Aubrey Sofa Gus* Modern – Iola Modern
Reddish/Pink Rug – World Market
Flokati Wool Shag Rug – UO
Lola Shag Throw Pillow – UO
Mongolian Lamb Pillow – West Elm
Honeycomb Velvet Pillow – West Elm
Acton Floor Lamp – Wayfair
PomPom Curtain – UO
Mid Century Wooden Curtain Rod – West Elm
Vintage Side Table
Art — Melodie Meadows; Blakely Little; Raven Roxanne; Meredith Steele; Sophie Treppendahl; Catherine print by Chambers Austelle; Tapestry – Rachel Denbow; Erin Armstrong;
Vintage Oval Mirror
Minsmere Caned Stand – Target
Disco Ball – Amazon
Pink Ceramic Coasters – Anthropologie
Glass Jug Vase – Target
Art — Tapestry Kristy Bisho; Gifted Portrait (I was commissioned by the granddaughter of the woman who painted this to recreate a portrait done of her, but hanging in another family member's home. Talk about full circle!); Jane print by Chambers Austelle
Round Mirror — Lowe's
HALLWAY TO BACK BATHROOM
Planter in Window — Hyams
Artwork — Karen Paavola
BACK BATHROOM
Round Mirror — Lowes
Palm Tree Print – Arielle Vey
All Over Fruits Shower Curtain – Urban Outfitters
Coral Bath Mat – Urban Outfitters
MUD ROOM
Painting – Chambers Austelle
Door Color – Behr Midnight Blue
Magnolia Wreath – Celadon
BEDROOM
Chair – Vintage find
Artwork above Chair – Chambers Austelle
Side Pom Sheer Curtains – PB Teen
Brass and Marble Curtain Rod – CB2
Juliette Print (sold out) – Chambers Austelle
Planter Basket – Celadon
Vintage Side Table
Antique Dresser
Candle – Celadon
Art Print above Bed – Rosie Harbottle
Cream Eyelash Grid Quilt – Target
Soft Rose Belgian Flax Linen Duvet Cover – Pottery Barn
White Matelasse Euro Pillows – Target
Euro Sherpa Throw Pillow – Target
Pommed Jute Pillow – Anthropologie
Happy Sun Pillow – Oh Joy
Faux Fur Knitted Throw – Pottery Barn
Souk Wool Rug – West Elm
Woven Basket – Celadon
Vintage Peach Dresser
White Ceramic Lamp – Celadon
Painting — Chambers Austelle
42 Pressed Charleston Print — 42 Pressed
Graphic Woven Basket Hamper – West Elm
Bamboo Ladder – Celadon
White Cotton Throw Blanket – Celadon
Grandmother's Vintage Gardening Hat
HALLWAY
Blue and Yellow Penelope Print — Chambers Austelle
Painting — Chambers Austelle
Photograph — Chambers Austelle
Vintage Phone
Nook painted Behr Midnight Blue
BATHROOM
Dyptich Painting – Alex Waggoner
Bamboo Bathroom Tray – Amazon
Painting – Chambers Austelle
Candle – Celadon
Marble Bowls – Celadon
Pink Bath Salts – Target
Pothos (plants) – Lowe's
Hanging Planter – Celadon
Vintage Rug Runner – Celadon
Magical Thinking Pompom Shower Curtain – Urban Outfitters
Thanks, Chambers!
---
Apartment Therapy supports our readers with carefully chosen product recommendations to improve life at home. You support us through our independently chosen links, many of which earn us a commission.