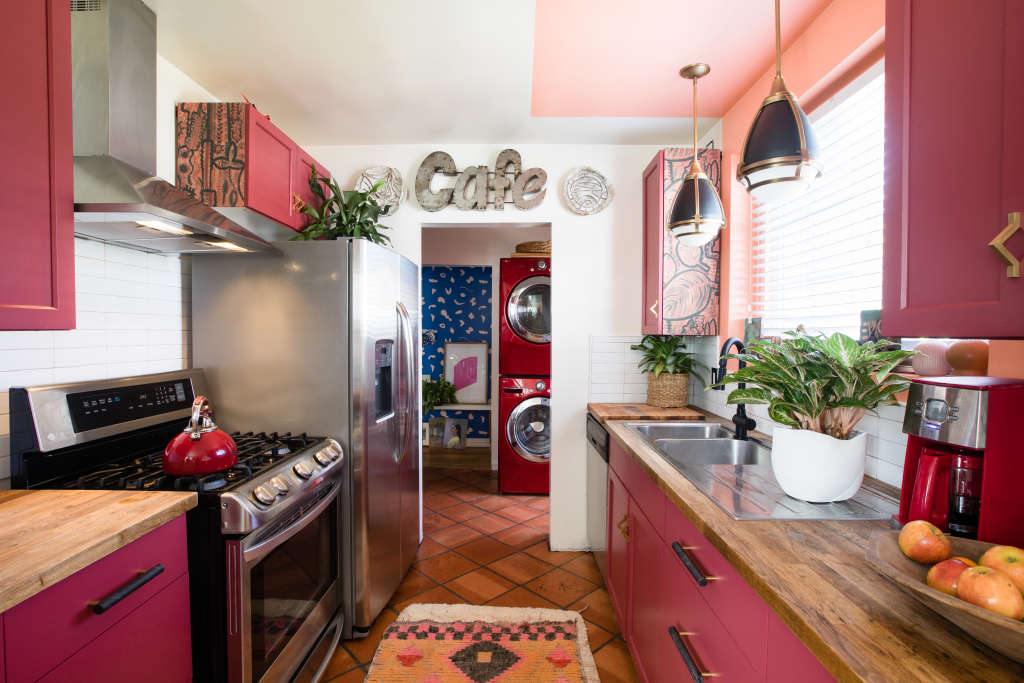 Is it just me or are kitchens getting more colorful year after year? In 2018, we saw a number of stunning tours from all over the world. Murals seem to be an emerging trend. And wallpaper continues to be a new classic all over the house. But I also saw a few kitchens with colorful cabinet treatments that I truly adored. Below, my favorite uses of kitchen cabinet color this year.
Mila Moraga-Holz's space is one of the homes that featured pretty amazing hand-painted murals, and the pink-themed paint job on the accent wall behind her breakfast nook is beautiful. Complementing the mural is a custom color job to her kitchen cabinets, painted in a Benjamin Moore custom color inspired by Farrow & Ball's "Radicchio."
Ginevra Held's home that she shares with her mom is basically bursting at the seams with a rainbow of hues, but it was the subtly colorful paint job in the kitchen that most caught my eye. Using "Charlotte's Locks" by Farrow & Ball on the crown molding and on the cabinet supports, and leaving the cabinet door faces white, creates a lot of color interest but without the use of all that much color.
Sort of similar to the two-tone paint job in the home above, Peter and Jana Deeble have a contrasting vibe in their kitchen, too. Though there's no "color" officially used, leaving the drawer and door fronts paint-free allows for the beauty of the wood to shine through, while appearing modern.
Emily Yeskel Rubin has color in just about every room of her home, and the kitchen is no exception. A deep, glossy mix between a hunter green and a Kelly green, the bottom counters both anchor the space and infuse the room with energy.
Another color-through-the-whole house tour was jewelry designer Pippa Small's space. Of particular interest was how she combined a seafoam green on the cabinets right next to a lavender-hued wall.
Harry Nuriev sent shock waves through the design world when he burst out onto the scene earlier this year. His Brooklyn abode featured custom-made, one-of-a-kind, ultra-modern furniture and a pendant light made out of ballpoint pens. And his sleek kitchen's cabinets show just how powerful a rich cobalt blue can be when paired with modern lines.
Another bold blue showed up in a kitchen in Los Angeles in the home of Bitsie Tulloch and David Giuntoli. Concentrated on the kitchen island's bottom cabinets and topped with a dark-colored countertop, it's a mix that's at once traditional and contemporary.
Tam-Anh and Ricky live in a pretty darn enviable loft in Oakland. While there's plenty to love, their kitchen made me go total "heart eye emoji." What makes their kitchen so special is the mid-range blue paint color that is splashed across the inexpensive cabinetry, the backsplash, and the wall above the top cabinets. It makes for one serious visual statement.
Is gold a color? When it shows up on your kitchen cabinets, I think it counts. Jennifer Li's small Oakland apartment wowed on many fronts, but it was the gold polka dot kitchen cabinet door fronts that put it on my list of favorites this year.