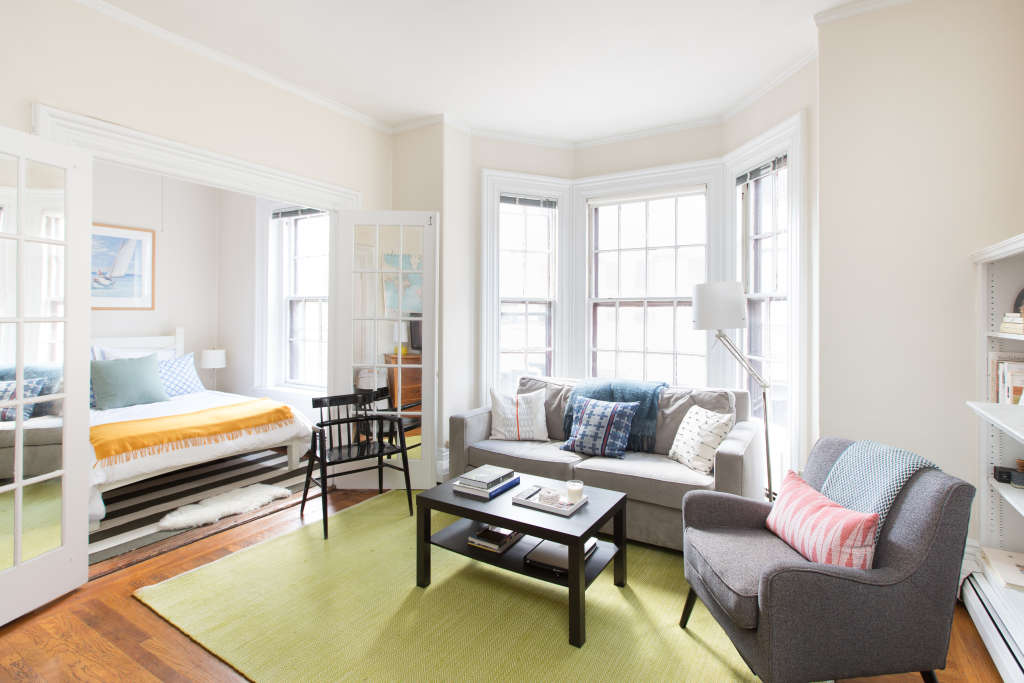 If you're looking for the best way to maximize a one-bed or studio, here's an unexpected source: New York City real estate agents, who are in and out of these small apartments all day long. Here, seven of the smartest real world small-space hacks these agents have ever seen.
Trundle beds
"The sweetest thing I've seen in a one bedroom was in the home of a single mom who had a trundle mattress underneath her four poster bed. She'd pull [it] out for her four-year-old daughter in the evenings. Half the room was a kids' room, with stuffed toys and books, and the other side was decorated for the mom. It was definitely a huge space-saver!"
—Samantha Rose Frith, Warburg Realty
Bookshelves turned room dividers
"I once walked into a studio where the owners used a large bookcase to divide the room. They filled the top shelves with books that created a fun and functional display and used the bottom shelves for extra hidden storage. I always recommend this to my clients!"
—Maggie Fanney, Compass Real Estate
Storage where you can find it
"If you're one of those people who orders take-out (because, well, who cooks in New York City?), do what many people do in the apartments I've shown: Store your sweaters—and your shoes—in unused kitchen cabinets!"
—Philip Salem, Triplemint
Makeshift pantries
"Living with our 21-month-old son in a studio, we've figured out lots of clever ways to make space where it doesn't exist. One example of this is our IKEA BRUSALI cabinet. It's been our son's 'pantry' since he was born, allowing us to easily transition him from breastfeeding to solid food; from pumping equipment and bottles; to silverware, food containers, and his favorite snacks. It's a lifesaver for those of us who like to be systematic and organized."
—Gina Ko, Triplemint
Storage beds
"I've seen a lot of ways people make great use of small spaces but my favorite is definitely a hydraulic lift bed. It makes storage so much more accessible!"
—Joan Kagan, Triplemint
Hidden storage
"The best spaces I've seen used a combination of hidden storage and shelving to make a home look organized. Sofas, ottomans, coffee tables and benches with hidden, built-in storage space offer dual-functionality and allow homeowners to easily access frequently-used items without having them laying around the apartment. I also love leaning ladder shelves, as they offer plenty of space for books and other decorative items without cramping a living area."
—Stephan Giordani, Triplemint
Over-the-door storage
"One of the great ideas I've seen is to use a hanging shoe storage unit on the back of a door to hold cleaning products, towels, socks and other small clothing items. It makes a big difference when you don't have a lot of storage space."
—Lynda Lee, DJK Residential
Responses have been edited for length and clarity.