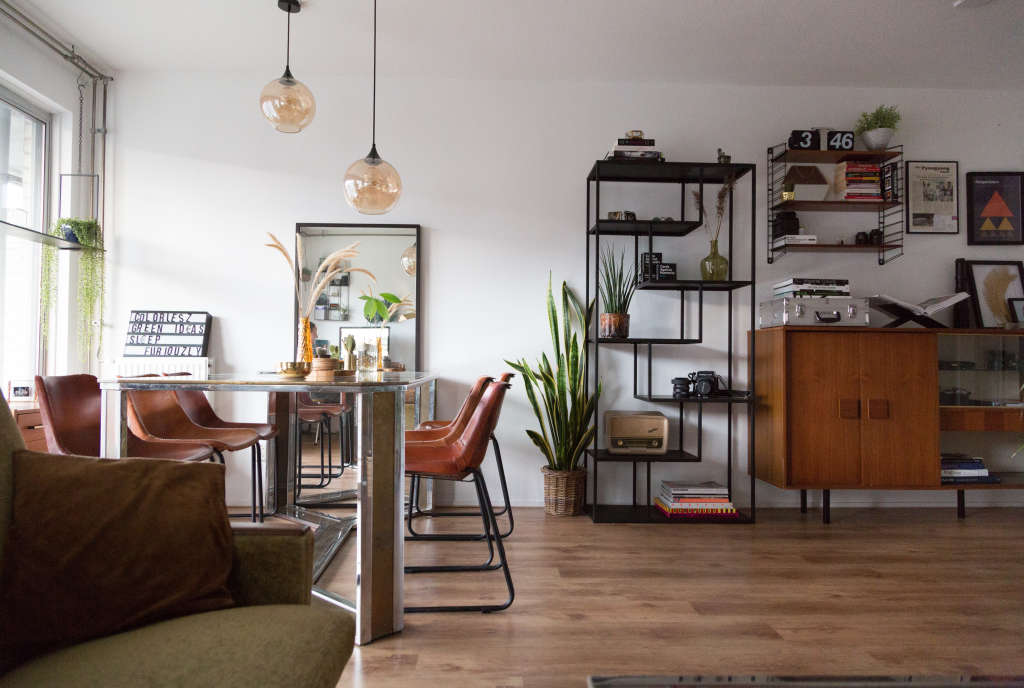 Name: Desiré van den Berg and her sister
Location: Amsterdam, Netherlands
Size: 775 square feet
Years lived in: 1 year, renting
Desiré has a talent for decorating her space on a budget. "My whole living room, I'd say—under 1000 euro." This includes seating, a coffee table, dining table set, and framed art. Not only does the space feel cohesive, but she threw it all together within a week of moving in. Although she hasn't spent much—or any—time in California, the space feels very 1970s-era Southern California. Even though it was an overcast Amsterdam afternoon, the natural tones and hanging lamps had me feeling like Megan Draper's West Coast apartment was just down the hall.
You saw a sneak peek of her apartment in her house call last month. But she does such a good job mixing cheap/budget vintage finds into an elegant, curated space that looks modern and more expensive than it is, she deserves a full tour.
The Dutch photographer has traveled extensively and has friends around the world—this is reflected in her space. Dim sum magnets are a nod to her time living in Hong Kong while a North Korean propaganda poster and newspaper are gifts from her dear friend who lives in South Korea.
Apartment Therapy Survey:
My Style: Seventies, mid-century and a bit of Hollywood Regency—but on a budget.
Inspiration: Cities like Hong Kong, Johannesburg and Berlin. Also politics and philosophy.
Favorite Element: My dining table. A designer vintage collector I know thinks it's Rizzo, but I wouldn't know, as I found it for free.
Biggest Challenge: Finding furniture in the exact style and colors I want for exceptionally cheap. When I say cheap, I mean cheap-cheap. Like in between "pick up ASAP for free" to 100 euros max per piece.
What Friends Say: A week after I moved in and everything was already fully decorated: "It's like you've always lived here"
Biggest Embarrassment: Half of my plants are fake.
Proudest DIY: My framed photos, postcards, receipts, letters and tickets.
Biggest Indulgence: When the sun starts setting, it shines beautifully into my living room. My glass tables and the big mirror make it feel as if the place is truly bathing in sunlight.
Best Advice: When searching for cheap second-hand furniture online, type in simple keywords describing the items like wood, brown, chrome or brass. Try to avoid terms such as "mid-century" or "Scandinavian," as only people who know what their items are worth would use these words. I've found a lot of incredible furniture online for free because people had to get rid of the interior of a deceased loved one and just put one crappy photo online and words describing how it looks, without knowing its value.
Resources:
LIVING ROOM
The three art prints I have framed ("Determinism"/ "Realism" and "Perspectivism") are designed by Studio Carreras. They're from the series "Philographics" and you can order them through his website.
Most of the accessories I didn't get second hand are from Sissy Boy Homeland. They have a big store close to my place and I love getting lost in it on a free afternoon.
I found the hanging black shelves through Google Shopping by describing what I wanted (shelves I could hang from the pipes).
DINING ROOM
The majority of the things in my apartment are second hand. I bought most of it on marktplaats.nl, which is a bit like eBay in the Netherlands. The stove, fridge, couch, chairs—all marktplaats.nl! The rest of it comes from thrift stores in different provinces throughout the country.
KITCHEN
Because I'm renting the place, I can't really change big things like put in an entirely new kitchen. To personalize it anyway, I bought things like tile stickers. These stickers are of such good quality, you'd think they're actual tiles! They're also waterproof, so easy to clean.
PET Refill bottle (soap dispenser)
BEDROOM
All second hand.
Thanks, Desiré!
---
Apartment Therapy supports our readers with carefully chosen product recommendations to improve life at home. You support us through our independently chosen links, many of which earn us a commission.