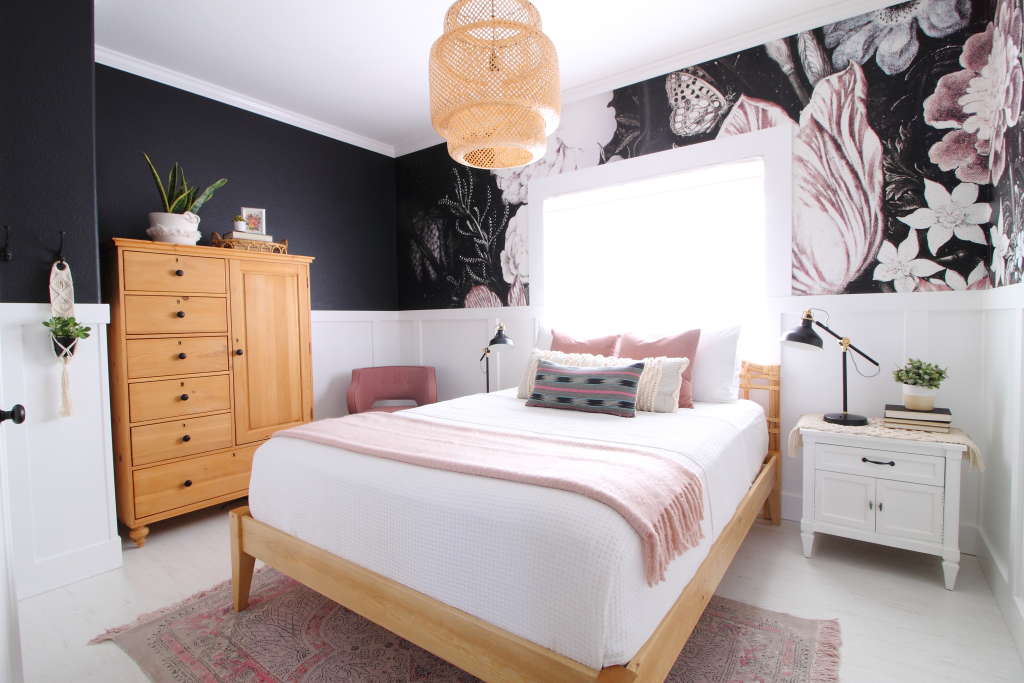 Name: Melanie Raver, husband, three daughters (8, 4, and 3 years old), and dog
Location: San Diego, California
Size: 3,000 square feet
Years lived in: 7 years, owned
We are the Ravers! My handsome hubby, my mini girl gang, and our extremely furry German Shepherd. We upgraded from our small starter home to a home with more space for our growing family. We found our home in a great area of North County San Diego, plenty of rooms, great schools, and a killer view of the Pacific Ocean! The downside… we are in suburbia land, where each house is the same and character is lacking big time! Our mission: To renovate our home one room at time… to reflect our beautifully boho style!
What is your favorite room and why? My favorite room in my home is my toddler room reinvented! It was the sweetest little toddler space… which was much more than that. Designing this room was a huge journey for me. It was me letting go of my baby, accepting the change, and choosing creativity and joy over fear. I stepped outside of my role as a wife and a mother, and took risks and settled into the design journey. I worked through my fears during the design process. I had to remember to trust the process.
If you could magically change something about your home, what would it be? I would change my two-story home into a single level! It is one of my biggest regrets about buying our home. I just love the layout and the flow of a one story. I guess I'm getting tired of running up and down my huge flights of stairs after these kiddos on the daily! But hey, we live and learn, and I'm all about using that knowledge for a better decision in the future. We are still in search of our forever home.
What's the last thing you bought (or found!) for your home? I bought the Bohemian Platform bed from Urban Outfitters. I am stoked because this frame had been on my wish list forever! We had been using a metal janky one with wheels (eek I know!). So believe me, this was a long time coming. I really am loving the platform style.
Any advice for creating a home you love? Work with what you have. DIY. You can turn any space into a home that you can love. Find your style and think outside the box. Don't be afraid to take risks. Some of my most beautiful design moments have come from a mistake and having to come up with another solution. My advice is don't give up. Ride out the wave. Stick your course. Find your stoke!
Thanks, Melanie!
• Interested in sharing your home with Apartment Therapy? Contact the editors through our House Tour & House Call Submission Form.
*This submission's responses have been edited for length and clarity.
Apartment Therapy supports our readers with carefully chosen product recommendations to improve life at home. You support us through our independently chosen links, many of which earn us a commission.