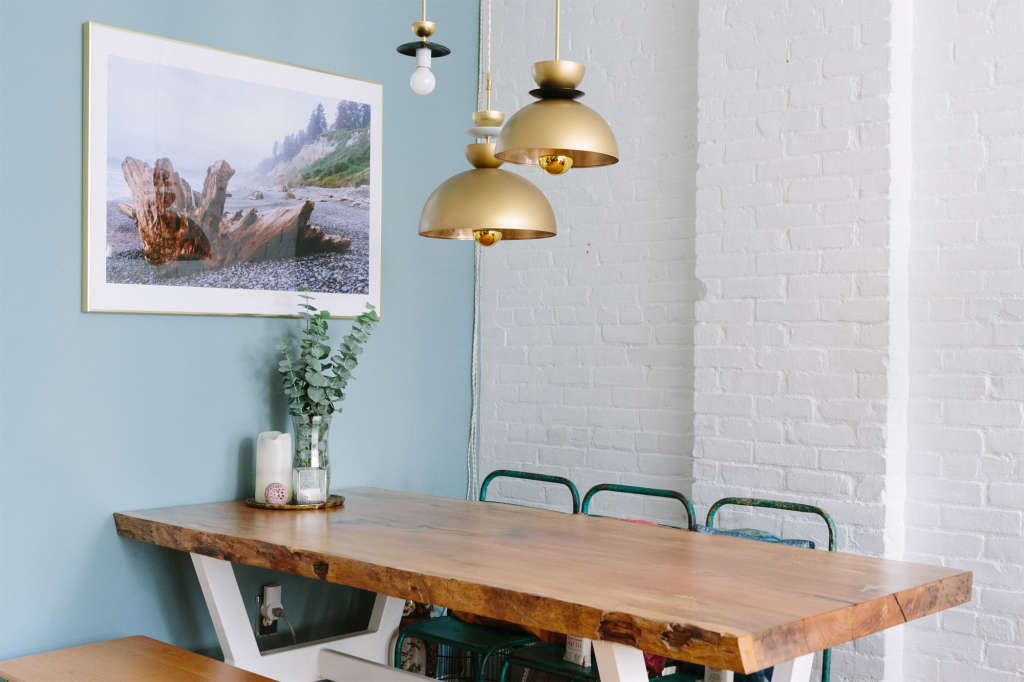 IKEA pieces can be painted, reconfigured, and completely transformed in so many ways, which is why hacks will always our favorite kind of DIY. In 2018, we saw IKEA hacks move towards achieving high-end dupes (like designer lighting or custom closets) and were blown away by people's creativity. Here are our top picks from 2018.
You know we love a good piece of woven art around here, but realistically it's not always the easiest to make. That's why Marlene's wall weaving hack stopped me in my Pinterest tracks. By utilizing the inherent weave of an OFELIA blanket, she was able to create a large scale piece of art that makes her bedroom a hygge haven.
If this closet wasn't on an IKEA hack list, would you believe Erin's started out as a basic PAX system? She knew she wanted plenty of storage and a custom look but didn't want to dedicate the time or money for a custom set. She made a lot of clever decisions along the way, so check it out if you're considering a similar project.
It feels like IKEA was made to solve renters' kitchen woes. M.E. Gray was able to create a narrow workspace piece that increased her prep station, added storage, and hid her trash cans. All of this from one, inexpensive IVAR cabinet.
Justus and Carla's brass pendants took center stage in their Apartment Therapy tour. Luckily, this couple is DIY-savvy and generously shared their IKEA hack so you can create your own high-end looking light.
Mirjam had an attic space that needed definition and storage. Instead of using a tried-and-true bookcase, she built a complete walk-in closet with the PAX system. Now the attic is a usable living space with a clear workstation and bedroom divided by one of the most clever hacks we've ever seen.
If you love a good makeover, you need to see Jessica's mudroom. The transformation is so stunning, you forget that it's an IKEA hack. Her new space is equally stylish and practical, and shows that, with a bit of planning, you don't have to spend tons of money to transform your home.
Are you on the minimalist or maximalist side of throw pillows? Stephanie's Matisse-inspired pillow started out as a plain, GURLI cushion cover that easily became a statement piece to show off on the couch.
I think IKEA frames are a hacking staple because so many people purchase them, only to then realize their European sizing doesn't neatly fit standard US prints (or is that just me?). Their frames can do so much more than hold pictures though. Elevate your jewelry collection and make getting ready each morning feel like shopping your own, personal boutique with a wood and linen jewelry display using HOVSTA frames.
Arin's blog is dedicated to helping people create beautiful homes where kids can still have fun exploring and growing up. She created this giant, wall-mounted easel with an IKEA curtain rod set so her kids would have a special place to create right in the center of her home.
Large planters are expensive. Once you commit to a dramatic plant for your space, it can be another hurdle just to find a reasonable home for it. Lisa's modern planter hack looks exceptional with her ferns and it only cost a few dollars to make.
Satisfy your remodeling urges and create a beautiful, custom play kitchen for your little one. Laura spared no detail for her daughter's mid-century modern makeover (hello, enviable brass details and undermount sink!) so Lola can "help" make dinner each night.