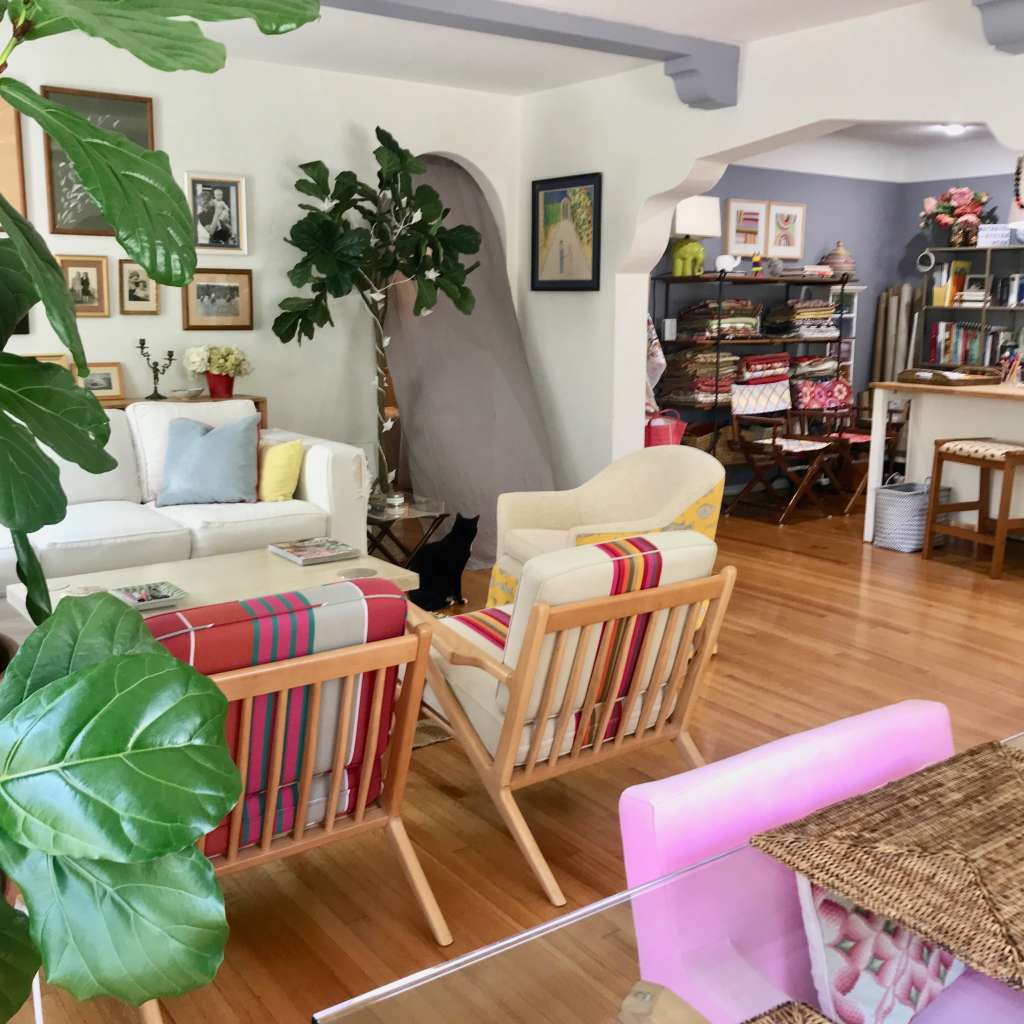 Name: Schalah Mitchell, one dog, and two cats
Location: Los Angeles, California
Size: 1200 square feet
Years lived in: 4 years, renting
I live alone with my dog and two cats, but my mother is a very frequent visitor and has made the guest room her home away from home, along with her two tiny chihuahuas.
Describe your home's style in 5 words or less: Warm, whimsical, classic and eclectic
I have a lot of French furniture inherited from my grandmother or the home I grew up in Paris. I am half French and that's definitely the side of me that controls the decorating.
I love attention to detail and surprising guests with unexpected little design accents. I am also very whimsical in my design and love to incorporate pieces usually reserved for children's rooms.
I like my home to feel warm and inviting. It has to look good but also be comfortable; I want people to linger!
What is your favorite room and why? Always the living room! That's where I spend most of my time and where I entertain the most. Even for dinner parties, they usually end up buffet style with guests eating on the sofa.
I also love that the dining room and living room are both in the same great space, with the workshop only separated with an archway, so the entire space feels like one. It's like loft living, but with a more traditional aesthetic.
If you could magically change something about your home, what would it be? I live in a rental, which does create some restrictions. There is a great breakfast nook space just off the kitchen into the workshop. It's the perfect space for a morning coffee, or even a quick dinner for two. Unfortunately my landlord designed it with a large black marble top bar, and black corner built-in shelves. Black is definitely not in my color palette, and not what I would have chosen for the space, but it's all here to stay!
My pets also make it difficult for me to maintain a clean rug, so after spending a lot of money on huge rugs that cost a fortune to clean, I decided to stick with either no rug or light weight that fits in my own washing machine. But still, I sometimes dream of having a beautiful, huge antique rug in my living room and bedroom!
Any advice for creating a home you love? Make it personal and make it fun. It's best to incorporate elegant quality pieces with cheap finds, so there's a real mix and everything looks good.
Move things around as often as you want, it helps to keep the look fresh.
I also find that Coco Chanel's rule for accessorizing ("Before you leave the house, look in the mirror and take one thing off") totally applies to home decorating. I always find myself removing one item from a bookshelf or mantel before deciding it looks perfect!
Thanks, Schalah!
• Interested in sharing your home with Apartment Therapy? Contact the editors through our House Tour & House Call Submission Form.