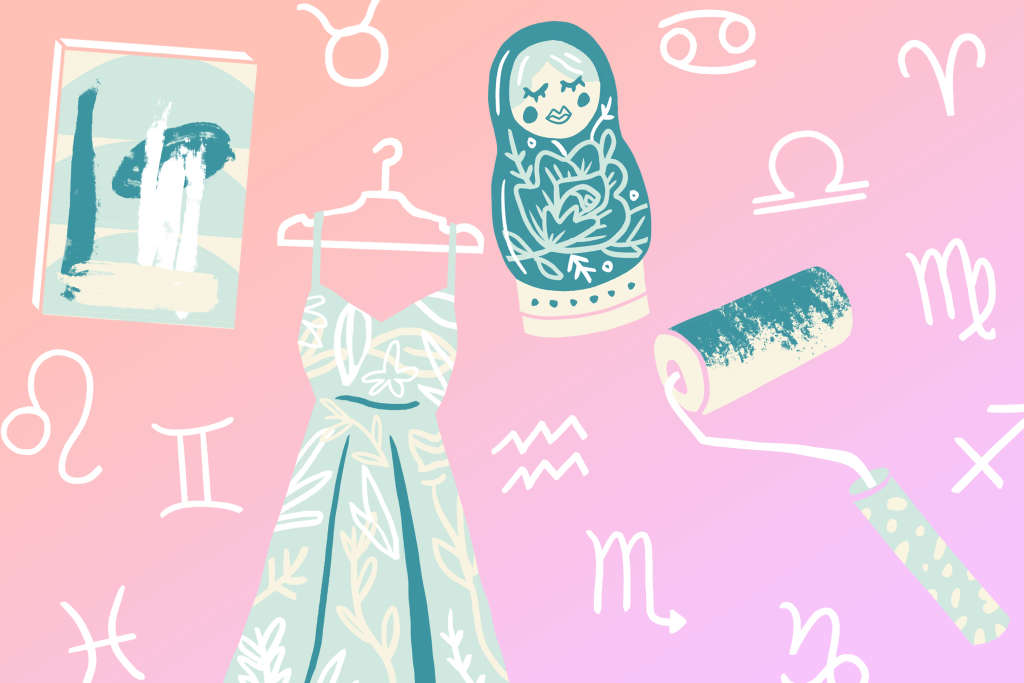 A new year always brings about thoughts of self-reflection: What can you do in 2019 to make your life better? "Better" of course is different for everyone. Your better might translate well to "more colorful," or "more sustainable," or "more well-rested." If you know something that needs improving in your life, then write that down as your New Year's Resolution and get to resolving.
For the rest of us who could use a little nudge to discover a goal worth dedicating 2019 to (well, at least the first few weeks days of it), why not turn to the stars?
We've picked the perfect home-centric resolution for each zodiac sign (this is Apartment Therapy after all). Some of these resolutions will challenge your sign's core tendencies, while others are designed to bring you more of your sign's unique brand of happy. But they'll all make for a better and brighter year ahead.
If the resolution for your sign doesn't speak to you (or you don't subscribe to this sort of tomfoolery), then just consider this a list of 12 great New Year's Resolution ideas for yourself and your space.
Aries: Try a bold paint color
…even in a room or on a wall you already like. You're up for the challenge, Aries. You're spontaneous and love to blaze your own path, so walk right in to the paint store and pick a hue—after all, you do love to indulge your impatient nature. If you hate it once you get the color on the wall, no sweat, you end up hating everything at some point, so just start over whenever you're up for it. If paint's not on the table (#renterslife), try removable wallpaper instead, or introduce an unexpected accent color.
Taurus: Refresh your sleep space
You love relaxation time—and buying new stuff—so as a Taurus, you should resolve to make your bedroom a cozy safe haven. Take your time picking out new sheets, pillows, lighting, maybe even a sleep tracker. Your goal for the year could be making sure you're sleeping better—and your bedroom is looking better—than ever before.
Gemini: Buy more knick-knacks
There are two things you love, Gemini: Travel and good conversation. Making knick-knacks the center of your resolution means you'll have an excuse to go more places and find more new and interesting decor accents to bring home. Plus once they're on display, each one is like a conversation starter for anyone who comes over. "Oh that? I got that in Lisbon…"
Cancer: Start an inspirational Instagram account
You love to trust your intuition, Cancer, so why are you scouting for other people's ideas on Pinterest when it's time to decorate your space. No more! Document the spaces and styles that organically move you—tile floors, street graffiti, whatever sparks your eye—and use your curated IG as a guide the next time you need some inspo.
Leo: Declutter and donate your clothes
I know it's hard to believe, but it's not always about you, Leo. So your resolution should be about doing something for others—like committing to donating half of what's in your closet. But also, it's still kind of about you, so feel free to post about your #selfless declutter online. Plus all that extra space means new clothes you can show off. Win/win.
Virgo: Do (and finish) more DIY projects
You're such a perfectionist, Virgo, you tend to stockpile home project ideas without actually starting them. And even if you do kick something off, if it's not perfect from the first stitch, you tend to let it go. No more. Plan to take on (and finish) one DIY project a month—or whatever pace feels doable for you.
Libra: Rearrange your apartment
You crave balance in all things, Libra, so this resolution sort of works to challenge you and appease your deepest desires at the same time. Rearranging everything's placement forces you out of your comfort zone—to try out a room layout hat feels "wrong" at first. But I bet after living with it for a while, you come away with more clarity than ever before about how your space should work. Once again, everything ends in perfect harmony, as it should.
Scorpio: Shop more sustainably
You're passionate and determined to change the world, Scorpio. So, let's do it! Commit to shopping "slow," buying clothes and furnishings only from ethical brands this year or—better yet—shopping second-hand from antique stores, vintage sellers or online marketplaces.
Sagittarius: Have more parties
You're always on the go, Sag, so here's a challenge to give your life and your home a bit of grounding energy. Commit to having people over more—maybe once a month?—to enjoy your space and their company. You tend to take people for granted, so share your space with your tightest people this year and let them know how much they mean to you.
Capricorn: Organize your biggest mess
You're ambitious, Cap, so I know you can handle this one. Make it a plan to tackle your messiest space—the kitchen cabinets, the hall closet, the basement. Take everything out, declutter it by half (at least), and introduce systems and organizers to keep everything in order, forever.
Aquarius: Make over an unexpected space
Aquas love to walk the unbeaten path, and this resolution requires the utmost creativity and out-of-the-box thinking. Your mission is to add style to a utilitarian space that wouldn't make most people's makeover lists—like painting the laundry room a bright and bold shade, or revamping the inside of a closed cabinet with wallpaper and washi tape.
Pisces: Take up abstract art
You love to express yourself through the arts, Pisces, but your overthinking nature means you probably still struggle to get started. So just start! Grab a canvas and some paint and see where your creative brain takes you. (Here's some self-painted abstract art inspiration, if you need it, but I don't think you do.) Best of all, you might find your painting sessions are the perfect moment of alone time that you need to recharge.
What's your New Year's Resolution?
Apartment Therapy supports our readers with carefully chosen product recommendations to improve life at home. You support us through our independently chosen links, many of which earn us a commission.