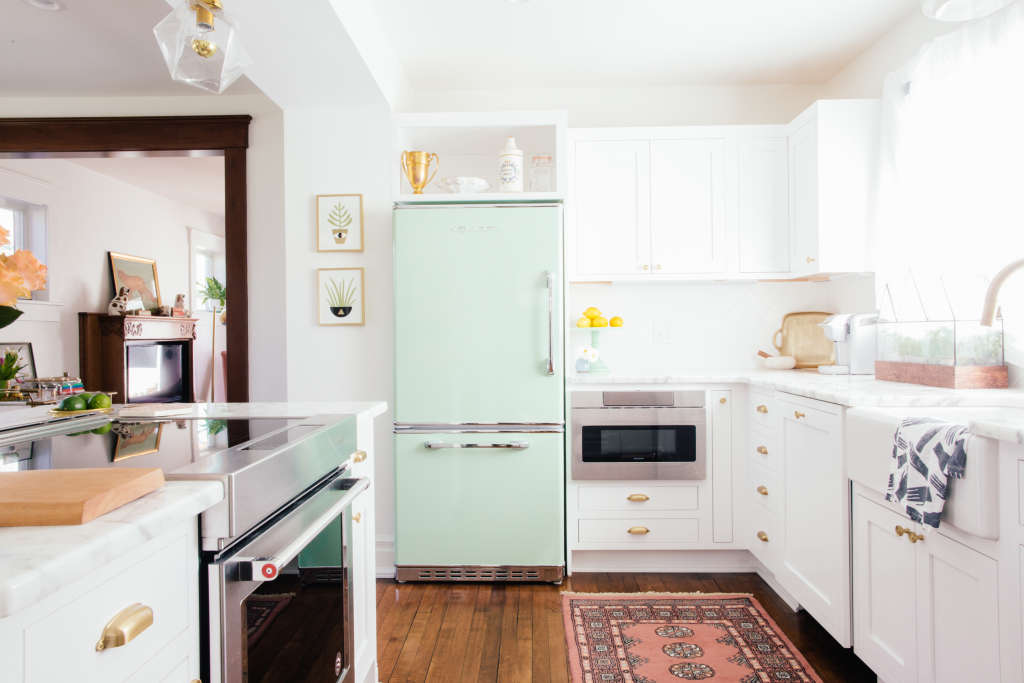 We can't all have new custom cabinetry or high-end appliances equipped with smart technology. But one design-forward thing pretty much anyone can do in their kitchen is add a runner to the mix. In fact, that, plus swapping in patterned tea towels, and adding a bold Le Creuset Dutch oven to the stovetop are the three things pretty much every stylist does when propping a homeowner's kitchen to shoot it. So you know this is going to make your space look more polished.
Back in the day stylists were all about striped indoor/outdoor runners from Pine Cone Hill. It felt like you'd shoot a different color way in every kitchen. But nowadays, Persian-style runners are having a moment and for good reason. Like all-weather rugs, these colorful carpets are great about camouflaging stains and are super durable—two things you need in your kitchen textiles. However, we know the look is not for everyone—there are tons of design fans staunchly against adding rugs and runners to the kitchen floor. But it looks like the trend is here to stay, at least for the foreseeable future, so let's take a look at some of these runners in action, shall we?
Red-y for Anything
When you have white cabinetry and wooden floors, any color of rug will pop. But red seems to be a popular choice, probably because it has a classic vibe that can also really brighten up a space.
The Bigger the Better
Or you can try to find a runner that's as large as possible—something that's closer to being a full-scale area rug, as seen in this vibrant green kitchen. This is a great solution for covering up flooring that you don't love but either can't replace because you live in a rental or it's too expensive or whatever. Another practical use!
Eclectic Vibes
And if you thought these carpets only look good with monochrome cabinetry, think again. Here's a colorful vintage Persian runner in a space with white cabinets, wooden lower cabinets, and plenty of stainless steel, and the combo looks fantastic.
Nothing but Neutrals
An earth-toned rug is especially good at hiding dirt and kitchen spills. It's also amazing for tying together neutral cabinetry, wood beams and weathered wood floors, if you are lucky enough to have any of those design elements in your cookspace.
Double the Fun
And yeah, this idea is a one-and-done solution for sprucing up your kitchen. But if you wanted to go with two runner rugs, I wouldn't be mad at that if the rest of the room shaped up like this sunny boho-inspired space. Double the design impact!
Connect the Rooms
You could also use a vintage runner just outside of your kitchen as a way to bridge that room and the rest of your living space together, as seen in this home. It's possible to work a runner into a funky layout for sure. In fact, it almost becomes a design distraction in the best way possible. In this case, it's unclear if those stools are part of the kitchen or not, and there's definitely a dining table to the right of the kitchen in the living room. Which is a totally weird setup, in my opinion, but all I'm really looking at upon first glance is that gorgeous runner.
Are you ready to pull the trigger on one of these runners right now? Then take a look at our picks. Unique vintage options are always the best (and sell fast despite being on the pricey side), so some of these guys might not last long. Happy shopping!
If I had a kitchen that was large enough for a floor mat (let alone a runner!), I'd be purchasing this gorgeous geometric style in brown. I love the flecks of salmon and mint green in there too.
When you can't decide what color you want for your space, a vintage runner that features almost every shade of the rainbow is where it's at.
A fun statement-making runner in red that would pop against dark colored floors and light cabinetry.
If you're not a red person and open to something new but still traditional-looking, this turquoise stunner would work well with white cabinets and light wood floors, especially in a coastal-inspired space.
At over 10 feet long, this guy's a lot of rug for the price.
Scoop up this small-space budget buy if you want to try out the trend on the cheap.
Another affordable, vintage-inspired neutral rug if you're into a more earthy palette.
This pretty, almost pastel runner is for you if you're looking for something more muted than a traditional Oushak but not brown.
Apartment Therapy supports our readers with carefully chosen product recommendations to improve life at home. You support us through our independently chosen links, many of which earn us a commission.