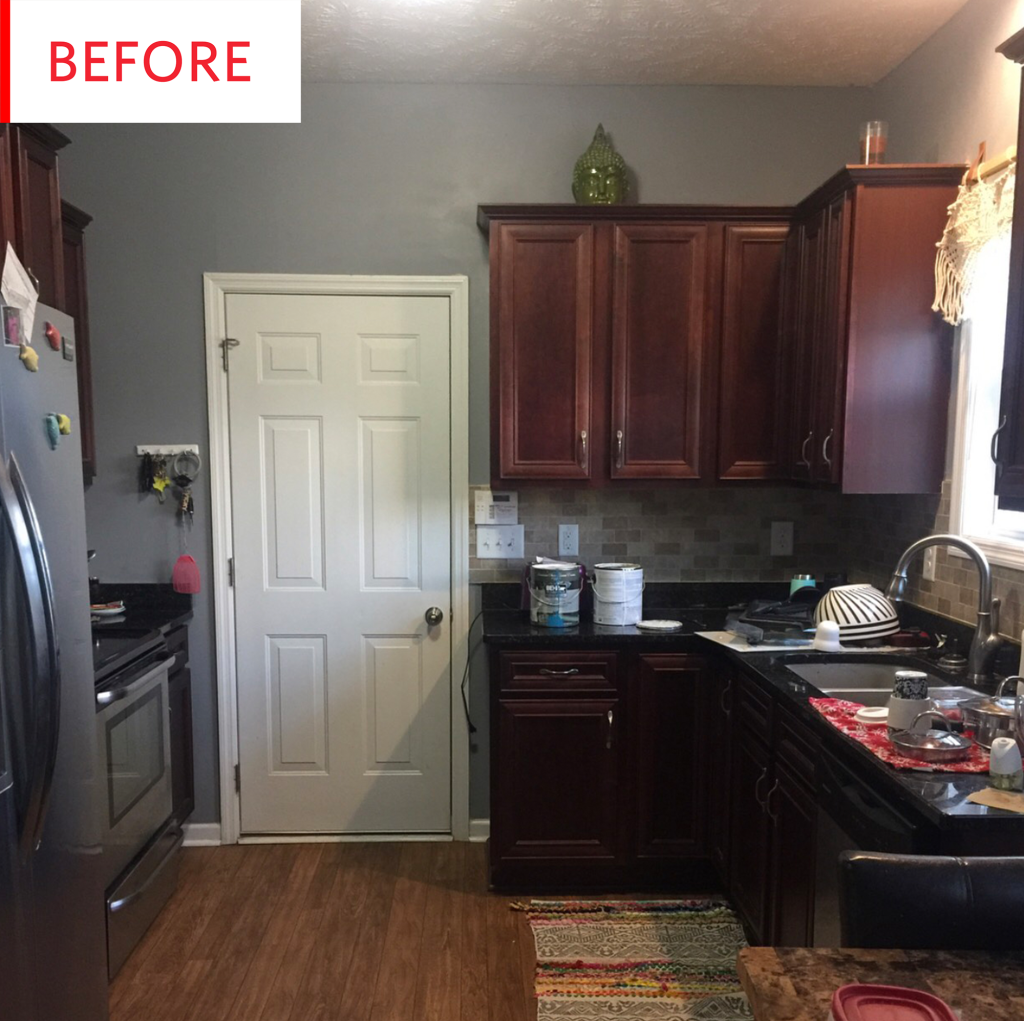 While this kitchen was quite tasteful and full of quality finishes, it didn't fit in at all in the rest of the colorful, relaxed, free-spirited home. With just $80—and plenty of hard work—its owner gave it a fresh, fun new look.
Here's a little more information about the kitchen and the home, and what led to this undertaking:
My kitchen was very dark and traditional before. Our cabinets were a dark cherry wood. The mix of dark cabinets and dark floor just made the room feel so small.
I love color and eclectic boho decor. That is the style throughout my home and the dark cabinets in my kitchen just threw off any look I tried to do in there.
Jeri Andre—@jeriannandre on Instagram—is obviously a bold sort of person, as evidenced by this delicious turquoise paint. It's so festive and turns a storage essential into something fun. While all-aqua cabinets might have been a bit much (or perhaps not), the white upper cabinets balance the blue beautifully, and actually make the colorful paint look more vibrant than it might otherwise. It's especially intriguing to see such a bright hue used on more formal/ornate cabinetry. And somewhat surprisingly, the turquoise works quite well with the rich wood floors.
The new rug is an excellent addition, tying in the pink accessories—including Barbie's Dream KitchenAid—and bringing in a darker blue counterpoint to the bright cabinets. The rug is serious and traditional, yet in this context, fresh and playful.
It took one weekend to finish the cabinets. The bottom cabinets only took two coats but the white took around five. The entire price was only $80. $20 for each gallon of paint and I found the awesome hardware on Amazon for $30!
I may eventually paint the bottom cabinets white too. I love the two-toned look now but I wouldn't be surprised if I decided to paint it white in the future.
The black countertops now pop so fantastically against the aqua and white. Whereas before they were sort of indistinguishable, they now stand out and can be appreciated fully. The new handles are a nice touch, understated but glam.
If you're starting a painting project, no matter the hue, Jeri has some excellent advice to get the most out of all your hard work:
Pick great quality paint! I also invest in a good sealer.
Thank you, Jeri Andre!