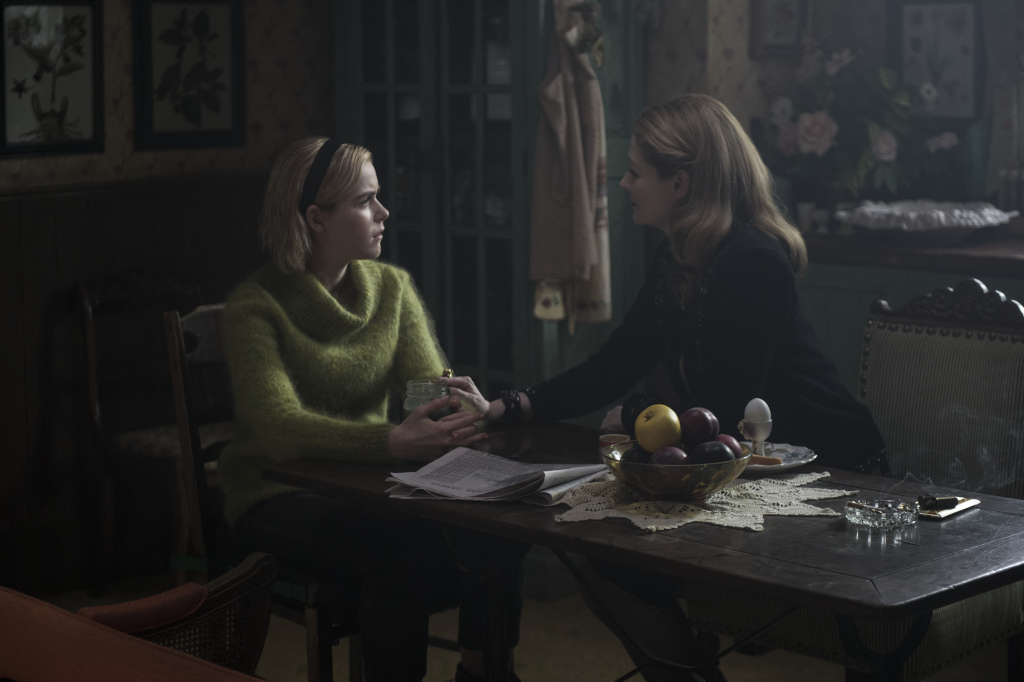 The latest victim of the reboot craze is Sabrina Spellman. Our once fun-loving teenage witch has been reborn as a darker, edgier version of herself and I, for one, could not be more thrilled that the '90s suburban, pastel floral TV sitcom house was laid to rest. The new Spellman Mortuary is granny chic-gone-spooky. It's chock-full of vintage (well I guess it isn't vintage if you're hundreds of years old and you bought it when it was new…) and fabulous treasures.
What I'm saying is, the Spellmans are serving a lewk. It is all-encompassing spooky chic vintage coven cabal (how do I trademark that?). If you are not committed to shrouding your entire home in this style, may I suggest outfitting a powder room? It's been in vogue to think of your powder room as a "jewel box;" a place to get a little crazier, more colorful, and daring with your design.
(Image credit: Diyah Pera/Netflix)
The wallpaper alone is worth a whole post. My favorites are the foyer which is covered in a blue chinoiserie-type paper and the living room that is covered in human faces. Different, I know, but equally important in creating a chilling atmosphere. I would say be bold and go with the face wallpaper; however, if you're not sure you want to be that creepy, go with the chinoiserie and then hang an ominous piece of art.
Moody lighting also plays a big part. Chandeliers with drippy bits and bobs give a macabre sense of elegance. Victorian fringe lampshades are completely appropriate for this application. Check out Etsy—there are lots of authentic vintage pieces. If you're wary of installing something vintage, there are some funkier options from major retailers that will still give you a similar vibe.
(Image credit: Diyah Pera/Netflix)
Something you may have noticed are the rabbits placed throughout the house. They're on the bed linens, in sculptures, and on plates. I'm not sure why the production designer chose them, but after doing a bit of research, they're seen as creatures who can represent cunning and mischief. This is not off the mark for the inhabitants, so find a way to work some symbolic animals into your space. Maybe you're more of a snake or an ostrich. Find your inner Patronus and then get it embroidered onto some towels.
To truly put the finishing touches on your witchy digs you need to fill it with plants. Oversized ferns and greens like spider plants are great because they are easy to take care of and grow wild.
Get the look
Apartment Therapy supports our readers with carefully chosen product recommendations to improve life at home. You support us through our independently chosen links, many of which earn us a commission.