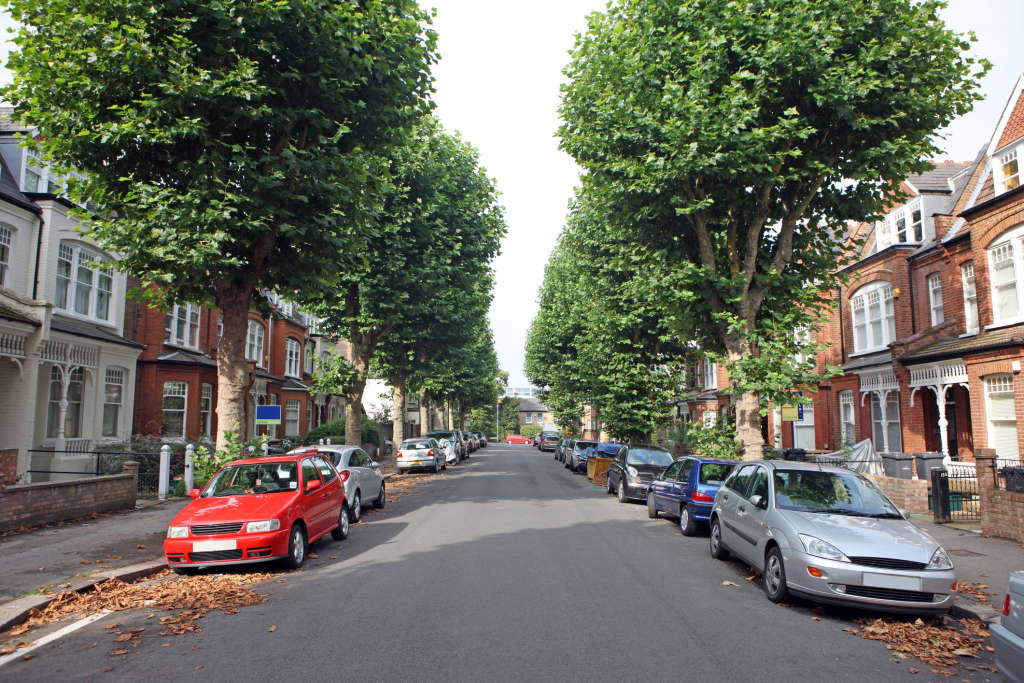 Is it cheaper to be a city dweller or a suburbanite? When it comes to real estate, the obvious answer is that, yes, it's probably much cheaper to buy a home or rent in the suburbs. (Thank you, next!)
But, wait just a second! When you start factoring in other costs of living, or you hone in on some housing markets, you may be surprised to find that in some cases, living in the 'burbs can be more expensive than city life.
Here are some financial factors to consider when it comes to the cities versus suburbs debate:
Housing tends to be more expensive in the city
Typically, it's cheaper to live in the suburbs in terms of "per square foot costs," says Allison Chiaramonte, real estate agent at Warburg Realty in New York City. But, the key word here is "typically."
Since housing in the city tends to be smaller square footage-wise than it is in the suburbs, it's very possible that you can live in the city for close to the same price you could live in the suburbs—though you'd have a smaller property.
But median rental prices can also be a wild card in some markets. Here's an example using data from Zillow to look at home prices in Denver and the surrounding metro area, where millennials make up the largest generational group.
The median list price per square foot in Denver is $421, which is 58 percent higher than the Denver-Aurora-Lakewood metro average of $266 per square foot.
But, that margin shrinks to just under 6 percent when you look at the median selling prices: $420,000 in Denver compared to $396,300 in the metro area.
And when it comes to renting, monthly rent in Denver is $2,000 per month, just $5 bucks higher than it is in the surrounding suburbs.
(Image credit: alexmisu/Shutterstock)
How city vs. suburb costs vary throughout the country
Every housing market varies, and a real estate professional can help you decide whether it makes most sense for you to live in a city or a suburb. Here's a look at some of the largest metro areas* and how real estate costs vary depending on whether you live in the city proper or in a surrounding neighborhood.
The median list price per square foot is $517 in Los Angeles, compared to $432 in the suburbs. Median rent in L.A. is $3,650, compared to $3,197 in the metro area.
Verdict: Suburban living is cheaper for buyers and renters.
The median list price per square foot is $243 in Chicago, compared to $165 in the suburbs. Median rent in Chicago is $1,750, compared to $1,695 in the metro area.
Verdict: Suburban living is cheaper for buyers, but there's not as big of a difference when it comes to rent.
The median list price per square foot is $142 in Houston, compared to $120 in the suburbs. Median rent in Houston is $1,500, compared to $1,599 in the metro area.
Verdict: Suburban living is cheaper for buyers but city living is cheaper for renters.
The median list price per square foot is $164 in Philadelphia, compared to $143 in the suburbs. Median rent in suburban Philadelphia is $1,425, compared to $1,500 in the metro area.
Verdict: Suburban living is slightly cheaper for buyers but city living is slightly cheaper for renters.
*We didn't forget about New York City, but the same comparison figures, such as breaking down per square foot costs and providing comparisons to the suburbs, weren't available on Zillow. But, Zillow does show that the median rent price in Manhattan is $3,400, which is higher than the New York median of $2,875. If those Manhattan numbers seem low, listing service RentCafe's newest report, which relies on real estate data from an aggregator, Yardi Matrix, shows average rent in Manhattan to be much higher at $4,200 per month.
While city living tends to be more expensive, there are some outliers. For example in Detroit, the median list price is $38 per square foot, far less than the metro median of $131. Median rent price in Detroit is $800, again lower than rent of $1,100 in the suburbs.
Other cost of living expenses to take into consideration
Your rent check or mortgage payment is just one part of the cost of living equation (though a big one!)
Here, real estate agents tell us what else to consider when you're weighing on whether to live in the city or suburbs:
Transportation costs
Lower transportation costs are one of the key advantages of living in the city, Chiaramonte says. "With public transportation, you can get to work easily and there is no need to pay for a car or parking," she says. Think about not having to pay car insurance every month, registration fees, gas, oil changes, and repairs. Plus, there's that whole "time is money" concept and you won't be wasting precious time during a commute or sitting in rush hour traffic as you try to make your way in and out of the city. Also, with rideshares and hourly car rental services, it's easier than ever to ditch the car.
Property taxes
This one can be close, says says Eric Sztanyo, a Realtor at Team Sztanyo in Cincinnati, Ohio, and founder of We Buy NKY Houses. You may pay more in property taxes in the suburbs, he says, but you can also escape some city taxes.
In his own situation, Sztanyo says he lives in northern Kentucky about two miles from downtown Cincinnati. While he has fairly high property taxes, he can avoid paying taxes on Cincinnati amenities, like the stadium where the Cincinnati Bengals play. Again, property taxes can vary largely depending on what part of the country you live in, so consult with your real estate agent.
Other living expenses
Entertainment, dining, and groceries do tend to be more expensive in the city, Sztanyo says. But be sure to factor in your lifestyle, too, "Do you tend to cook more at home? Do you have a job that lets you work from home?" he asks. While millennials love urban areas, many are finding that as they gain more wealth and get ready to settle down and start families, they want more space, affordability, cars, and the parking spaces for said cars, says Pew Charitable Trusts, a public policy nonprofit. As such, many are living on the edge of big cities.
(Image credit: Amy Covington/Stocksy)
What's the takeaway?
If you're looking for a larger home for less, the suburbs are almost always where it's at, says Sztanyo.
"Some items in this decision carry a price tag, such as cost of transportation and the cost per square foot for real estate," he says. "Other parts of this decision are more about the kind of lifestyle you want to live. Do you want a big back yard or to live in a walkable neighborhood."
Decisions, decisions!