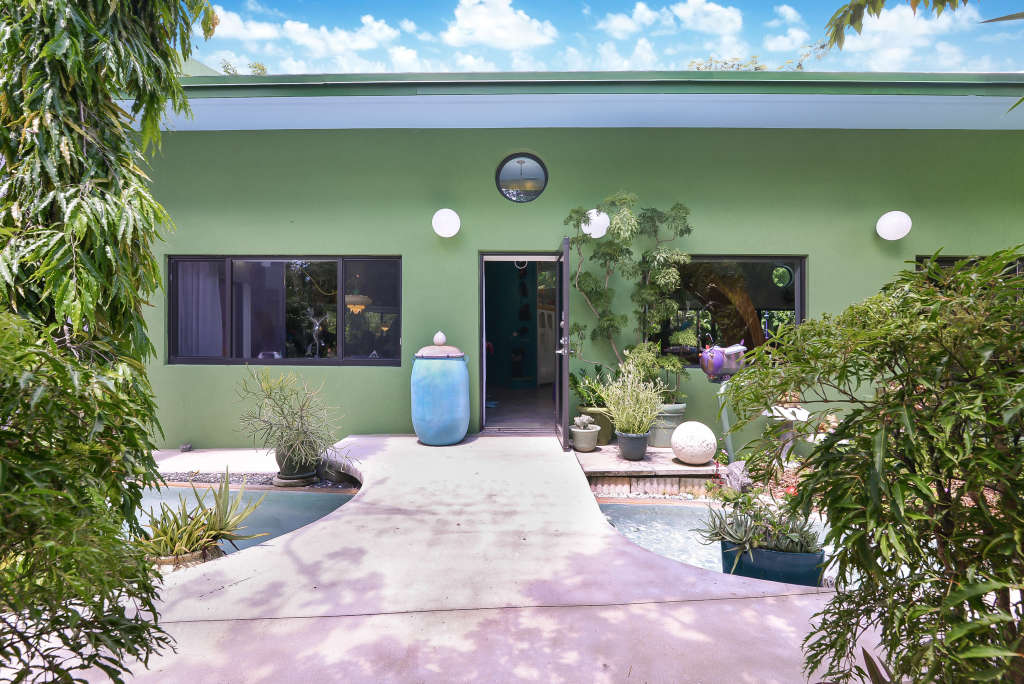 This two-bedroom, two-bathroom home that belongs to multimedia artist Michael Jude Russo is proof that the concept of becoming one with nature isn't just an overused cliché. The art-filled abode sits slightly north of Fort Lauderdale in Wilton Manors and is currently on the market for $1.2 million. Included in the sale are the hundreds of artwork and sculptures displayed in the home, the gardens, and the two-story studio.
At 1,386 square feet, Russo's "Zen paradise" was originally built in 1957 and sits on a 10,081-square-foot lot. Many of its furnishings are sustainable in nature, as is much of the home's upcycled artwork. Additionally, the artist and homeowner notes that the property has been maintained without the use of pesticides, a vivid example of his ongoing efforts to preserve and protect its surroundings.
The colorful, spellbinding space features an open floor plan and is flooded with an abundance of natural light, thanks to an assortment of sliding glass walls that grant views of the surrounding gardens. Russo's artwork is on grand display, with some pieces hanging from the walls and even the ceilings. The light fixtures, china cabinet, and glassware are all Russo's designs. Outside, the artistic extravagance continues with a covered patio, shed, nursery, and a 10,000-gallon saltwater pool with fountain.
Russo originally purchased the home in 2005, then moved five years later after transforming it with his fantastical decorative approach.
"This home is really one of a kind," listing agent Virginia Hornaday says of Russo's densely decorated home. "The inspiration came from his lifelong belief in the circularity of good design (no 'dead ends') and its integration with nature. He's brought the landscaping inside the home with the sliding glass walls, round windows, and positioning on the lot. It's a wonderful example of how to redesign a typical Florida home."