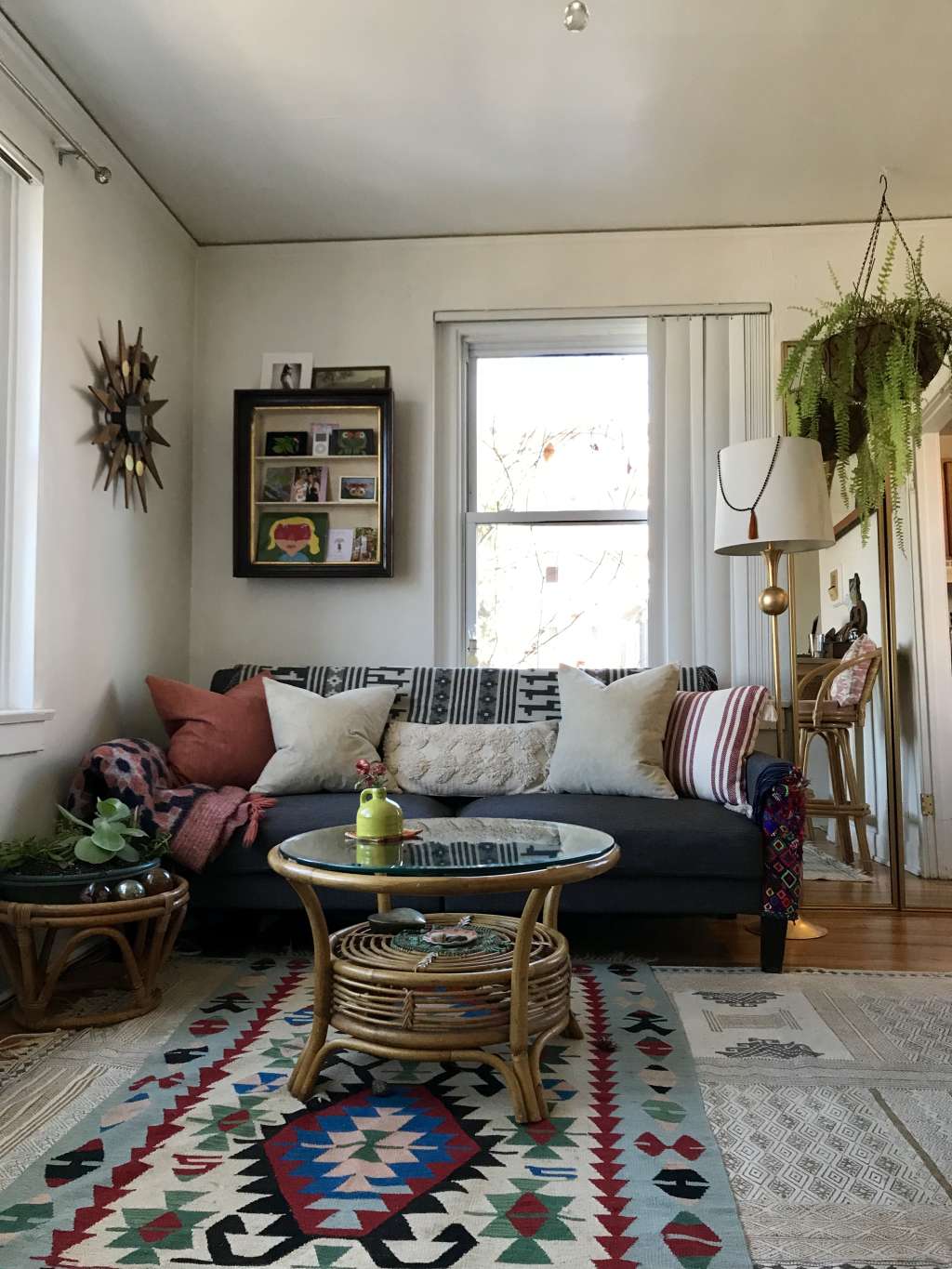 Name: Maria Cronin and my cat Frida
Location: Cheesman Park neighborhood — Denver, Colorado
Size: 500 square feet
Years lived in: 2 years, renting
I love that I smile when I walk in my apartment and throw down my work bag. My cat Frida (yes named after Frida Kahlo) awaits me while lounging on my favorite Peruvian throw blanket. I put a lot of thought into my home aesthetic. The inspiration behind my feminine meets eclectic vibe comes from my travels, my mother, fashion, and art. Though small, I wouldn't change a thing about my 1920s sunny apartment (okay I would ask for a bigger kitchen, but trust me I've made it work!). Just a stone's throw away from the best park in Denver, my home is filled with bright colors, lush plants, and framed artwork from yours truly! I love gushing about my pad and my friends love to compliment it. I don't believe in design faux pas; anything can work with a little sass and artistic eye.
What is your favorite room and why? Definitely my living room. It gets the perfect amount of sun and I love watching the sun bounce off of the prisms I have hanging in the window. So does my cat.
Describe your home's style in 5 words or less: Latin American-inspired boho sanctuary.
If you could magically change something about your home, what would it be? My kitchen. It preeettty tiny! I have definitely spruced it up but I would love to have just 40 extra square feet so that I can finally bake that banana bread I've been saying I'll do for about a year.
What's the last thing you bought (or found!) for your home? I'm an avid thrifter and encourage my mother to pass along things as well. I'd have to say that the rug featured in the living room (layered on the tan one) is my new favorite thing. My mom gave that to me over Christmas and I love how it ties in with the room. A rug usually makes the room.
Any advice for creating a home you love? Use what you got! About six months ago, I took off the French doors that opened up to my kitchen; I decided I could make some extra space while adding a chic accent behind my bed. Now I have a headboard.
Thanks, Maria!
• Interested in sharing your home with Apartment Therapy? Contact the editors through our House Tour & House Call Submission Form.