If you were to hand someone your phone right now, what would the camera roll look like? A few snaps from recent date nights, a couple pictures of your loved ones, and roughly 500 photos of your pet, right? You just can't help yourself, they fell asleep in the cutest position and you had to snap a couple (50) pictures of them!
Don't be ashamed, every pet owner has been there. Chances are, if you are a dog lover, your camera roll is just photo shoot after photo shoot of your pet. You take pictures of them in your home, at the park, and just about every destination you two go together. It is actually pretty common among dog owners. In fact, it would seem that people take more photos of their dog than they do their significant other.
According to a study conducted by pet-watching service, Rover.com, this isn't out of the norm for dog owners. In their report, titled "The Truth About Dog People," they delved into the psyche of the modern dog owner. They looked at how "Dog People" regard their pet in all aspects of their life, from relationships to social media, and more.
Apparently, dog lovers share pictures of their pet on social media more than they share pictures of their family and significant others. In their study, their deemed 29% of people to be guilty of this. While 65% of people studied admitted that they also took more photos of their pet than their significant other. In fact, 54% of people would consider leaving their partner if they did not get along with their pet or their pet did not like them. When it comes down to it, dogs are often a better judge of people. It has been reported countless times that dogs can sense when people are bad and untrustworthy.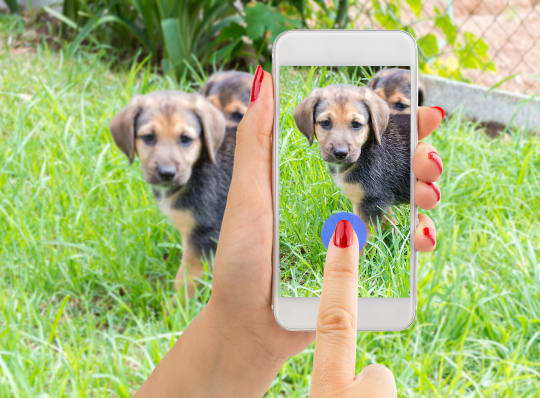 In the report, Brandie Gonzales, pet lifestyle expert for Rover, said:
"Young Americans are less likely to be homeowners or parents than previous generations, but one category they lead in, is pet ownership. They shower their dogs with attention and splurge on expensive gifts because their dog is their best friend, and they want to be their dog's best friend too. Dog people are deeply concerned about their dog's feelings and well-being. And we're seeing that reflected in everything from how people name their dog to what they feed them, and the type of pet care they prefer."
Another finding in the study is that 56% of dog people will say hello to their pet before saying hello to a loved one when they come home. Three out of four pet parents use photos or videos of their pet to get through their day as a pick-me-up. While one in three pet parents have gotten teary-eyed when they've had to leave their pet at home. And a whopping 94% of people studied consider their pet family.