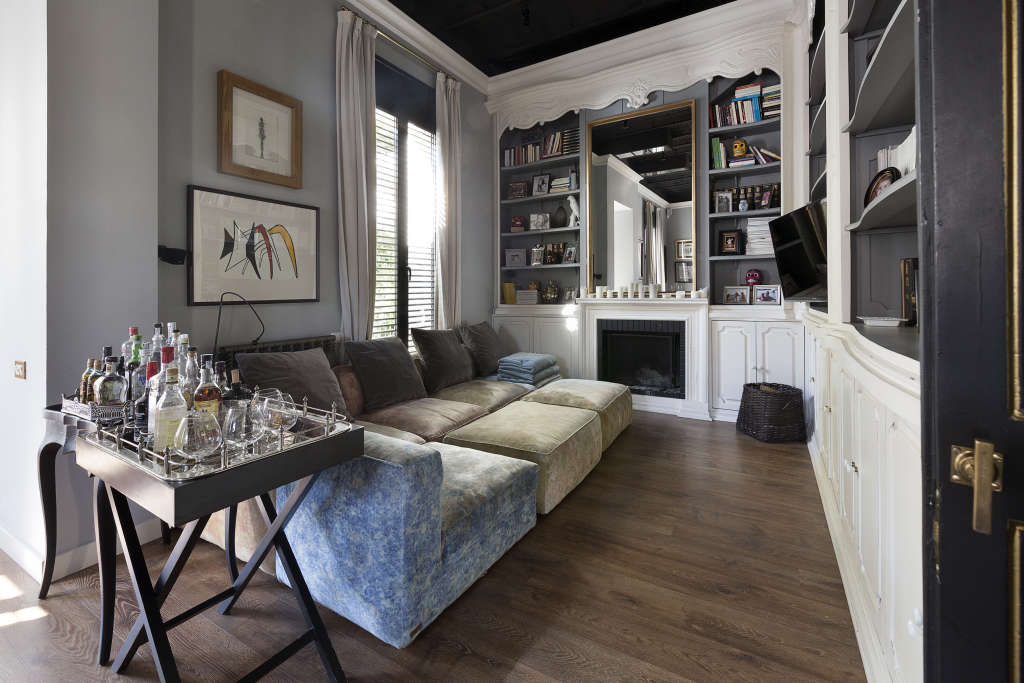 The painter Wassily Kandinsky was on to something when he said, "Color is a power which directly influences the soul."
When decorating your home, color has the power to completely transform the place. A relaxing color can transform your room into a soothing oasis or add a jolt of energy to your kitchen or living room. And if you're working with a smaller space, some colors can even make your space look bigger.
Of course, not all colors and rooms are created, so we turned to the pros. Below, several experts weigh in on which hues can help you make the most of your space.
Best Color for a Small Hallway: Moody Blues
Want to make a statement? There's no better place to do so than in the hallway. Give your space a warm welcome with some moody blues.
"In order to make a small apartment look bigger it is best to start with the strongest color in the hall," says Joa Studholme, international color consultant at Farrow & Ball. "Moody Inchyra Blue or even striking Railings will create drama upon entry, and then the rooms off the hall will feel lighter in contrast. It doesn't matter how dark the walls in the hall are as you are always just passing through."
Best Color for a Small Living Room: Gray
For most people, the living room is the center of their home, so it's important to create an environment that's warm, inviting, and versatile.
"Gray is modern and chic, yet still so cozy," says interior designer Anne Hepfer. "Benjamin Moore's Silver Mist is a sophisticated choice that can also make your small living room look light and large."
Nicole Gibbons, founder and CEO of Clare, agrees and points to her color Penthouse as a great option for small living spaces.
"This is an airy and sophisticated off-white with subtle gray undertones, and is the perfect mix of warm and cool," she says. "It's an underrated shade that will help maximize the light in any space, making it feel bright and spacious."
Best Color for a Small Dining Room: Orange
Think bold colors make a space look smaller? Think again. When it comes to your dining room, orange can make the space appear larger—all while giving your home a much-needed splash of color.
"Orange's boldness and earthy hues bring in a strong energy into the space, making it feel bigger," explains EasyCare color expert Cynthia Cornell. "Even if it's just an accent wall or a backsplash, your dining room will feel more inviting."
According to Cornell, EasyCare shades Frosted Pumpkin, Sierra Vista, and Cavern Clay strike a balance between earthy and electric.
Best Color for a Small Kitchen: Soft White
With so many colors and shades to choose from, painting a room white feels, well, boring. But it turns out, white can be the perfect backdrop for your small kitchen.
"Painting things in whites or very light neutrals does work to a certain extent, but you need to make sure your furniture is in the same shade too for it to be really effective," says Annie Sloan, founder of Chalk Paint. "This is easier to do in a kitchen than other rooms because you have so many cupboards to consider!"
To make your kitchen appear even larger, Merlin Wright, design director of Plain English, recommends painting your extractor hood the same color.
"This can make it feel bigger and not so much of a big block on the wall, which is something we try to do quite often," she says.
Best Color for a Small Bedroom: Off-White
Speaking of white, interior designers agree that off-white walls can create the illusion of a bigger bedroom.
"Neutrals are always a good choice to make a space feel bigger as it promotes the natural light that streams in," says interior designer Vanessa Alexander. "Tones best for this are soft creams and ivories."
If you want to breathe some life into your off-white room, experiment with accent walls, statement ceilings, or cool murals.
"Mix things up by including a feature wall either with a solid color, a mural or wallpaper," recommends Philippa Briscombe, founder of the little p, an Australian company that makes children's rugs and textiles. "We also love seeing a painted ceiling in a striking color or stripes to complement white walls."
Best Color for a Small Bathroom: Wallpaper (Really!)
Believe it or not, you might want to consider coating your small bathroom in wallpaper.
"Try for some bold printed wallpaper in a bathroom, dining room, or small entry," says Alessandra Wood, interior design expert and director of style at Modsy. "The print makes the whole wall feel like a work of art and will distract your eyes from fixating on the size of the space."
According to Chasing Paper's Elizabeth Rees, wallpaper can do a lot more than make your space look larger.
"Tiny bathrooms are often neglected and can feel sad, but a printed wallpaper can bring light and drama," she explains. "A crisp and cheery botanical print can bring a fresh, energetic feel, while a playful floral print can brighten the space with color and whimsy."