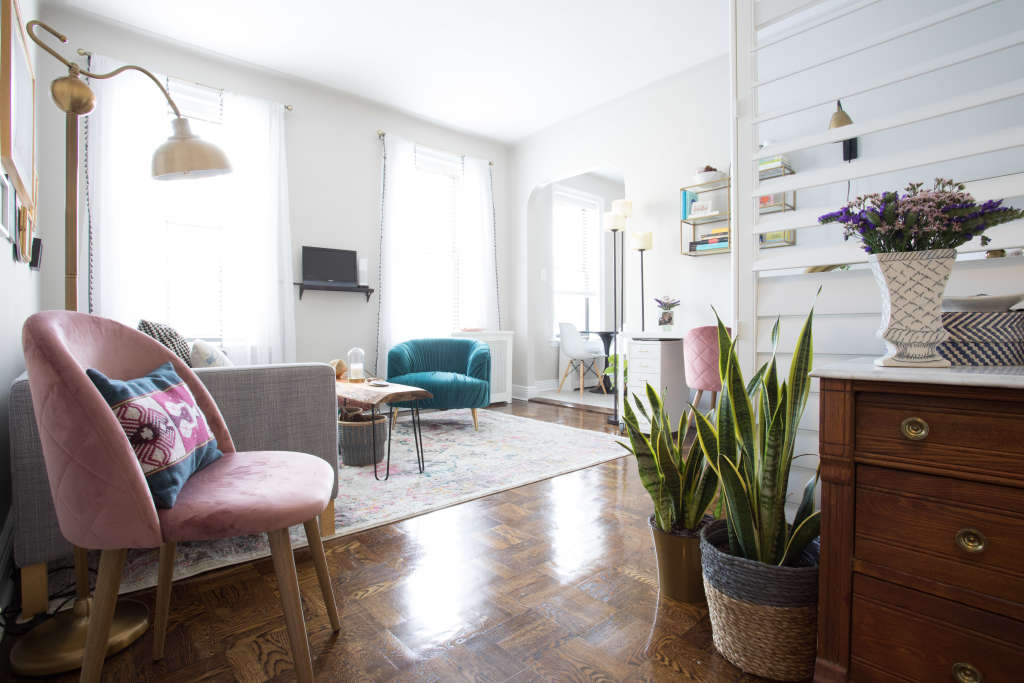 Our homes have to host many different functions for our lives, from sleeping to cooking to lounging to working, and even sometimes entertaining. It's hard enough living in a small home, but when that home is literally only one room? It can be tough to relax when you can see every inch of your home from your bed. But some of the most popular studio apartment tours this year showed you don't have to let the lack of walls dampen your home or living style.
Jeremy and Elaine have just 450 square feet to work with, but in that small one-room rental they were able to fit in a bedroom, living room, home office, and reading nook. They use a curtain on a curved ceiling rod to help divide the bedroom, the living room is designated by a large rug and a sofa, and the office chair and sofa face in opposite directions, giving a separate space vibe. A leftover corner is turned into the perfect reading nook by adding a chair and ottoman.
Maeve lucked out in the studio department when she scored this enviously bright and airy Boston space with tall ceilings, drool-worthy architectural features, and beautiful wood floors. Why cover any of that up? She embraced the loft-like feel her tall ceilings provide and left the furniture arrangement loose and open.
Early in the year we shared this teeny studio apartment in Miami. Thanks to the smart use of a desk and a bookshelf, a cozy sleeping nook was created, and on the other side of the shelf, an entryway area carved out. Rugs help delineate the eating and living areas.
This small studio apartment came with a partial wall that divides the living room and bedroom, but it was still wise the way Kaitlin laid out the rest of the space, including a tall table at the end of the sofa instead of a regular height dining table. Oh and that fireplace? Didn't come with the place! But adding it in helps give the small living area something to focus around.
It's less about the furniture arranging and more about the brilliant and basic organizing ideas that make Juliette's tiny studio apartment so successful. It was wise to go for a Murphy bed so that when up, the tiny single room transforms into a cozy lounge.
Rebecca makes smart use of her teeny studio apartment by not wasting any interior space on lounge furniture; she takes advantage of a small outdoor area to create a living space, allowing the rest of the studio to serve sleeping, working, and cooking functions. She also wisely uses a rolling cart and a folding tray table just outside of her kitchen closet to add much needed storage and work surface.
325 square feet doesn't feel cramped in Lauren's small studio, where she uses a small loft to add more space. "It's perfect for when guests are visiting as it provides additional sleeping options, and I can comfortably sleep four in my apartment when necessary," she wrote.
One of my favorite studio apartment room dividers I saw this year was in Elaine's small home, where she installed window shutters to carve out an entryway on one side and bedroom on the other. It's an interesting way to have visual division but not block out light entirely.
Heather's home showcases how to use a bookcase to divide a small studio apartment. It's basic, but it works beautifully. And using two here to create a corner helps sell the feeling of two different functioning spaces in the same room.
This studio apartment is helped in the division department by a slight floor level change in the living room area, but it's Sara's smart use of three rugs to distinguish the three separate areas that makes the space so successful. Also clever was the novel use of a large corner desk as a mid-room divider.
Studio Layouts, Using Tiny Furniture