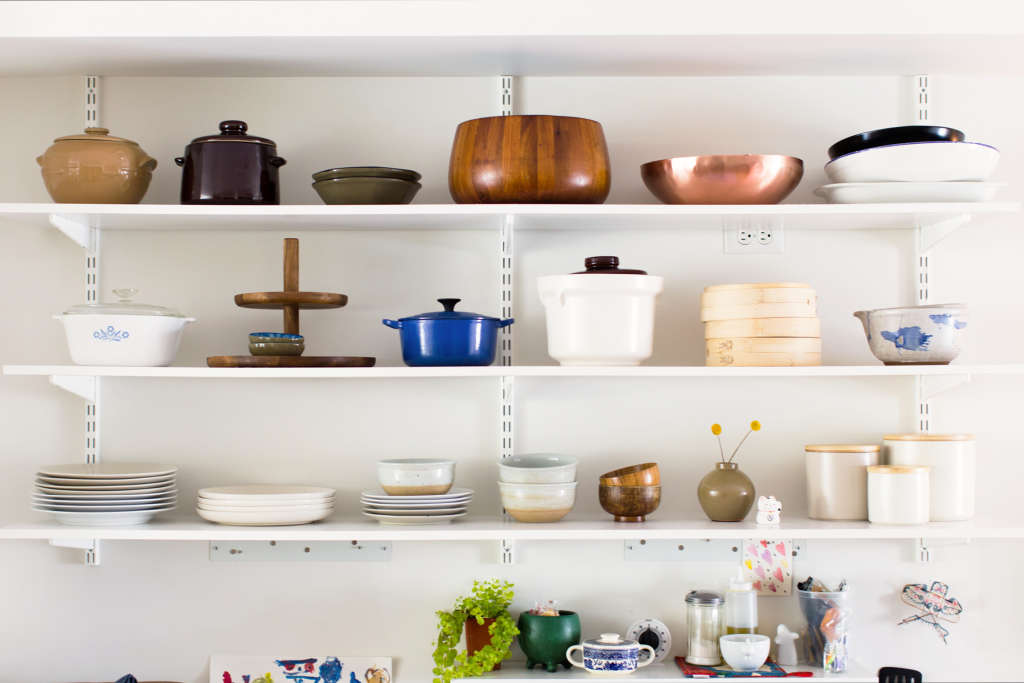 Sometimes all you need to declutter your space is a new frame of mind. Sounds easier said than done? Not so fast. Take a look at some of the best lessons we learned this year about how to live with less.
1. Tape can be a useful tool in deciding what to keep
You need to purge, but you might need that gigantic waffle maker at some point. Stop playing that game; you'll never get the job done. Find out how washi tape can help: A Brilliant, Regret-Free Way You Can Use Tape to Declutter Your Kitchen.
2. Declutter a little at a time instead of all at once
A marathon cleaning sesh only leads to fatigue. Plus, will it ever really happen? Slow and steady wins the race. Read more about how this strategy works: This Common Decluttering Trick Actually Might Not Work for You.
3. Try "baby steps" if you have a space that's really overwhelming
Kids' art work, old greeting cards, and your old t-shirt collection have one thing in common—they're hard to part with. Find out how getting rid of one thing at a time can help ease the pain: Here's The Minimalists' Best Advice for Dealing with Sentimental Clutter.
4. You can visually declutter by decanting your everyday staples
Decanting a fine wine is nice, but dare we say moving everyday products into containers is even more satisfying. Find out how this trick keeps your space tidy: One Simple Way to Reduce Visual Clutter All Over Your Space.
5. Challenge yourself with the "bigger than a breadbox" weekend project
Stay on top of clutter by periodically organizing a space that will have a sizable impact on your day-to-day life—a single kitchen cabinet, under the bed, etc. Read more about how this works: Try the "Bigger Than a Breadbox" Decluttering Challenge this Weekend.
6. Target your coffee table first to snowball your motivation
Take a few minutes to clean up your coffee table each day—you'll be surprised how such a simple task can help you get in gear. Read more about how this trick works: Why "Clearing the Coffee Table" Is the New "Making the Bed."
7. Try "best, favorite, necessary" to decide what stays
Like "Live, Love, Laugh," but less cheesy and way more useful. Read about why this mantra from Emily Ley is so helpful, plus learn how to put it into practice: Will This 3-Word Decluttering Mantra Be the One that Finally Works for You?
8. Sometimes it's best to wait
When's the last time someone applauded you for saying "I'll do it later?" We'll wait… Find out why this is actually a good decluttering strategy: Good News! There Are 2 Compelling Reasons Why You Should Wait to Declutter.
9. Declutter for others, if you find it more motivating
A little generosity goes a long way—it helps others, plus spurs motivation. Read more about how it works: One Super Motivating Way to Flip the Script on Decluttering This Time of Year.
10. When all else fails, rely on a checklist
If what you need to pare down is a big ol' list of "things to get rid of" spelled out for you, Apartment Therapy has your back. Here are some favorites from the year (and make sure you're signed up for our Apartment Therapy Daily email so you don't miss any coming up):
What NOT to do When Decluttering