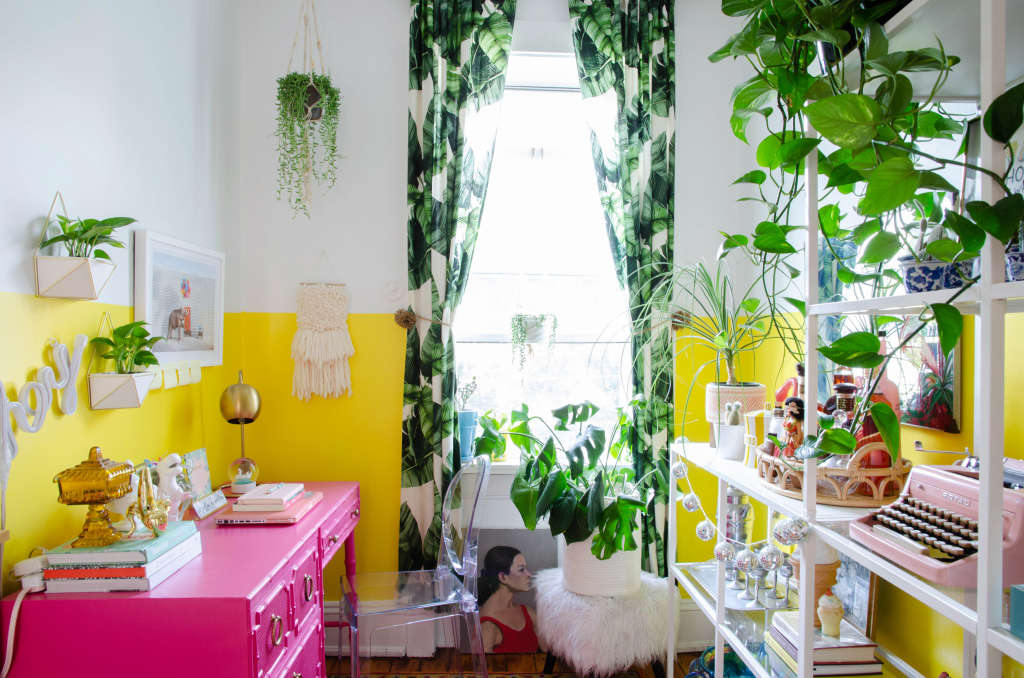 Full of boldly colored walls, fun furniture, and vibrant accessories, these 13 homes are bursting with vivid hues in bold ways. They just might inspire you to do some painting in the new year.
This home is practically a playground of color and pattern, spearheaded by a budding interior designer.
DIY projects abound in this beautifully modern home, but what caught my eye the most was the inventive use of color. The yellow sunroom—painted in a cheerful hue from floor to ceiling—is a great example.
This home is full of hand-painted, one-of-a-kind, DIY wall murals and I can't think of a better way to add a ton of color to a space.
Another home that used a DIY wall mural to add color was this L.A. house. A bonus? She matched the colorful pans to the vibrant wall mural!
MORE murals fill this wonderful home, but the kid's room is something really special. A faux grass wall is punctuated with faux flowers and complemented by a floral duvet, which is contrasted with a fun honeycomb graphic rug.
Tasty cocktails aren't the only thing this blogger is good at; she's a master at incredible color combinations, as seen in this cozy but bold home office.
Inspired by nature and with lots of bohemian vibes, this compact home packs in lots of textures and patterns.
This wonderful London home of a creative jewelry designer is brimming with colors that you don't normally see together. Yet, the whole space proves that bold colors don't have to clash.
A bright cerulean blue coats one long wall of this industrial loft's kitchen, including the cabinets.
This home is stuffed with color in every room, and it's even more amazing because it's a rental apartment.
This home has a dark sense of humor and an even darker color palette.
It doesn't matter that this house is teeny tiny, Matthew was still able to create a colorful home with a warm, nature-inspired color palette.
It might mostly be a palette of soft pastels, but the whole home of this amazing contemporary painter is a beautiful study of incredible colors.