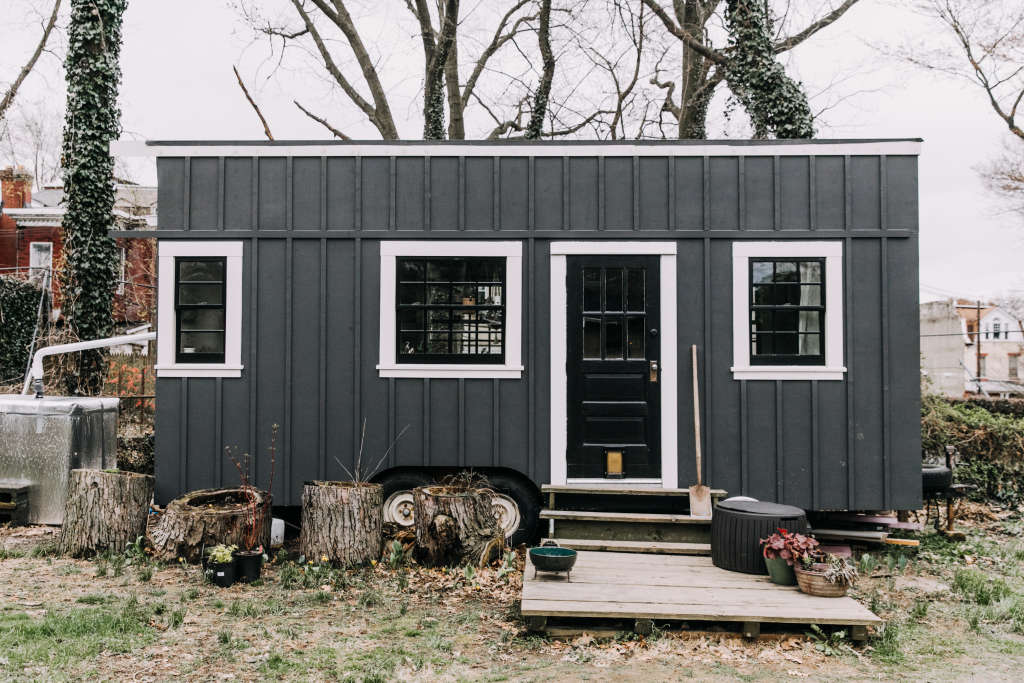 Yes, home is where the heart is and all that good stuff. But, if you're a prospective tiny home owner, it also helps to have zoning regulations on your side and a place to hook up and plug into the grid.
Take it from Chase Bowler, who lived in a tiny home for two years in both Ottawa, Ontario and Burlington, Vermont. Originally, he wanted to buy his own plot of land, but quickly realized many lots didn't have electricity hook ups—and putting one in would be a huge expense.
If you've got your sights set on a particular location, it's important to review the county and city zoning laws, says Emily Gerde, who lives in a tiny home near Steamboat Springs, Colorado with her family and is the author of "Minimalist Living for a Maximum Lifestyle." To get started, look for minimum square footage requirements and what kind of Accessory Dwelling Unit (or ADU) requirements exist. (ADU is a tiny house on the same property of a larger existing home, often in the backyard). Gerde points out that many tiny home dwellers have had the best success in unincorporated or agricultural zoning areas.
With that explainer out of the way, here are five places in the United States that are especially noteworthy when it comes to being tiny home-friendly. (And if you're getting serious about scouting out a spot for your next tiny home that doesn't appear on this list, check out the American Tiny House Association, which keeps tabs on zoning regulations across the United States and helps potential tiny home owners navigate zoning nuances.)
1. Flat Rock, North Carolina
New to tiny home living and want a "turn-key" approach? Simple Life is a development in North Carolina, made up of a half dozen micro-communities in Flat Rock. Cottages range from 400 to 550 square feet. Monthly expenses like real estate taxes, lawn service, water and sewer fees, tree care, and basic cable are all rolled into a land lease. This monthly fee also includes amenities like a pool, yoga room, dog park, fishing pond, and green spaces, too. Flat Rock is just five miles away from breweries, cideries, art galleries, and restaurants in downtown Hendersonville. Plus, the region is cradled by the Blue Ridge Mountains, which spells adventure for outdoorsy types who enjoy hiking, rafting, mountain biking, and paddleboarding. Homes start at $99,500 and land leases start at $550 per month.
2. Briley Township, Michigan
Recognizing the tiny home trend, this township in Michigan has adopted zoning ordinances that are tiny home-friendly in some areas. Under the rules, an "Economy Efficient Dwelling" between 240 square feet and 500 square feet can be lived in year-round if its foundation is approved and it meets other requirements. This is noteworthy because zoning provisions often require that a conventional home also be located on the property. The area is known for its abundance of elk and deer, as well as its fishing lakes.
3. Spur, Texas
Wait just a second… not everything is bigger in Texas. In July 2014, Spur, which is in the plains of west Texas, declared itself to be the first tiny home friendly community. It claims this moniker because land is affordable (some lots start at $5,000), zoning regulations are progressive for tiny homes, and Spur even spotlights its tiny home pioneers. Fun fact: The first tiny home in Spur was only 86 square feet. The town of 1,000 is an hour outside of Lubbock and has a nine-hole golf course to call its own. Also, this is endearing: On the town's FAQ page, there's a question that asks "How bad is the crime?" The response? "Pretty non-existent."
4. Fresno, California
When tiny homes are on wheels, they're typically regulated like RVs. However, Fresno—which is located in the San Joaquin Valley—has been at the forefront of tiny home laws, updating its zoning requirements in 2016. Now, homeowners can park tiny houses on wheels on their properties to be used by the homeowner or rented out on a permanent basis—so long as the tiny homes meet certain requirements, like having at least 100 square feet of interior living space on the first floor and being designed and built to look like a building structure. Given the excitement surrounding the movement, Fresno has also played host to tiny home expos.
5. Washington County, Utah
Officials in this southern Utah County updated zoning requirements in 2016, striking a rule that required single-family homes to be at least 800 feet. Tiny homes are allowed in residential areas, but must have a foundation and be hooked up to utilities. St. George, a gateway for Zion National Park, is located in Washington County. You can give tiny homes and the area a test run by booking a stay at Zion's Tiny Getaway, which is 20 minutes away from Zion National Park.