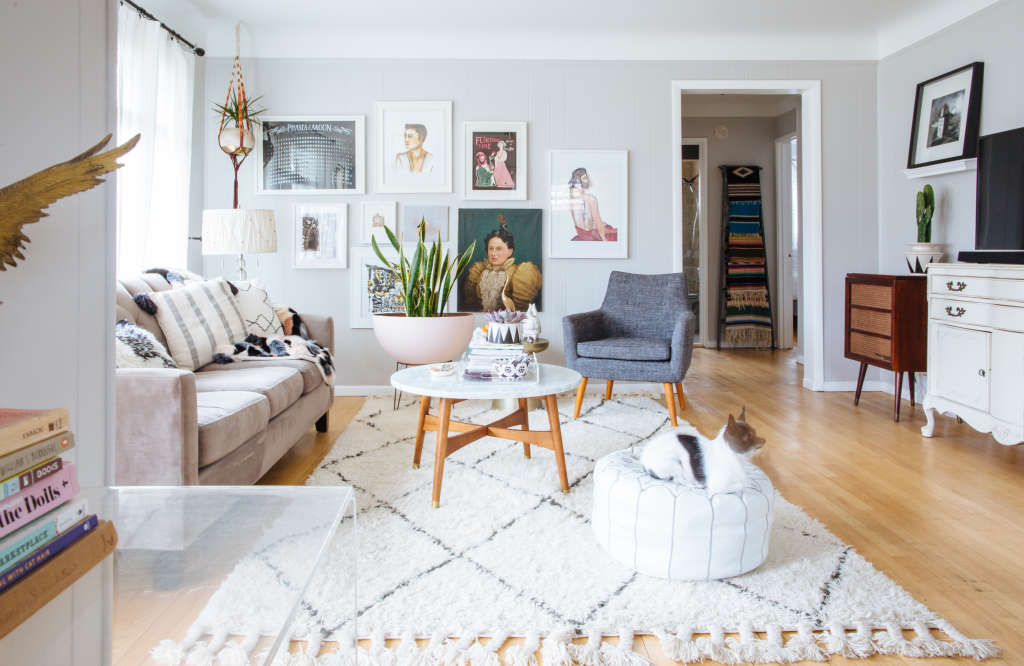 When I was in Morocco earlier this month, my favorite thing to do was to get lost in the rug souks. Carpets spilled out the doors and were stacked in technicolor columns, catching the eye with their orange and gold patterns, their peach and juniper shades, their traditional prints and busy weaves. My fingers itched to buy 12 on the spot and worry about how to fit them into my suitcase after—I wanted every inch of my house covered in these rugs. And knowing how pricey these same rugs are back in the States, the in-house prices were almost too good to pass up. But thanks to places like Etsy, I scaled back a little and held onto my self control (though I did buy a small area rug, because I only have so much strength).
I've been researching Moroccan and Turkish rugs for over a year now, trying to hunt down the perfect ones for my living room and bedroom without blowing a hole in my budget. Because of this (sort of) patient hunt, I have found a handful of shops that sell their vintage treasures at almost the same price that stores in Marrakesh and Fez do—meaning we can bring the beauty of Morocco into our houses without having to eat bread and beans for a month to compensate for it. Check out some of the shops below!
Want a 12-foot rug but know that you will have to go into a spending freeze for months after if you hit "buy"? Not necessarily. Beni Ourain Carpets on Etsy offers 6′ x 12′ rugs for around $900—which is still expensive, yes, but less so than other sources. The Etsy shop sells a vast array of vintage rugs, including Moroccan, Beni Ourain, Azilal, and Tuareg rugs. If you're looking for something even more affordable, you can find 4'8″ x 6'7″ rugs for around $599, or hallway runners for $300.
Decorative Vintage Rug is my absolute favorite carpet shop find on Etsy, where you're guaranteed some of the lowest prices on the market. The owner's family is from a small village in Turkey, and her mother hand-made rugs all her life. She has a passion for finding beautiful rugs directly from the women in Turkey who made them, and selling them to people who appreciate their vintage craftsmanship. You can find everything from six-foot rugs for $600 to seven-foot nomadic rugs for $700 here.
Anne's great-great-grandfather loved handmade rugs and become one of the most well known merchants in his town, and her family has kept the rug trading tradition alive ever since. In this shop you can find beautifully worn and faded rugs from Turkey, varying in all colors and sizes, and clocking in at a relatively budget-friendly price.
For those who love bright colors, dizzying patterns, and a loud pop of color, then GVS Carpet is for you. Especially considering that a majority of their intricate, kaleidoscope rugs run between $150-$600.
Looking for a massive, 12-foot Turkish rug but aren't mentally prepared to shell out six grand for your living room floor? VintPort's wall-to-wall spanning rugs clock in around $2,000, giving you a slightly more affordable, vintage alternative. Of course, that price will still be a major purchase, so plan ahead for this one.
Worn, vintage, Turkish rugs that are seven foot long are only $300 in this shop, giving you the chance to find perfect threadbare area rug for a relative steal. With over 200 rugs in stock and most of them hovering around the $300-$400 mark, vintage rug lovers are sure to find something they like.
This Etsy shop is a mixed bag of higher-end prices and more affordable nibbles, but with some patient scrolling you can find an amazing carpet for a fair price. For example, this seven foot rug clocks in at just under $400!
With over 1,300 vintage, handmade rugs in stock, Turkish Area Rug is a treasure trove of beautiful and expertly made carpets. From dainty sink rugs to statement making dining room carpets, there is something here for every decorating needand a staple for every price point.
Apartment Therapy supports our readers with carefully chosen product recommendations to improve life at home. You support us through our independently chosen links, many of which earn us a commission.