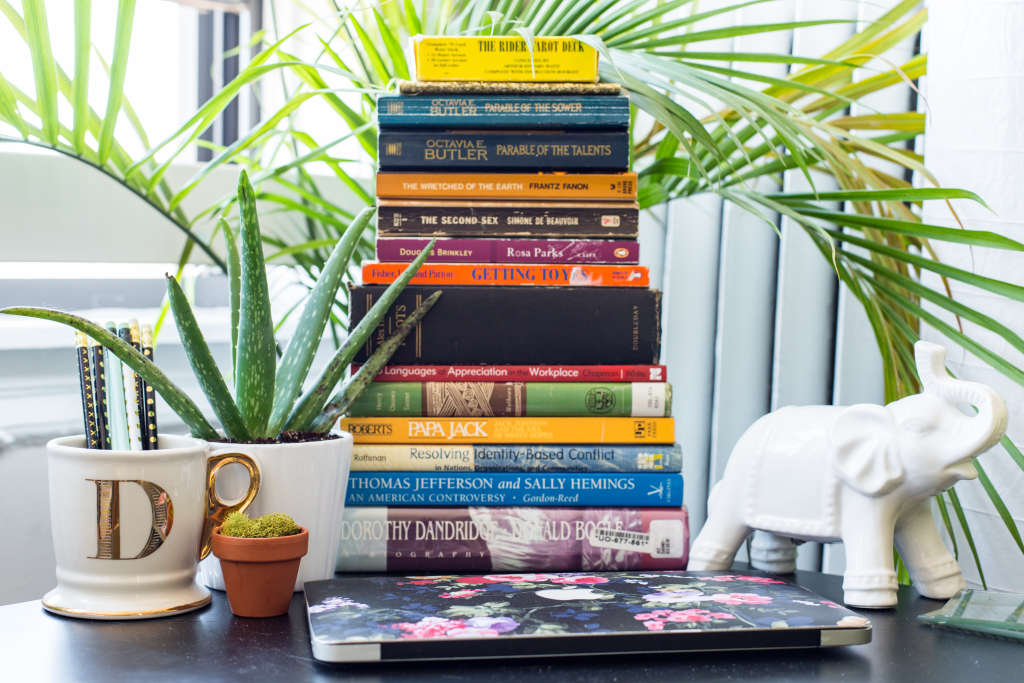 For many, a new year means a new reading list that you're determined to get through in 365 days. To help you with your 2019 goals, some of our favorite celebrities shared what they read this past year—giving you an inside look as to what you should stack on your nightstand next.
Regardless of whether they like eBooks or the real deal, almost all the well-known personalities we've spoken with are burying themselves in a good read. From actress Olivia Wilde to interior designer Jonathan Adler and everyone in between, we've rounded up current books that they've dived into. You're next!
The popular member of the OG Fab Five raved about this New York Times bestseller, which happens to be the sequel to the iconic novel "The Devil Wears Prada." Selected as one of the best books in summer 2018 by various outlets, this fictional story covers the life of Emily Charlton after she leaves Miranda Priestly's office—and the comeback opportunity that she stumbles upon in Greenwich, CT.
Interior design guru Nate Berkus revealed that he was in the midst of reading "The Paris Architect: A Novel" written by Charles Belfoure. Deemed a New York Time's bestseller, the storyline is about a gifted architect living in Paris who becomes involved with protecting Jews during WWII.
Thanks to her many passion projects (like designing a tiny home with Dunkin' Donuts), we've gotten an inside look into the activist mind of Olivia Wilde—and her book choice doesn't show us otherwise. Wilde has read "How to Change Your Mind" by Michael Pollan, a book that stemmed from Pollan's curiosity about our eating habits as a culture. "I love what he did for the food revolution, but he's also just an incredible investigative thinker," says Wilde. "It's an interesting discussion on how we view mental health and hallucinogenic drugs and the kind of ancient connection between those two things."
When we spoke to fashion expert Garance Dore, she mentioned how enthusiastic she was to read "Educated" by Tara Westover. A #1 New York Times, Wall Street Journal, and Boston Globe bestseller, this memoir is about Westover's upbringing in the mountains of Idaho, and her drastic transformation that she underwent through education and travels.
When powerhouse author Grace Bonney wants to take a moment and reset, she reads through "The Riot Grrrl Collection"—a book filled with archival material from the 1990s on the feminist movement. Other than that, in her spare time, she tries to soak up the issues of her new print magazine, "Good Company."
Alyssa Edwards: GuRu
American drag performer Alyssa Edwards was currently reading "GuRu" by fellow drag queen and host RuPaul. The book itself gives readers an inside look at RuPaul's journey of building the life he wanted through being a smart business person—and all the hurdles that came with the success. Another read that Edwards suggests is "The Art of Taking Chances" by Kelsie Stelting.
When Jonathan Scott isn't busy renovating properties or launching home services, he enjoys reading politically-focused novels. The Scott brother says, "I love biographies but also political or corporate stories, like 'Big Money,' which is all about campaign finance fraud. It's a pretty intense read."
Different from his brother's rec and yet equally as intriguing, Drew Scott mentioned that he was currently reading "Locked In" by Victoria Arlen, one of his costars on season 25 of "Dancing With the Stars." It's a story of struggles and triumphs as Arlen goes from being an ESPN reporter to being in a comatose state for four years, and her inspirational story of building her life back up again.
Jonathan Adler mentioned his current read "Transcription" by Kate Atkinson, a dramatic post-WWII story of how a radio producer at BCC has to confront her past. However, like so many of us, the interior designed confessed that he loves to revisit his all-time favorites after a long period of time. "Right now, I'm in a great age where I can't remember anything, so I can re-read all my favorite books of the past as if reading them anew," Adler said. Such books include "Goodbye Columbus" by Philip Roth, which came out earlier this year.
Apartment Therapy supports our readers with carefully chosen product recommendations to improve life at home. You support us through our independently chosen links, many of which earn us a commission.