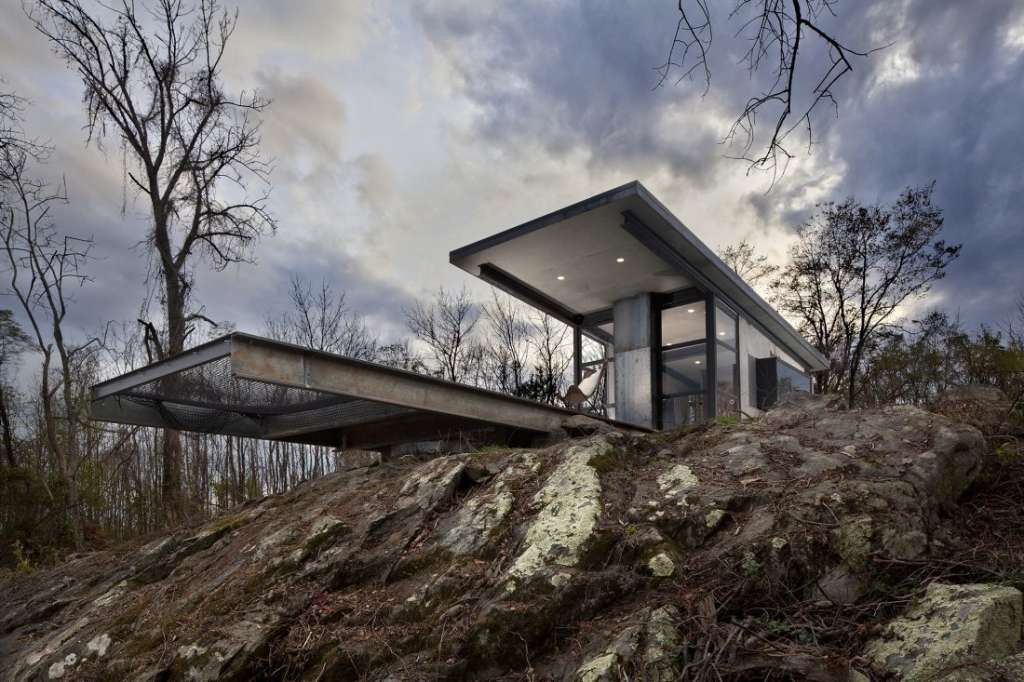 For getaway seekers eyeing remote accommodations of the more sophisticated variety, Virginia design studio GreenSpur has come through marvelously with the Lost Whiskey Cabin.
This particular accommodation is a beautiful example of the cottage's natural aesthetic meshing perfectly with a pared down, industrial style. The 160-square-foot, solar-powered domicile sits just an hour outside of Washington, D.C. The structure takes its name from the Whiskey Hollow and Lost Mountain, two local landmarks.
Its chimney and window frames are made of steel and the roof is made from concrete-skinned structural insulated panels (SIPs). Its walls are made of pre-cast concrete panels that were manufactured in GreenSpur's warehouse, then shipped to the building site—a process that cuts back construction time and environmental impact.
Appropriately minimalist, the cabin consists of a single room that contains a Murphy bed made from reclaimed wood and converts into a dining room table. There's also a concrete sink, a shower, and a composting toilet. Elsewhere, the small kitchen area contains a wood-burning stove, two chairs face the floor-to-ceiling windows that open up to the cabin's cantilevered deck with LED lighting, where a wood-heated Dutch hot tub and hammock make the perfect spots to take in the surrounding 5,800 acres of countryside.
The diminutive dwelling is one of several elegantly earthy vacation homes that comprise the Lost Whiskey Club, an eco-friendly division that features a farmhouse and a mobile whiskey bar. Clearly, the cottage designers accomplished their mission of creating dwellings intended to lure people away from their technology-laden lives.
At the moment, only members of the Lost Whiskey Club can rent out the cabin. Interested parties should contact the club for pricing and availability.