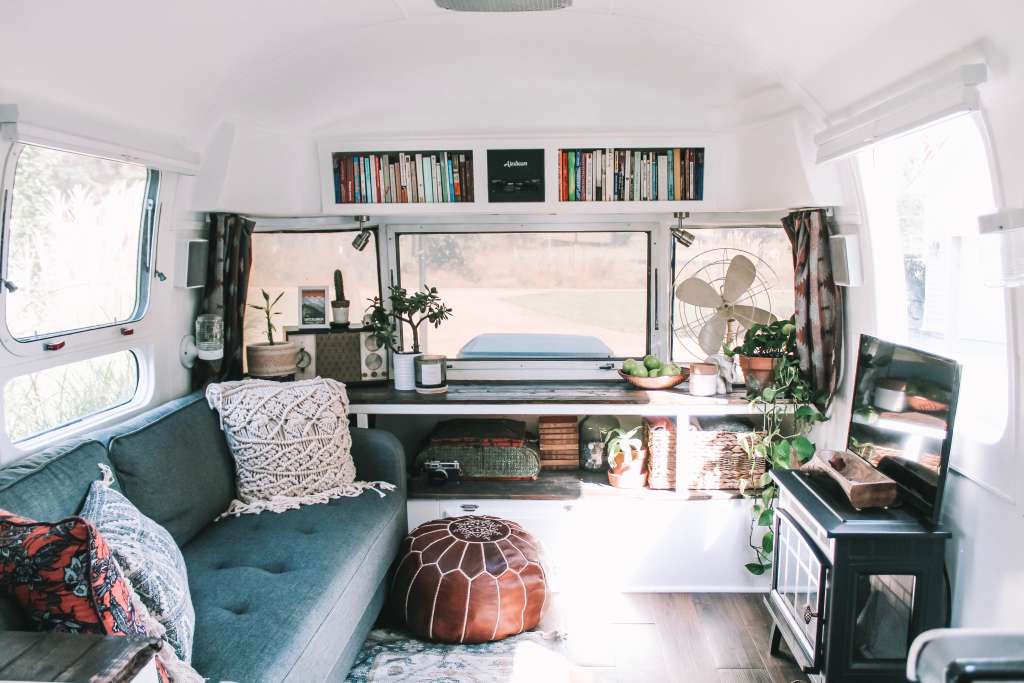 2018 just might have been the year of tiny house saturation, and I'm okay with that. There are a number of HGTV shows on small space living, and every time you scroll through Instagram, it feels like yet another cute couple or family has decided to renovate a bus or RV—or build a tiny house on wheels from the ground up—and they've completely killed it on the design plan and execution. So inspired by all that aplomb, we're rounding up 10 of the most stylish tiny house interiors from Instagram for your viewing pleasure. Who knows? Maybe 2019 will be your year to live large in a downsized space. And if that's the case, this story will surely come in handy.
1. Gabriel and Debbie Mayes – @themayesteam
Yep, that's a family of six living in a 250-square-foot converted bus. But can we please talk about how Debbie has still managed to have a kitchen with enviable butcher block countertops, a subway tile backsplash, and a matte black faucet? Between that, the built-in benches and plenty of smart storage ideas, this "tiny house" definitely caught our attention.
The Joneses just sold their RV earlier this year to live abroad in 2019, but that doesn't mean they didn't give us loads of ideas during their six-week renovation process and beyond. Blue cabinetry and an actual (tiny house!) island, gingham wallpaper, a functional fireplace and wooden wainscoting—that's the stuff that design dreams are made of.
Blonde cabinetry, a modern graphic gray tile backsplash, white wooden furniture—this well-known tiny house still strikes all the right chords for us. Whitney's indoor/outdoor California lifestyle is also super appealing and a great way to squeak more square footage out of your property.
This couple's RV living room is #goals—layered rugs, a white brick fireplace, a gray upholstered sofa, and a pretty leather pouf. Oh, and we're totally stealing the dish towels as curtains idea for any future windows small enough to pull this off on.
Taylor and Nate Lavender remodeled this 1992 Airstream so they could travel to their heart's content. They filled the tiny space with beautiful bohemian details and plenty of books. We love the interiors so much, we even featured "Augustine" as a House Tour this year.
This Aussie knocked her tiny house decor out of the park with her liberal use of plants, macrame, and the color pink. And if you thought you couldn't go floor-to-ceiling with your windows or work a skylight into a small space, just take a look at her kitchen and loft, respectively.
Pattern on pattern and layered texture is the name of the game at The Ramblr RV, which has been decked to the nines with striped rugs, pillows, and ivory sheepskins. Add two cute pups and a love of music to the equation, with wall-hung guitars and a vinyl collection housed in an old dresser, and you've got a recipe for decorating success.
Move over Sarah Sherman Samuel, there's a new A-frame cabin in town—and this one's actually for rent! You don't need much decor when you've got a roofline and full wall of windows like that, but the wood clad ceilings and paneled walls certainly help too. Shades of blue—an indigo pillow, a slate colored rug—round out the relaxed vibe here.
This 374-square-foot tiny house has a decidedly Southwestern flair, from the cactus wallpaper to the Pendleton-esque blanket and leather pillows in the "living room." The white-on-wood cabinetry really opens up the space, and the brass sculptural chandelier proves you can still make bold lighting choices, even if you're in a small space. Oh, and let's not forget about the live wood counter. That's a one-of-a-kind feature you'd never expect to see in a tiny house setting.
Kristi and her husband nailed the modern farmhouse look in their just-sold camper. They managed to fit a subway tiled bathroom, full size fridge, and wall of double stacked kitchen cabinets in this space plus a cute little eat-in nook. And well, just look at that mudroom. Very impressive for a tiny house.
So there you have it—tiny houses with tons of ideas you can steal for your space, big or small.