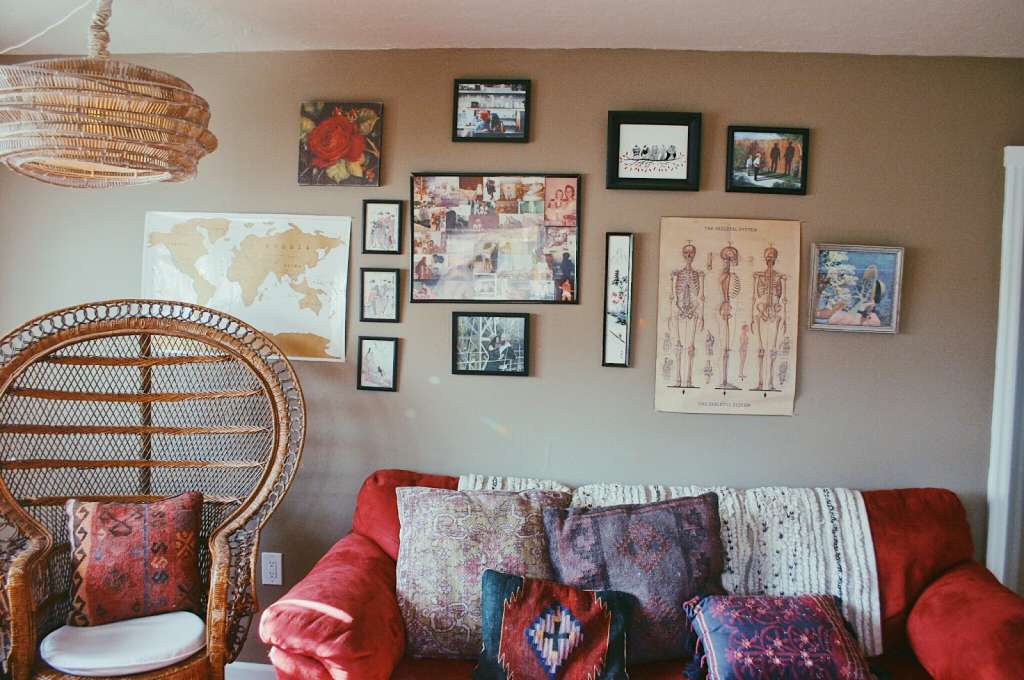 Name: Jordan Jones, my boyfriend, and our Maine Coon Cat, Thor
Location: Portland, Oregon
Size: 700 square feet
Years lived in: 1 year, renting
I'm a fashion blogger, barista, and hairstylist and I live in a one-bedroom apartment in North Portland with my partner Grant Thomas and our 20-pound Maine Coon cat named Thor. Grant and I met on Tinder three years ago back in San Diego, California, which is where we used to live. For our first year anniversary, we decided to travel to Portland for the first time together and just fell in love with the city and each other. So six months later we decided we would move in together and move to Portland. Currently, we've been in our '50s style building for a year now and I've had so much fun decorating it since it's the first time in my life that I've had a "real" place of my own and not with roommates. Grant and I really enjoy our new city and our life we've created here together.
What is your favorite room and why? My favorite room is definitely my living room because it gets the most natural light out of all the rooms in our apartment. I can put many plants in this room and they won't die, which is nice because I love being surrounded by greenery.
I've had the most fun arranging the space to be comfortable and interesting to be in. Surrounding myself with old things that tell a story and having cozy elements in my home like scented candles and burning incense is a must to feel grounded and centered.
If you could magically change something about your home, what would it be? The only thing I wish I could change is the paint, I would love to have the chance to paint in my apartment but our landlord won't allow it. Although I've been contemplating with the idea of using removable wallpaper to add to the gallery wall in the living room. Now that I think of it I don't love the carpet in the bedroom nor the bathroom tiles and if I could redo it I would. I've looked into getting sticker tiles for the bathroom but they are a bit pricey for my liking…
What's the last thing you bought (or found!) for your home? I think the last thing I did to add to my living room was buying rose gold spray paint to paint some furniture in my apartment, which was fun. I also have hit up the Goodwill bins here in South Portland for really cheap additions like my lace bedroom curtain, plant stool in my living room, and empty frames to put new artwork in. It's fun to be crafty and show off your personality.
Any advice for creating a home you love? Trust your gut and if you like it buy it. Also, don't be afraid to buy secondhand, vintage, or thrift items for your home. IKEA and Target are great for the everyday stuff, but to add interest, depth, and personality you gotta play with placement and find the balance between function and beauty.
Thanks, Jordan!
• Interested in sharing your home with Apartment Therapy? Contact the editors through our House Tour & House Call Submission Form.
*This submission's responses have been edited for length and clarity.