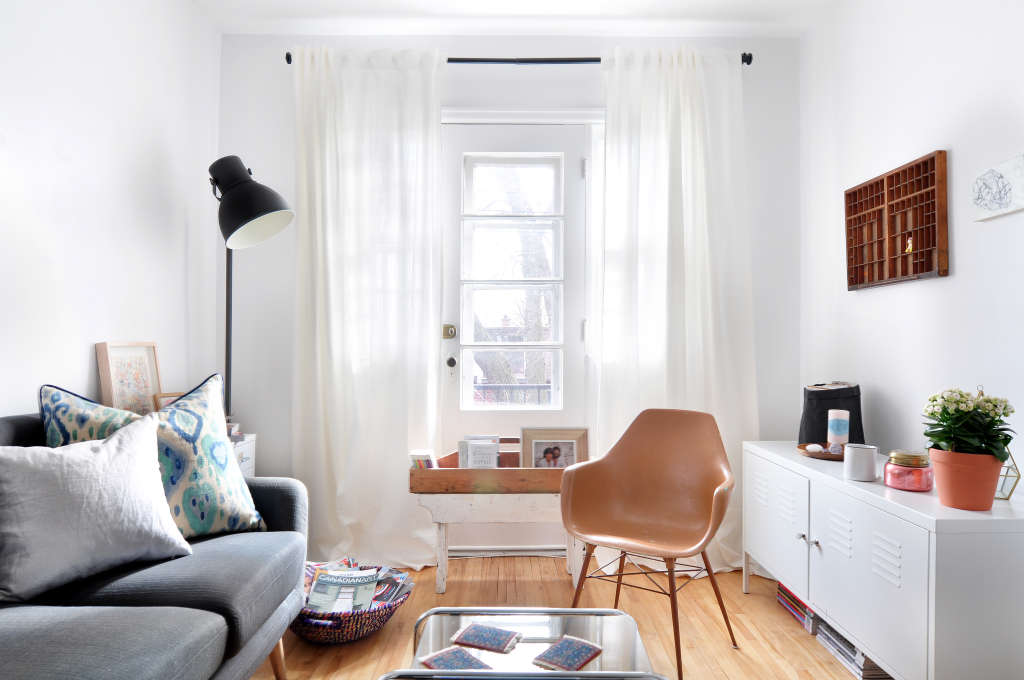 We need to talk about your clutter.
No, not the dirty dishes in your sink or your unmade bed (that's a mess); we're talking about the loose papers on the kitchen counter, the knick-knacks taking over your bookshelf, and all those storage bins occupying important floor space. You know, clutter.
Turns out, your clutter can do a lot more than cramp your space's style. Research shows cluttered areas can make it difficult to focus. Ugh.
But just because you want to declutter your space doesn't mean you have to go full-on Marie Kondo and toss every little thing that doesn't bring you joy. Instead, try these expert-approved hacks for giving your space the breathing room it deserves.
1. A Clean Slate
"Kitchen counter clutter drives me crazy, but I have two tricks to free up counter space and create a little space to breathe. The first is to mount a magnetic kitchen knife holder to the side of a cabinet or on the backsplash, out of reach of children. This gets the knife block off the counter and frees up precious space. The second is to trade your fruit bowl for a hanging crochet basket. This problem-solver does double duty by clearing something else off the counter and creating visual interest in another part of the room." —Stephanie Hauptli, product and interior designer at Hauptli Haus
2. Get Low
"Try a low slung wall-to-wall modular sofa. This will maximize seating capacity while opening up the room for circulation and negative space!" — Shannon Wollack and Brittany Zwickl, founders of Studio Life.Style
3. Double Duty
"Furniture with multiple purposes is a great way to make a piece work hard and save on space. Our cube ottoman can be everything from a footrest to a side table to a seat." —Danielle Walish, interior designer and furniture designer for The Inside
4. Stay Focused
"Determine your focal point within the room and work from there, anything that does not complement this can be removed and used within a room it adds purpose to. Use simple accent pieces—remember less is more!" — Vanessa Alexander, interior designer
5. Light Up The Night
"Slim sconces elevate a space and make it seem larger by bringing the eye up. The cylindrical vertical lighting can save space without sacrificing impact. Their unique shape and size make them a great way to add visual continuity throughout every small space." — Michael Amato, Creative Director of The Urban Electric Co.
6. Avoid Eye Sores
"Invest in closed storage. If you can't see your clutter, you can forget it's there! Look for bookshelves and credenzas with doors, baskets with lids, and ottomans or coffee tables with hidden storage. The more you can clear off surfaces, the more space you'll feel like you have at home." —Alessandra Wood, interior design expert and director of style at Modsy
7. Layer Up
"Layering a smaller rug atop a larger area rug can help to create a distinct space within a space, bringing visual order to a room. Try keeping the tones of the two rugs within the same family and playing up a contrast in texture. This will allow the smaller rug to demarcate without disrupting the look and flow of the room." —Sandy Chilewich, founder and creative director of Chilewich