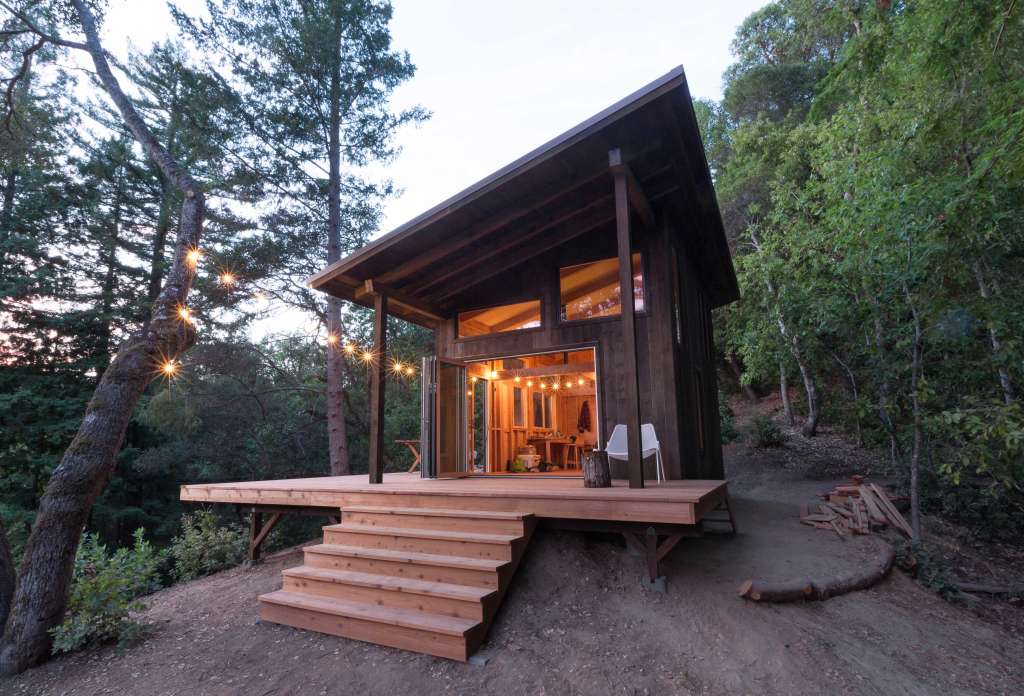 When the typical city dweller yearns for a break from the traffic, crowds, noise, and light pollution, some of the most immediate forms of relief can come by hopping on a quick flight to a remote, quiet destination, or packing up the car for a weekend road trip.
But when California couple Jeff Waldman and Molly Fiffer faced this familiar conundrum, they decided on a more permanent solution. Two years ago, the pair purchased a plot of land in the Santa Cruz Mountains and began meticulously laying the groundwork for what would eventually blossom into a rural retreat Jeff refers to as their "social honeypot." After clearing the area, the first structure Jeff and Molly built was a stylish, solar-powered outhouse, a project that marked the pair's first foray into design and construction.
Despite their lack of experience, the striking, cube-shaped lavatory was a major success. Encouraged by their newfound skills, Jeff and Molly enlisted the help of their friends to expand the sanctuary, which now includes various tree decks, a wood-fired hot tub, a heated open air shower, a shed, a pavilion, and most recently, a cabin.
"We spent about a year salvaging the big door and most of the windows, which we designed the cabin around. The rest of the design was informed mostly by our capabilities, having never designed or built anything of this magnitude before, and by the constraints and logistics of the site and property," Jeff says.
Perhaps the most notable aspect of this project (aside from the couple's lack of experience) is Jeff and Molly's insistence on prioritizing cost-saving and conservation-friendly methods. For example, they milled from trees that were cleared on the site to construct the cabin floor. They saved money by building the interior from a combination of mostly Douglas fir and plywood. The bathroom wallpaper was an Etsy purchase. Environmental impact remained minimal while constructing the decks and the shower, which uses solar power. Cabin scraps currently fuel the hot tub, while leftover hardware and fragments from their other previous construction projects contributed to the structure in some way. Finally, Jeff and Molly were extremely careful to not disturb the surrounding Redwood trees.
This mountain escape sounds like the perfect getaway, but Jeff and Molly have even more plans for expansion that include a guest hut and treehouse.