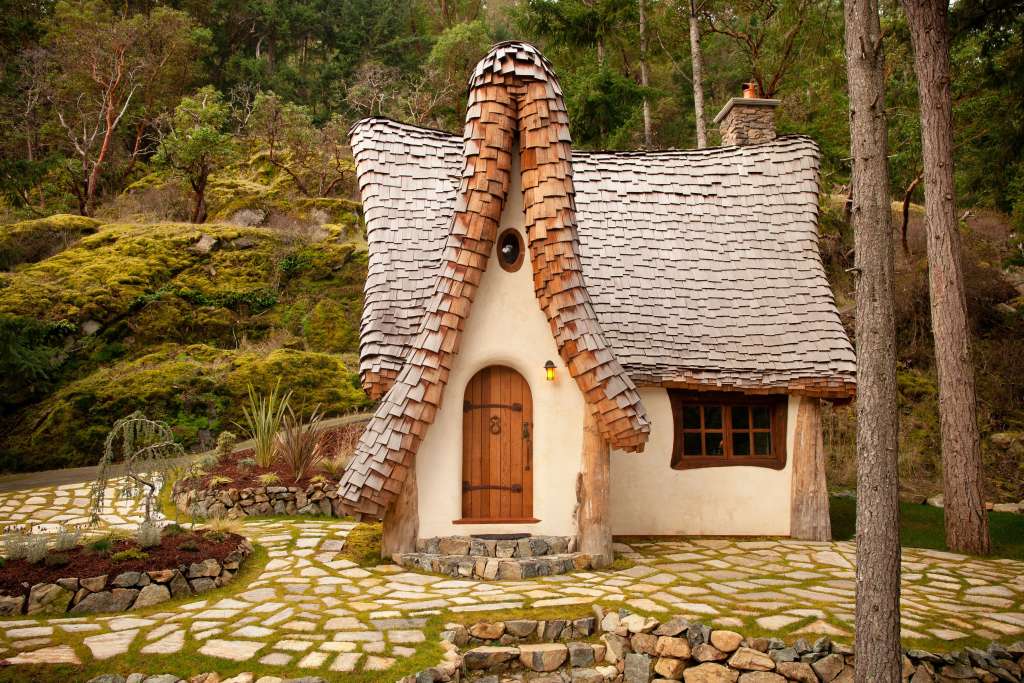 If you thought this cozy home might be taken from the pages of "Sleeping Beauty," you aren't too far off.
Inspired by designs straight from fairy tales, "The Winckler" incorporates its natural surroundings through its shell made of locally sourced materials. The roof is made of split cedar shakes and the frame is constructed from timber, and inside is home to a stone fireplace that keeps the space warm in the wintertime.
"The inspiration came from the idea of building a whimsical cottage by the sea and capturing elements of fairy tale and storybook designs to complement the natural surroundings," says Daniel Huscroft, a musician and builder who constructed the home. The 500-square-foot tiny cottage was created by design and construction company Lindcroft Custom Dwellings, a joint effort between Huscroft and fellow musician Tim Lindberg—hence, the birth of the name Lindcroft.
The house is located on the shores of Vancouver Island and is named after its owner Bruce Winckler, although his friends often call it the Hansel and Gretel Cottage, according to Living Big In A Tiny House.
The two-story home is complete with a kitchen, living room, bathroom, and upstairs lofted bedroom. The rustic vibe that makes up the interior is updated with contemporary amenities, from the stainless steel kitchen appliances to its fully functioning bathroom that includes a glass shower.
Since it's quite quaint, Huscroft and Lindberg decided to waste none of its precious square footage. The organically shaped stairs doubles as storage for the space heater and home electronics, and the height of the home itself makes it look and feel bigger.
The haven is happily occupied (for now), so all we can do is dream about what's it like to live there—and hope that our own fairy tale comes true someday.