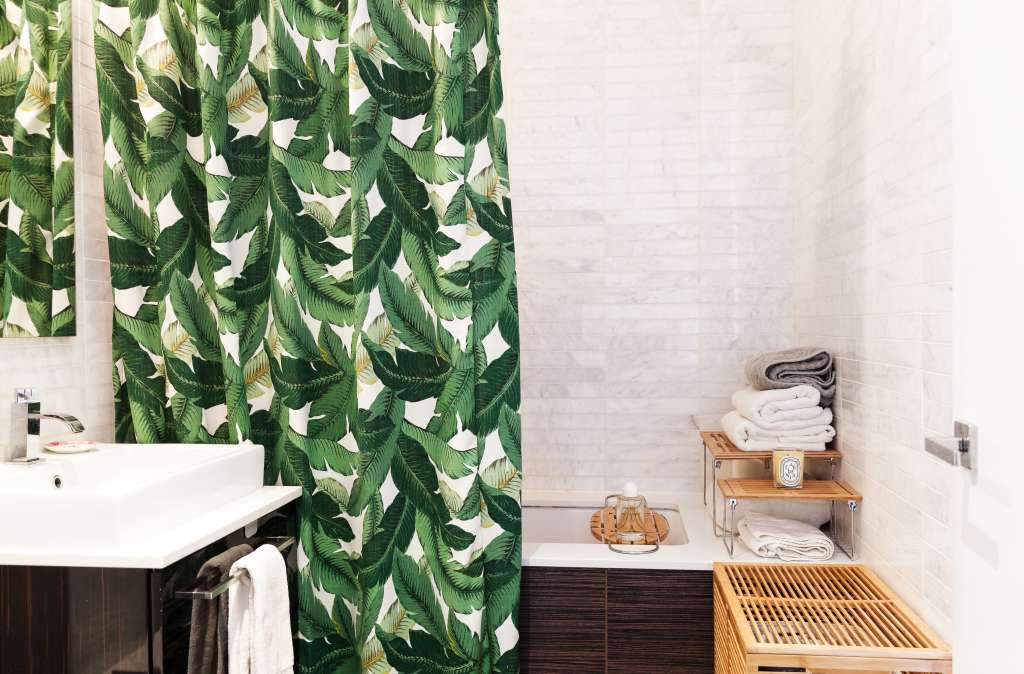 Your bathroom is one of the most private areas of your home, and that's why it should be a space you enjoy spending time in. So to help jumpstart your bathroom decorating endeavors, we dug through our stash of house tours and gathered some of the most brilliant bathroom design ideas we could find. From swing-arm sconces to statement mirrors, here are 25 foolproof bathroom design ideas that will make decorating yours a breeze.
1. Pass on a Towel Rack
Forgo a bulky towel rack and opt for a multifunctional ladder, like we saw in Michelle Grayson's Australian family home, to score some extra sink-side bathroom storage.
2. Add a Bright Bathmat
No matter how monochrome your palette may be, a colorful bathmat, like the one we spotted in designer Kelly Moore Clark's home in Louisiana, is a stylish way to liven up your bathroom without overspending. Plus, you can swap it out for another one whenever you feel like switching things up.
3. Paint the Walls in a Vibrant Color
Searching for an easy way to make a big impact in a small bathroom? A fresh coat of bold paint, like the bright turquoise hue Tami Hill picked for her New Orleans home, brings instant pizzazz to even the tiniest of bathrooms.
4. Tiered Storage FTW
Working with little to no sink space for bathroom storage? A tiered stand, like the metallic one we saw in Simran Winkelstern's West Hollywood apartment, offers up multiple levels of storage opportunity without taking up too much surface space.
5. Basket Towel Storage
Not enough space in your tiny bathroom for a towel stand? No problem. Employ a good-looking storage basket on top of your toilet's tank and roll them up nicely, just like Baiyina Hughley did in her Los Angeles abode.
6. Green Light a Gallery Wall
A good gallery wall can work for a bathroom. Create your own salon-style arrangement on a single bathroom wall, like the one we saw in Mila Moraga-Holz's Culver City home, for an artful but personalized display.
7. Lean In
Looking for a sleek but simple way to forge more storage in your bathroom? A leaning ladder with shelves, like the one we spotted in Ana and Patrick Kamin's San Francisco apartment, has a small footprint but offers up ample storage space.
8. Play With Prints
Your bathroom is the perfect place to experiment with contrasting prints, patterns, and finishes. Case in point: Carrie Hayward's bold Los Angeles bathroom, that packs a bright bathmat, floral printed wallpaper, and a metallic side table in less than 50 square feet.
9. Hide Your Hardware
Behold a bathroom DIY that will blow your mind. For her Seattle bathroom, Mackenzie Schieck turned some salvaged wood into a floating-style shelf display to cover up an unsightly shower curtain rod and carve out a little more storage space.
10. Go for a Swing Arm Sconce
To score better bathroom lighting without taking up any sink space, mount a sophisticated swing arm sconce on either side of your mirror, just like Diana Marsh did in her Ann Arbor, Michigan, abode.
11. Make a Statement (Sink)
An all-white bathroom provides a neutral backdrop for an eye-catching sink. Paint your bathroom sink cabinet in a vibrant hue, like the shade of bright teal we spotted in Cass Cheesar's Austin, Texas home, for a punch of color that doesn't overwhelm the rest of the space.
12. Mind Your Trim
Add depth and dimension—and a pop of color—to a monochrome bathroom by simply painting your doorway and baseboard moldings an interesting shade, like we saw in Emily Ferris' yellow-trimmed Kansas City bathroom.
13. Consider Some Snazzy Lighting
An eye-catching light fixture can anchor an awkwardly shaped bathroom in no time, just like this crystal chandelier does in Judith Bigham's Seattle, Washington home.
14. Create Contrast
Dark painted walls contrast nicely with glossy white tiles, as shown by this room we spotted in Jamie Gasparovic's dynamic Orlando, Florida, bathroom.
15. Set a Relaxing Vibe
Hang a beach-inspired photo or piece of art inside your bathroom, like Ned and Sarah Corbett-Winder did in their London flat, to create a soothing ambience for the intimate space.
16. Employ a Picture Ledge
Mount a picture ledge under your mirror to turn a sliver of wall space into storage space for your makeup brushes, fragrances, and more, just like we saw in Anne-Aurelie's Paris apartment.
17. Go Green
Searching for a natural way to play up a white bathroom? Hang up a handful of bathroom-friendly houseplants, like ivy (which grows better in humid environments), or create a plant-based ceiling centerpiece just like Katie Day did for her Australian Queenslander-style home.
18. Opt for an Artful Shower Curtain
An eye-catching shower curtain in a lively print or pattern is a clever way to make an artful statement in a tiny bathroom, like the one in Sarah Ashley Schiear's Brooklyn apartment, without taking up an inch of precious floor or wall space.
19. Make a Mirror Statement
A striking statement mirror or frame, like the lavish gold one inside Alex Crabtree's maximalist London home, creates a fail-safe focal piece for a cramped bathroom.
20. Floating Shelves are Your BFF
When all else fails, you can always count on a few floating shelves, like the trio of clean-lined ones Sadie and Dana Solomon used in their super small Santa Barbara bathroom, to offer up some space to store your essentials.
21. Window Treatment
Who knew a couple of floating glass shelves could turn your bathroom window into a design-savvy scene? Clearly Annette and Phil Englander, who installed a few glass shelves inside the window frame of their Brooklyn bathroom to forge a stylish, floating-style display for their houseplants.
22. Wallpaper Wins
Flashy wallpaper, like this brightly patterned style we spotted in Kate Reynolds' Brooklyn home, is an awesome way to distract the eye from an awkwardly shaped bathroom.
23. Incorporate Texture
A little texture can go a long way in a tiny bathroom. Take a cue from Steve and Heather Sacks' San Francisco house and layer your small, monochrome bathroom with interesting textural elements—think sculptural mirrors, bushy plants, and a mix of metallic finishes—to warm up the space.
24. Hack it
There's nothing like a good old-fashioned IKEA hack to upgrade your bathroom on a budget. Follow in the footsteps of Jordan and Brittany Griggs and mount a hanging rail and containers in your bathroom to forge more room for storage without taking up any valuable sink space.
25. Paint Your Tub
DIY lovers rejoice: You can hand-paint your own bathtub to make a major design statement in any size or style of bathroom, just like we saw in Kristen Harper and Michelle Flores' Austin, Texas, home