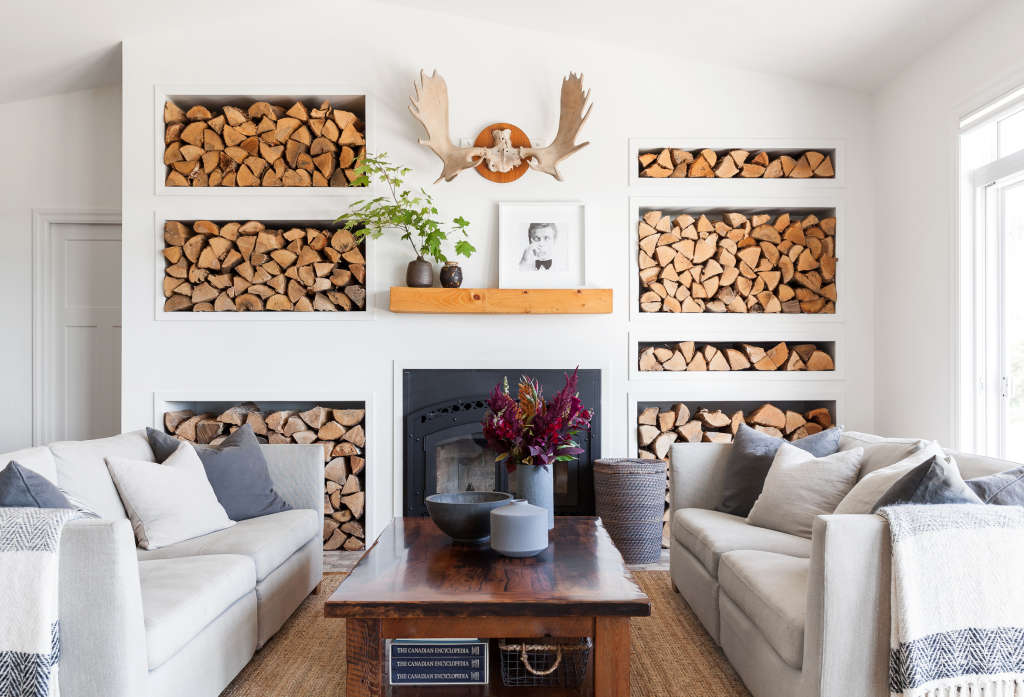 It's 2019, and yet, "modern farmhouse" style is still crushing it. What does that say about us? Probably that we all need a little more simplicity in our lives—less tech, more nature. We might not actually want to live on a farm, but we sure wouldn't mind if the inside of our houses looked like we did. But again, we're not talking roosters and cows plastered all over things, or even an actual barn—but barn wood works! There's something timeless about the mix of this style's characteristic wood tones, older pieces with character, and its soft, utilitarian finishes like matte black. But paint is the one place where I see things lacking. Generally, all white is the preferred paint palette. So I wanted to do some digging to see what other colors (in addition to white), when surrounded by the above things, could feel "modern farmhouse." Here's what made the list.
1. Shiplap by Magnolia Home
Let's start with the obvious here—could there be a better "modern farmhouse" color than "Shiplap" by Magnolia Home? This creamy, weathered white is from none other than the "modern farmhouse" fairy godmother, Joanna Gaines herself. The thing is, white is a nice clean backdrop for just about anything and can make a space seem fresh, open, and bright. If you want a just-right white for your farmhouse-inspired home, chances are this one will work for you on your walls, whether they're covered in actual shiplap or not.
This warm, almost-brick red is basically the color you think of when you hear the word "barn." So naturally, Behr's "Raging Bull" has major "modern farmhouse" vibes. But to keep this hue from going too far into classic country territory, you should use it on accent pieces as opposed to walls.
Sherwin-Williams' Repose Gray is another one of those colors that every designer recommends. So how could it not be a contender? Its warm undertones will play well with those weathered woods this style is known for.
Green is just an all around soothing color, so you can't go wrong with something that's grayed out and neutral, even in a "modern farmhouse" setting. This barely-there color would be great for a bedroom to change things up from white. Even a light green like Glidden's "Misty China Rain Green" is capable of evoking nature and the woods, which references the idea of a farmhouse's ample yard and grounds.
5. Beigeing by Clare Paint
There's no denying that beige is having a moment again. Want an even warmer than white, almost sun-bleached hue that's still totally neutral to create a nice flow between your main rooms? "Beigeing" by Clare Paint just might be your color match.
"Greenwich Village" by Behr is just a lovely, almost colonial-looking color that's super useable. It works well with casual materials like linen, which embodies that lived-in "modern farmhouse" look so well.
Glidden's "Old Leather Book" is a rich, mid-toned brown that's perfect if you want to bring a little bit of drama to your digs. I could potentially see this shade in a dining room or entry, as seen here. But you'd really need to get good natural light in any given room to go full "Old Leather Book."
Apartment Therapy supports our readers with carefully chosen product recommendations to improve life at home. You support us through our independently chosen links, many of which earn us a commission.