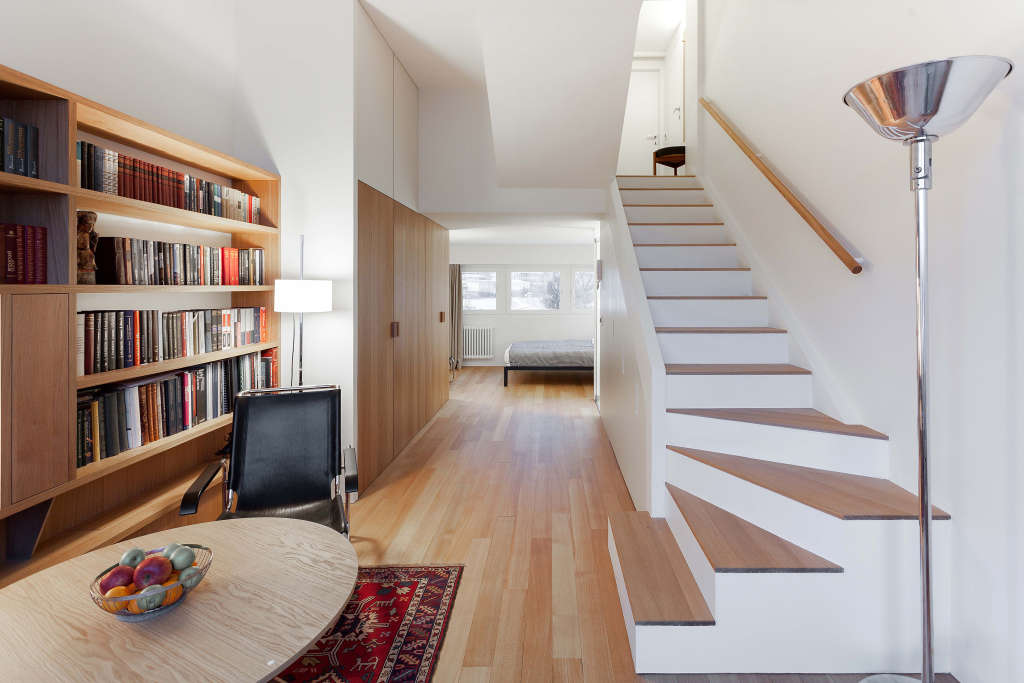 I was pretty proud of myself for turning the hallway of my tiny New York apartment into a closet. But in the hallway of a little Russian apartment that measures just 355 square feet, the architects at Studio Bazi have managed to squeeze in storage, a laundry room, and a kitchen (and it's a kitchen you might actually want to cook in, too).
The layout of the apartment is a bit unusual: The entrance (and the toilet) are on the apartment's second floor, with the main living areas on the lower floor. 355 square feet, including a staircase, doesn't leave a ton of room for living space, so the designers at Studio Bazi, including founder Alireza Nemati, tucked a great deal of uses into a tight core at the apartment's center, which leaves room for a rather spacious living room and bedroom.
In this central hallway, doors open to reveal a small but very efficient kitchen, with a cutting board, food and dish storage, and a trash can that all slide out of sight. Another door hides a broom closet, and next to it there's a cabinet with storage and a combination washer/dryer, something this New Yorker is very, very jealous of.
For such a small kitchen, this one is surprisingly luxurious: Marble surrounds the sink and covers the backsplash, and the wall-mounted drying rack is both beautiful and a brilliant space-saving solution. There's even a vent above the petite stove, which I guess is less a luxury than a necessity when you're cooking something garlicky and don't want the entire apartment to smell like it.
Across the hall from the kitchen is the bathroom (a shower stall with sink—the toilet is upstairs) and three pull-out closets that nest under the stairs. The bedroom and bathroom can be closed off with a curtain (which slides out from one of the cabinets next to the kitchen) to provide privacy at night.
Even in the living room there are space-saving solutions—a wall of bookcases has concealed storage, and also a spot to hang folding chairs for extra guests. It all adds up to an apartment that feels much larger than 355 square feet—and, thanks to all the hidden storage, one that feels uncluttered and bright, too.
You can see more photos of the apartment at Behance, and more of Alireza Nemati's work there as well. Follow Studio Bazi on Instagram for more of their latest work.