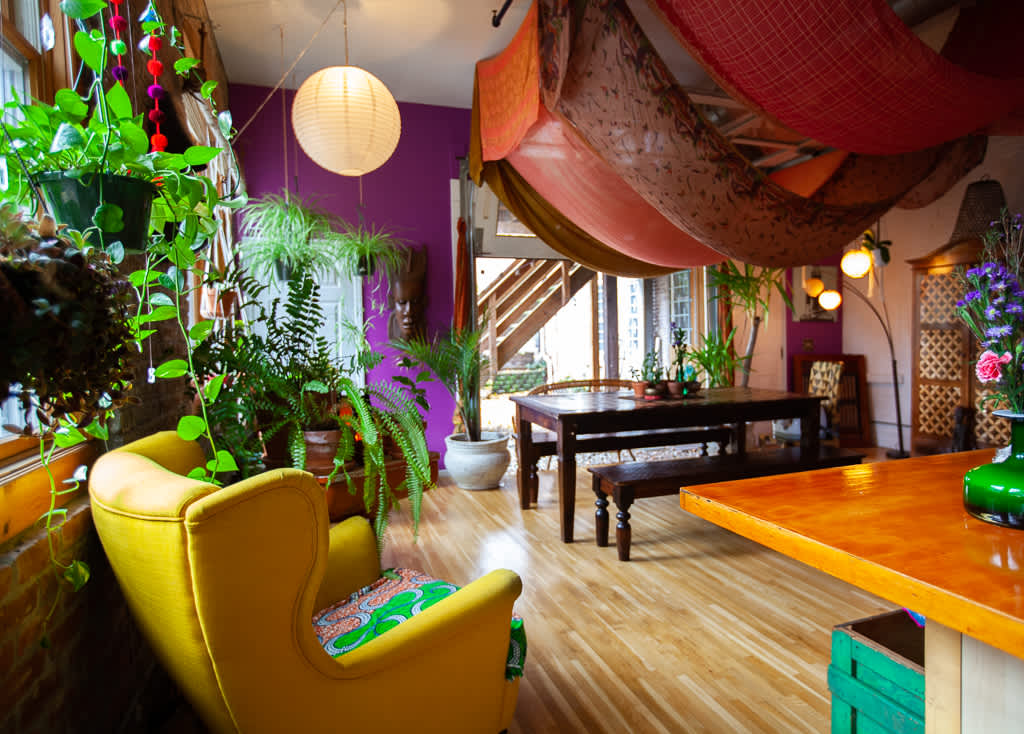 Name: Cherub Stewart of Florida Water Interiors and her daughter
Location: The Lincoln Park District — Newark, New Jersey
Size: 1,200 square feet
Years lived in: 1 year, renting
It hasn't even been a year in my magical loft, yet it feels like so much time has passed. Time certainly flies when you are blissed out. I happened upon this restored garage space on Zillow, of all places, at a difficult time in my life where my little one was only 9 months old and her father and I decided to live in different homes. We are great, absolutely dear friends and parted amicably, yet it was challenging moving with a baby, and I was not ready to live alone with child. I truly wanted a place that felt, warm, welcoming, had lots of character and space for a growing child, was safe, yet would accommodate my budget!
My child's father had actually been assisting me in locating a suitable place to live and while I was in Florida visiting family, he initially went to check out the space for me. After FaceTiming me, I was definitely intrigued with the place's layout, yet questioned my ability to warm it up, as it was covered in concrete, brick, and faced a parking lot!
The landlord happened to know my family, so he was quite generous in making a few improvements to the place. He allowed me to select carpet to cover the concrete floors and gave me the opportunity to choose some beautiful grass woven Roman shades to cover all the windows that faced the parking lot.
---
"For 10 months now, my child and I have returned to recharge, regenerate, create, play, and rest in this blessed space."
---
My design journey in my home, I affectionately call Color Therapy, began when I decided to go with red carpet! From that point I deemed this place a healing den, and chose colors that reflected the energy portals of the body, the chakras.
Following the red carpet, representing the root chakra, I chose to paint the walls orange, yellow, green, blue, and purple. I had the place blessed with the energetic plants of sage and paulo santo, and proceeded to pour love and intention in. For 10 months now, my child and I have returned to recharge, regenerate, create, play, and rest in this blessed space.
---
"It is color therapy for your eyes, an aromatic journey for your senses, a calm vibe for your soul and there is always music in the air."
---
My space is an altar, an offering. It is color therapy for your eyes, an aromatic journey for your senses, a calm vibe for your soul, and there is always music in the air. You will always be offered tea or water and a smile awaits. Space is sacred. The home has been referred to as the heart because it dictates the rhythm of movement we all participate in.
Apartment Therapy Survey:
My Style: Afro-bohemian for sure. I have over 15 African masks in my home and that is just the start of my collection. There are fabrics and artifacts sprinkled throughout, which come from artisans from all over the African Diaspora. It is important for me to see the beauty and work of my ancestors when I enter my space. Plants are also integral to my design, as I am a lover of the Earth and must pay her homage.
Plants spread love, oxygen, and automatic warmth to any space, so they are always welcome. It is so important for me to imbue feeling into my design work and impart a consistent vibe of high vibrational love. Plants are alive and if well, create healing and depth in spaces that are devoid of intention. I can always tell how my plants are feeling especially if my vibe is off. If I haven't had enough water, chances are they are thirsty, too!
In addition, my Momma has always called me bohemian, as she is one herself, and it is seen in every aspect of my life. Bohemians are generally categorized as such because they are simply free-form artists in their approach to style, whether it be style reflected in their homes or dress. I feel if you are an artist, it is seen in everything you do. I am an interior designer, a musician, a creative educator, and a momma. Art is everywhere in my life! To quote the wildly creative actress Helena Bonham Carter, "I think everything in life is art. What you do. How you dress. The way you love someone, and how you talk. Your smile and your personality. What you believe in, and all your dreams. The way you drink tea. How you decorate your home. Or party. Your grocery list. The food you make. How you're writing looks. And the way you feel. Life is art."
Inspiration: Momma Nature. I am in awe of this planet's beauty. The colors of the leaves falling. The feathers of a bird fluttering in its mating dance. The sky on the clearest day. The peak of mountains. The way the wind moves through the forest canopy and how that can be mimicked in the draping of fabrics. The dress of all indigenous peoples of our global community. And the Earth's infinite grace and how she allows us to take up so much space. It is incredibly important to me to create space to be an altar, an offering of love to this Earth and its descendants.
Favorite Element: Florida Water Interiors-commissioned, N'debele-inspired mural. I worked with my colleague and friend, wonderful artist Kelly Loopz, to create murals in beautiful spaces and she blessed me with such an amazing art piece. I came to her with a huge request to create an N'debele-inspired mural and we went back and forth for months on the sketch and feeling behind the mural. She studied the N'debele people of South Africa and hand painted an immaculate piece on a large wall in my hallway. She completely captured my feeling and intention in the piece. In the 18th century, the N'debele began using house paintings as form of communication and cultural resistance. I am beyond grateful to fill my home with relics of strength, pride, and great history.
Biggest Challenge: The layout of my living/dining room. I live in a large open loft space and the kitchen area could be anything! I have a really long hallway leading up to the kitchen and constantly played around with placing the living room furniture along the hallway. Lining the wide hallway with couches and chairs just didn't feel right so the furniture had to go elsewhere.
The kitchen is where all the magic happens and tea is spilled, ha! So, I needed there to be seating surrounding the kitchen and I had to make space for my fabulous eight-person coconut and bamboo dining room table from Bali. I knew I must also fill the space with plants, as there is a large glass sliding garage door and four large wooden-framed windows that pour in light. So I decided to hang as many plants in the kitchen area as possible, in order to leave room for furniture. I suspended curtain rods from rope and birch wood logs to hang plants from and put a few hooks in the ceiling for the remaining plants.
I also reupholstered my 70-year-old couch with indigo mudcloth, placed it in between two wood beams, and (directly across) arranged a sweet little seating area with my favorite yellow wingback chair, placed under a window next to an old school desk from my grandfather's days as a school teacher/administrator, which I then filled with plants. And voila! Not only was there now a place for eight people to eat and chat, there was also seating for five to spill tea and dish, all in the kitchen area!
What Friends Say: As soon as they walk in, "Oh my goodness, it's so beautiful." People always talk about how wonderful it smells and how welcome and warm they feel. Some say they feel trapped (in a good way) and don't wanna leave. Almost always, people express they felt some level of healing as a result of being present.
Biggest Embarrassment: The fact that one of my windows faces the trash area for the apartment building. I often keep the shades down on that window, although I love natural light and the window is in one of my favorite rooms of the house: the TV/meditation, library room. Yup, the TV room is also the meditation room and library because the TV is rarely used except for the occasional movie or Sesame Street viewing.
Proudest DIY: Florida Water Interiors' ethically sourced, birch wood suspended curtain rods. Although not used for curtains at all! I hand-tied the knots like an advanced sailor on these beautiful white birch logs and hung plants, crystals, and colorful pom poms from them, all over my home. It took a lot of work and precision, but I got it done! The logs were super heavy to lift onto a ladder but with helping hands and a sharp eye, my measurements and knot skills secured these beautifully handmade curtain rods-turned-crystal plant hangers.
Biggest Indulgence: My bamboo coconut armoire, matching dresser, and dining room table. I just had to get them all together. There was absolutely no way I was leaving my favorite Florida import store, Midnight Sun, without them. They are handmade from Bali and are such an addition to my space. They are used daily, so beyond beauty and form, utility is a must.
Best Advice: How your home flows will be how you flow… the heartbeat. Transforming space through crystals and freshly made oxygen from plants is the ticket!
Dream Sources: I love Restoration Hardware and Citizenry and have yet to purchase anything from there… oh but I will!
Resources
PAINT & COLORS
(All paint from Home Depot)
Behr semi-gloss — Extreme Yellow
Behr semi-gloss — Construction Zone Orange
Behr semi-gloss — Park Picnic Green
Behr semi-gloss — Beacon Blue
Behr semi-gloss — Chakra Purple
Multi-colored, hand-painted N'debele Mural — Commissioned by Florida Water Interiors
ENTRY
Mahogany Wood Couch — World Market
Antique Oval Standing Mirror — Thrifted
Balian Bamboo Coconut Wood Dresser — Midnight Sun
Vintage Saris — eBay
Brass Antique Lamp and Decorative Red lamp Shade — Thrifted
Ejagham (Ekoi) African Headdress — Nigeria
Other Various African Masks — African Art Street fairs in various cities
LIVING ROOM/DINING ROOM
Antique Reupholstered Indigo Mudcloth Couch — Commissioned by Florida Water Interiors
Balian Bamboo Coconut Wood Dining Table — Midnight Sun
Balian Bamboo Coconut Wood Armoire — Midnight Sun
Yellow Wingback Chair — IKEA
Vintage School Desk — Family heirloom
Various Plants — Home Depot
Wicker Side Table — World Market
Chinese 3 Lantern Lamp — World Market
Antique Marble Lamp — Thrifted
Antique Cloisonné lamp — Restore Thrift Store
Children's Piano — Schoenhut
Birch Wood Curtain Rods — Handmade by Florida Water Interiors
Vases — West Elm
Turquoise and Brass Pendant Lamps — World Market
Makonde Body Mask — Tanzania, Africa
Colorful Pom Pom Strings — Swoon Montclair, NJ
BEDROOM
Wooden Crate Side Table — Home Depot
Floral tin tray — Thrifted
Vases — West Elm
Indian Kantha Throw Pillow Covers — eBay
Serape Blankets — El Paso Designs
Birch Wooden Curtain Rods — Handmade by Florida Water Interiors
Carved Wooden Room Divider — World Market
Wicker Pendant Lamp — Found on the sidewalk
Bobo Butterfly Mask — Burkina Faso, Africa
TV/MEDITATION ROOM AND LIBRARY
Indian Embroidered Wall Art — eBay
Batik Painting — Africa Imports
Indian Kantha Blanket and Throw Pillows Covers — eBay
Red Bookshelf — Walmart
Buddha Bust — Midnight Sun
Midnight Sun — Midnight Sun
BATHROOM
Bamboo Squatty Potty — Squatty Potty
Bathroom Shelf — HomeGoods
Plants — Home Depot
Woven Plant Hangers — Home Depot
Various Postcards — Various Art Galleries
Antique Wooden Table — Thrifted
Mahogany Folder Chair — World Market
Wicker Pendant Lamp — World Market
Toddler Potty — Summer Infant
Thanks, Cherub!
---
Apartment Therapy supports our readers with carefully chosen product recommendations to improve life at home. You support us through our independently chosen links, many of which earn us a commission.