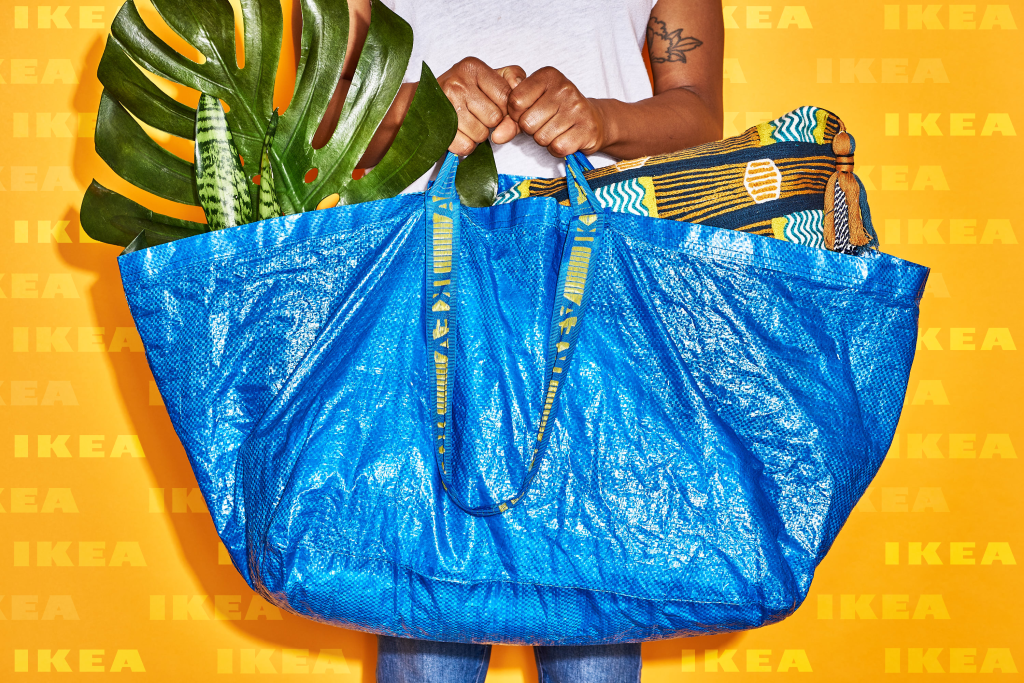 Everyone knows IKEA is good for a bargain, but it's not the type of store most of us visit just to browse, especially not for decorative accessories or textiles. So a lot of great stuff arrives in store and chances are, you haven't seen it before and may never get a chance to see it, that is, until now. Because we rounded up 15 stylish, under-the-radar items that cost less than $15. They're totally worth taking a trip to your local store for, we promise, but if you'd rather browse from your couch, shipping for small items starts at $9.
This sub-$5 blanket has a classic window pane pattern and would be perfect at the foot of your bed, thrown over a sofa, or for picnicking in the summer.
Serve in style with this set of reversible trays that feature trendy terrazzo and scalloped prints.
Class up paper napkins with a brass holder that has a deco vibe and looks way more expensive than it actually is.
Your new doormat, if you're a fan of a good deal and a moody floral.
Hygge is still a thing, and this cozy gray rug will get you there. Use one by your bedside or drape a couple over chairs.
Black-and-white graphic pillow covers are always a safe bet, especially if you can get them on the cheap.
This modern geometric tea light holder is so chic, I might actually buy a bunch of them for my wedding centerpieces. At less than $6 a pop, they're totally under-budget.
Pop one of these cool celestial themed posters in a RIBBA frame and call it a day.
Display this dusty pink vase on its own or add some eucalyptus. Either way, it'll look great on a table, console or counter.
Have lots of little tchotchkes, natural objects, or crystals to display? This wall-mount box would be perfect for that kind of thing.
Playful dot pillow covers are easy to mix with other patterns, especially in this white and gold colorway.
Use one of these cute frame collages for your vacation photos. Or group a couple together for a larger collection.
Stash your jewelry or other small items in this set. You could also style your shelves with a few of them, empty or full.
I've never come across a prettier glass cloche at this great of a price.
Need a cute little shelf to fill a blank powder room or entry wall? This little gold guy is just the thing.