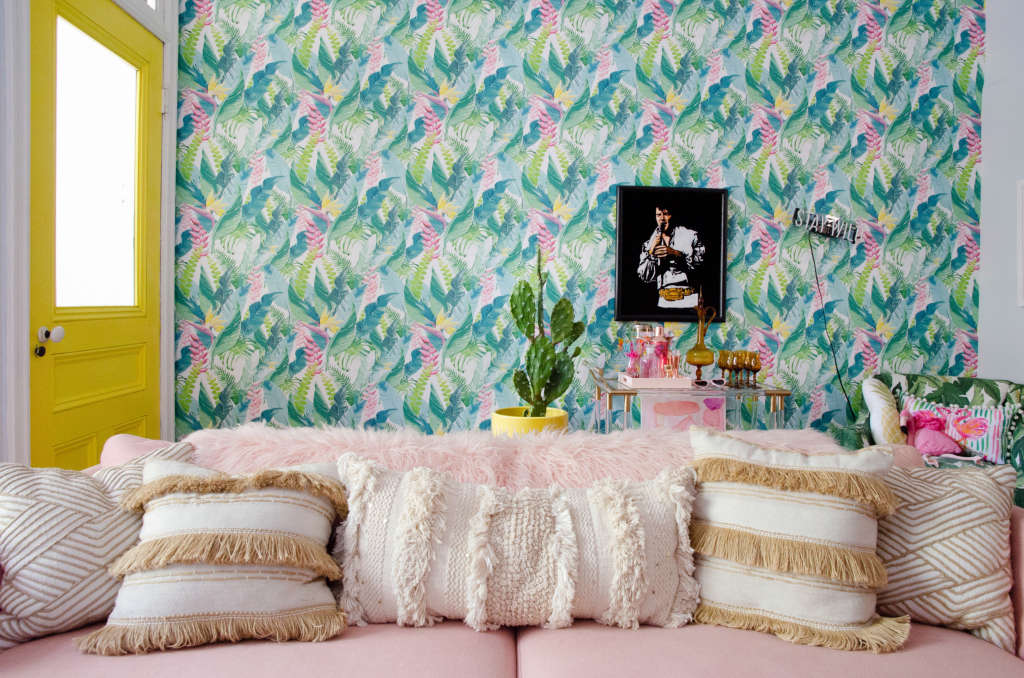 No doubt about it, removable wallpaper is easier to deal with than its pasted counterpart. Its temporary nature means you can more easily correct mistakes (simply peel off the paper, then readjust its position), and it's also a breeze to remove. But that doesn't mean you can slap it up on your wall without any planning. There are a couple of things you should keep in mind before trying this type of wallcovering.
1. It doesn't work on every type of wall. As awesome as temporary wallpaper is, it has its limitations. So check your walls: If they're heavily textured or have flaky spots of plaster, temporary wallpaper probably isn't right for you. A bumpy texture will make it next to impossible to adhere the paper without air bubbles, and there's a good chance you could damage sections of wall with loose plaster if you peel off the wallpaper at the end of your lease.
2. You need to order extra. A good rule of thumb is to order about 10 percent more wallpaper than you'd need to cover your wall exactly. Odds are you're going to have waste at the bottom (and potentially top) of each roll, especially if your paper has a pattern you'll need to match up on your wall. Julia Biancella Au, co-founder of Tempaper, suggests pre-cutting panels to your exact surface dimensions so they're easier to work with. You can line them up on your floor before adhering them to make sure the pattern, if your paper has one, is consistent. You may be able to return any extra paper you don't use it, but if not, Julia's co-founder Jennifer Matthews says scraps are perfect for smaller projects, like lining the inside of drawers.
3. Check the dye lot. As with regular wallpaper, the color of temporary wallpaper can vary slightly by the batch. That's why it's so important to buy extra at the outset of your project—it'll prevent you from having to make a second order, which could be from a different dye lot. Combine papers from two different lots and you may end up with a weird-looking variations in shade.
4. A swatch is key. It never hurts to see a sample of the paper you like in person before committing. Depending on your ceiling height, where your room is, and how many windows it has, the wallpaper may look light or darker than you expected. The pattern may also appear different than it did online, especially if you order from a site like Spoonflower—many of the designs there are uploaded by individual contributors, so you should check that the design isn't pixelated or blurry.
5. You might need to put a lot of thought into the design. Patterns with intricate patterns that need to perfectly align or have a small pattern repeat will take extra time and patience to hang. If you're not up for the challenge, look for a paper with a simpler, larger pattern, or try a paper that's a solid color but has a texture, such as a grasscloth effect.
6. You'll need a friend for installation. Technically, you could install temporary wallpaper yourself, but the folks at Tempaper don't recommend it. It's much easier to wrangle long rolls of giant panels of wallpaper if you have someone helping you out. Wallpaper that comes on a roll can be especially tough to handle because it tends to curl, so having a friend to hold it flat can save you epic amounts of frustration.