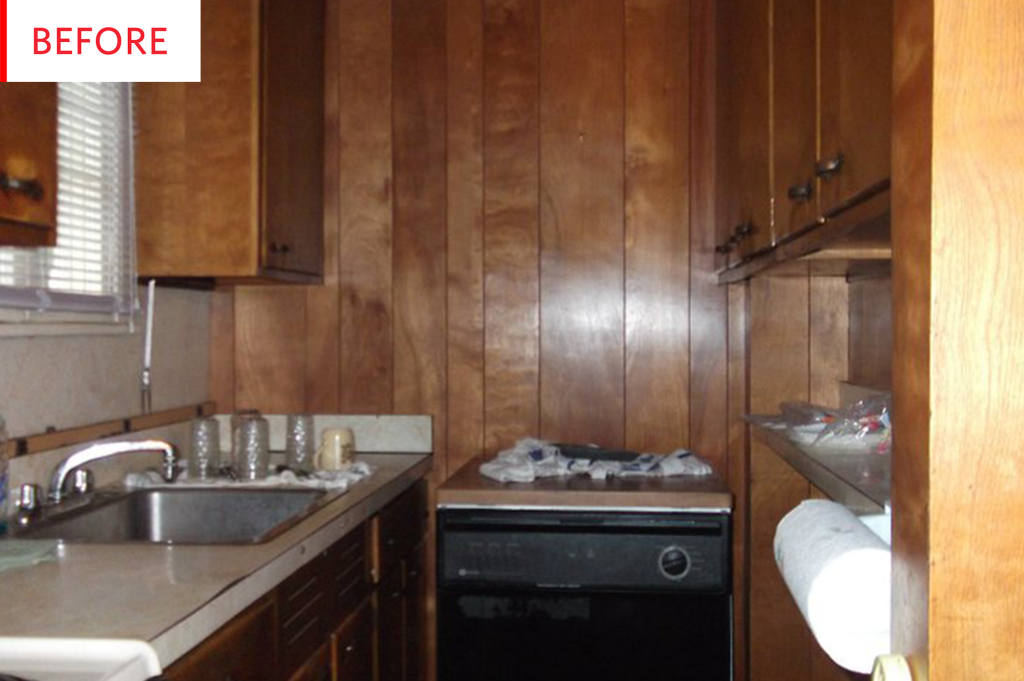 This kitchen was very cramped, what with all the intense wood paneling, small size, and free-range dishwasher. Over eight years, this 40-year-old kitchen in a 140-year-old home has been updated, and the fabulous results suit the house much better then all this ever could.
Reader Chrissie Brackett is here to share a bit more about this kitchen and its challenges:
Our kitchen and porch in our 1870s Victorian hadn't been updated in about 40 years. There was a lot of wood paneling, it was dark, and there was a dishwasher that floated in the middle of the room.
We got a deal on this house so we used the money we saved on renovating. We couldn't live in a kitchen so dark!
Even major fans of wood paneling probably have to admit that the pre-renovation kitchen was very, very dark. Fortunately, that was remedied with style.
(Image credit: Chrissie Brackett)
Chrissie managed to both brighten up this kitchen and lean into the darkness with the deep blue cabinets and black countertop. The newly white walls and stainless steel appliances are obviously so much lighter and more reflective than the paneling was that even with the black and near-black finishes, the overall look is far, far brighter.
The runner provides an excellent burst of color and pattern, while elongating the feel of the space, and the incorporated dishwasher literally clears up some space.
(Image credit: Chrissie Brackett)
Like the rest of this room, the radiator is quite cool and has potential—it just needs a spruce. Here's how the room came to life:
My husband and brother completed most of the work: painting, tiling, installing the wood floor, and knocking down a wall. We hired a professional to take down the wall and to open up the chimney. We have been working on this kitchen in stages over the past eight years. I would estimate that including appliances and new windows we have spent around $15,000 on the kitchen.
We almost removed the cabinets because we wanted everything to be new. Our real estate agent told us we were nuts because they were shaker cabinets in great shape. He was right! They just needed some love!
To stay oriented in the space, keep your eye on that radiator. The wall directly to the right of it was removed, opening up the space dramatically.
(Image credit: Chrissie Brackett)
Again, the removal of the wood paneling has made everything so much lighter and brighter—and obviously knocking out a wall allowed a ton more daylight to flow in. While there isn't a "before" photo of this exact space to compare this to, it's possible to get a good idea what it was like from the other images. The new breakfast bar is fantastic. The gorgeous rug and wood stools draw out the warm tones of the bricks, which share an industrial beauty with the stainless steel fridge; the rug also links this area with the cooking area. Exposing the chimney was a brilliant idea, as that original feature contributes so much character, style, and sense of history to the space. And all the fresh white paint is an excellent counterpoint to the darker, more textured, historical elements.
Speaking of old homes, they're not always going to look—or, apparently, smell—the best when you first see them. Chrissie has some advice for anyone house shopping or considering a renovation:
Don't be dissuaded by places that smell weird and look gross! Also while it's nice to have things done before you move in, if you wait until you actually live in it, you'll get a better sense of what layout would be most functional.
Chrissie makes an excellent point about keeping an open mind, using your imagination, and remembering that money saved because something is "gross" can be used to make it no longer "gross."
(Image credit: Chrissie Brackett)
This is the porch that was separated from the kitchen by the wood-paneled wall. It has a ton of great windows and lots of potential.
(Image credit: Chrissie Brackett)
It's so lush and inviting now. The blue paint was a bold choice, and a smart one that ties this area to the kitchen with its dark blue cabinetry. The colorful paint, pillows, and plant also balance out the primarily white breakfast bar spot. This breakfast nook is bright yet cozy, eclectic and colorful.
It appears, however, that Chrissie has other plans:
I love how bright everything is with the wall coming down and the new windows. We plan on renovating again when we change another room into a dining room, and replace the breakfast nook area into hangout space with a couch and coffee table!
Thank you, Chrissie Brackett!