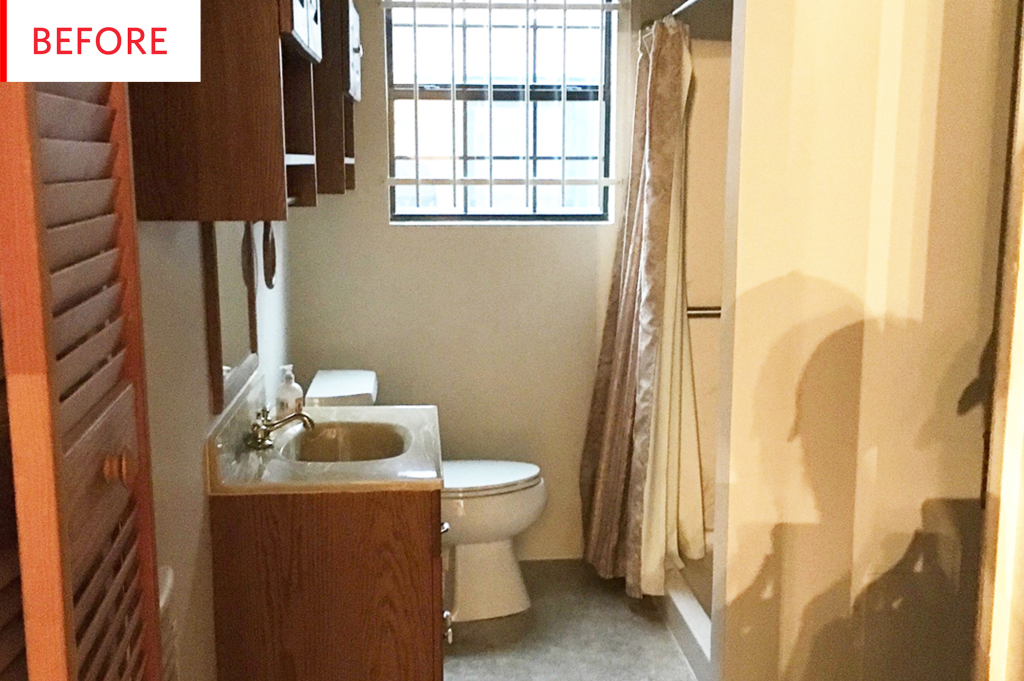 This totally '80s bathroom was "a beige nightmare" with a few issues beyond the aesthetic, but two stalwart DIYers managed to remedy all that and create a fabulously inviting space, all with just two weekends' of work and $2,000.
A bathroom is always going to be a complicated space to renovate, what with the water, electricity, and tile, but that did not discourage these two from diving in to their first big DIY makeover:
This is our first home and first time doing a major DIY project. We purchased our home as is and the bathroom was a portal to the '80s. It was a beige nightmare with dark features, a yellow sink and a black plexiglass vanity complete with old wooden features and a black medicine cabinet. The floor was a dated sheet of linoleum and in much need of repair.
This is fantastic! The black accent wall really delineates the various areas, making the room feel larger. And while the black wall, ceiling, and vanity add drama and an edge, there's still plenty of white to reflect natural light and make the space feel open. The small black accents throughout the bathroom—hooks, pendant, floor tiles, mirror frame—bring the dark and the light together, while brass details add sparkle.
Chap and Abbie Edmonson of Our King Den are responsible for this transformation, and they've shared a bit about the process:
We wanted to make some bold design choices and the black ceiling that flows into the accent wall was one of them. Our ceilings are right at nine feet tall and the darker ceiling helps to make the room feel even taller. We also love the large scale porcelain tiles we installed in the makeup vanity nook. This felt like the biggest transformation once the black plexiglass counter and shelves had been replaced with glass shelves and a porcelain counter. Lastly, we adore the two vintage-inspired sconces. Originally we had one overhead light above the sink, but it didn't feel like it was fitting in with our design. We ended up rewiring the electrical to both sides of the mirror and adding two sconces.
Anything involving rewiring is very ambitious, especially for first-timers, so Chap and Abbie deserve all the accolades for not just being able to complete this project but to redo an element that displeased them.
The accent wall and ceiling are Carbon by BEHR, the white walls are Bakery Box by BEHR, and the trim is BEHR's Maui Mist, all in a semigloss finish. The vanity is IKEA's HEMNES/ODENSVIK and the mirror above is from CB2.
This photo demonstrates the extent of the beige. Nonstop wall-to-wall beige was a trend that continued well into the '90s. The cool brass faucet is the only respite from the flood of beige—but it's still basically shiny beige.
Here's how Chap and Abbie remedied all that and what they learned in the process:
It took us about two full weekends (Friday-Sunday) to complete the project and cost us around $2,000 total. We completed everything ourselves, including the subway, floor, and oversized vanity tiling projects which was a first for both of us! The biggest surprise was how messy gray mortar can be and how quickly it covers everything. It took us awhile to clean it all up. Our only setback was not buying enough mortar for the floor and having to make a run mid-tiling to pick up more. We learned to always buy more than you think you'll need.
That is an excellent lesson for almost any home improvement project. If you can afford to, always buy extra tile, knobs, paint, brushes, lumber, caulk, and, apparently, mortar. Plans will change, someone will screw something up, and it will be nice to have a little extra around in the future for touch-ups.
It's nice to see the brass accent live on in the new bathroom, thanks to the arching faucet and the graceful sconces. They are simple but have plenty of interesting details; the two slightly ornate brass elements are a nice counterpoint to the bathroom's minimalist style. The handy toilet paper shelf joins the brass in adding warmth to the black-and-white space. Another subtle touch is the way the shape of the top of the vanity echoes that of the subway tiles. The use of subway tiles here is fairly novel, covering just the lower portion of the wall and acting as a backsplash. It works well, adding texture and variety to the white walls without overwhelming the room.
This area—"the makeup vanity"—is a very convenient feature for a bathroom to have, especially if two or more people are getting ready at the same time. But, sadly, it needed some major work:
It was a very dated space and it definitely didn't feel like a good representation of our design aesthetic. Also, the vanity had some water damage, broken drawers, and was in overall bad shape. The makeup vanity along with the built-in shelves were all made from black plexiglass which made the space feel small, dark, and heavy.
It's so wonderfully spacious now. The black doors were removed and glass shelves were added, creating a generous amount of open shelving. While the existence of a makeup/primping area was already a luxurious thing to have, it is now totally glamorous, thanks to the gold mirror and handles and the oversized marble tiles on the wall and vanity. The round gold mirror is Project 62 from Target, as are the brushed brass knobs.
Now that the fortnight of hard work is behind them, Chap and Abbie have insight to share with other DIYers or anyone looking to improve their home:
Don't be afraid of making bold choices, overplan, buy more materials than you think you'll need, and take your time to make sure it is right. Also there are a lot of resources available from other DIYers and professionals so no project is really too big. When we've stuck to these rules, we have always been really proud of how the completed project looks.
Thank you Chap and Abbie Edmonson of Our King Den!
Apartment Therapy supports our readers with carefully chosen product recommendations to improve life at home. You support us through our independently chosen links, many of which earn us a commission.