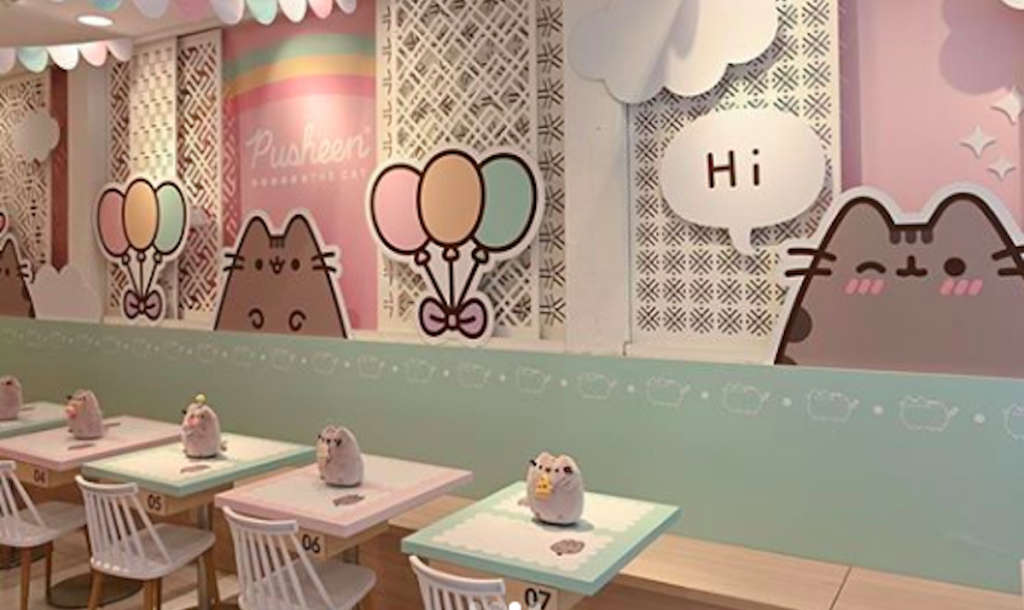 There is no denying that Pusheen the cat is one of the most beloved newer illustrated characters. Pusheen has the cutest little face and a chubby body that all cat lovers can't help but adore. Her tiny smile and large body are exactly why she has been so beloved by people on the internet since she was created in 2010.
If you're obsessed with Pusheen, you can now celebrate that love by traveling to the first-ever Pusheen pop-up cafe. It just opened in Singapore and looks absolutely incredible! We can say thank to Kumoya, a cafe located in Singapore, for this pop-up. The cafe has previously brought some of the best-animated characters to life like Hello Kitty, Care Bears, and My Little Pony with their treats at these pop-ups.
The interior of the Pusheen X Kumoya cafe was actually designed by Pusheen creator, Claire Belton. Each table in the cafe has a plush Pusheen on it, which should make for a picturesque shot for Instagram. The pastel colors fit very well with the Pusheen theme that we're all used to and love so much. There is an assortment of large cardboard cutouts featuring the famed cat literally popping up to say "hi" to cafe visitors.
The cafe will offer a wide assortment of treats and meals to purchase. The meals will vary in price, between $15 and $17, and include aglio olio and a shrimp burger. The menu was crafted by Shirley Wong. As far as desserts go, there is a "Cat on a Cloud Floating Joy Parfait" on the menu, which has lychee soft serve, a Pusheen cookie, and a Pusheen macaron.
You can visit the Pusheen X Kumoya pop-up now through March 2019. The pop up is located at 8 Jln Klapa, Singapore 199320. While there, you can adore all of the Pusheen decor and share tasty treats with your loved ones. Hopefully, this pop-up makes its way stateside soon!