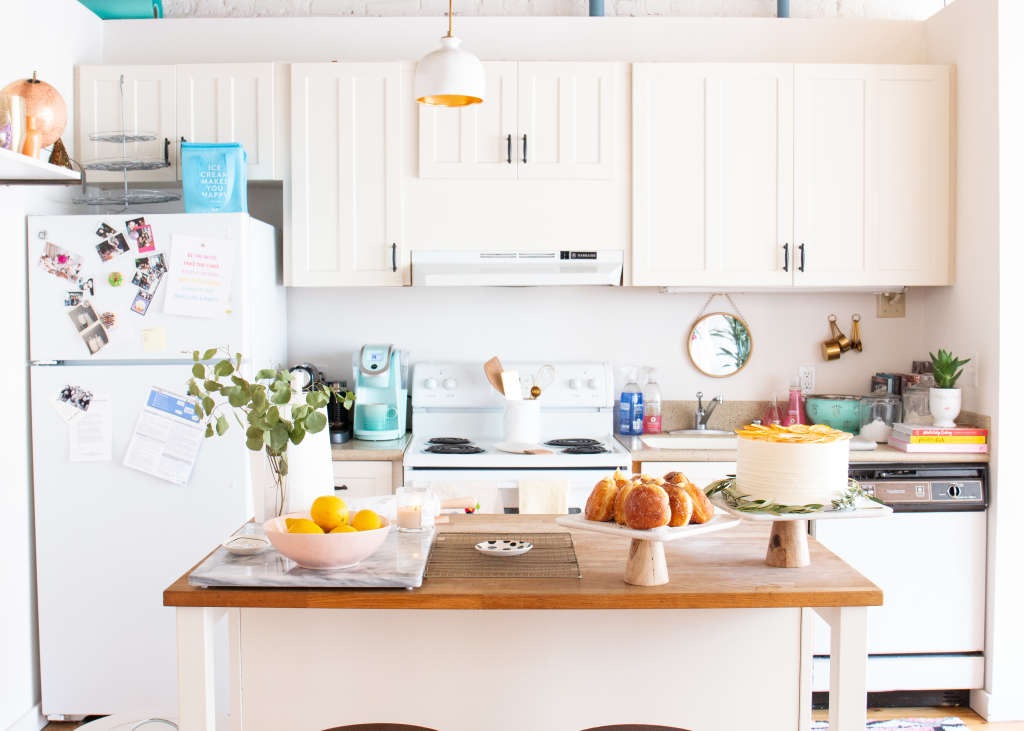 I have one major complaint about my house: My kitchen is grossly outdated. I'm talking a brown ceramic sink and a refrigerator that was probably installed in the early '70s, yet somehow still functions. Still, we've done our best to make the design atrocities work for the time being—a kitchen reno just isn't in the budget yet. The first thing we did? Paint the chocolate brown cabinets white and replace the hardware with modern brass pulls. They were affordable fixes that made a world of a difference, but why stop there? Here, the pros share other inexpensive upgrades that give cabinets a much-needed facelift.
Add Crown Molding
"Adding crown molding to your kitchen cabinets is a cheap and easy way to add a higher-end look to your kitchen," says Shawn Breyer, owner of Breyer Home Buyers. "To make this easy, measure the floor plan on the top of the cabinets and build a frame that sits on top of the cabinets. Once this frame is built, attach the crown molding to this frame. Building the crown molding on a frame allows the work to be completed and painted on a benchtop instead of a ladder. The added benefit is that the crown molding can be attached from the inside, eliminating the need to fill holes in the face of the crown molding."
Add Task Lighting
Adding lighting helps create an entirely different look that can really make your kitchen glow, says Ryan Holden, a general contractor and director of Progressive Heating & Air. Try dimmable LED lights, so that you can make your kitchen as bright as you want it, he says. Place these lights on the interior of glass door cabinets or under upper cabinets to provide extra light for counter surfaces, adds Janet Lorusso, owner and principal designer of JRL Interiors.
Replace Cabinet Door Fronts
Trade traditional cabinet faces for glass. "If you're the owner of a kitchen with Shaker-style doors, simply remove the flat wooden panel and have it replaced with glass and secured, says interior designer Ariel Farmer. "To add an even more bespoke feel, explore a reeded glass option." For something more unique, you might even consider chicken wire, says Holden. "[Chicken wire] has become trendy and can really lighten up your cabinets. All you need is some chicken wire and white paint—it's a very simple DIY job that doesn't cost much, but still has a big visual impact."
Nix the Cabinet Doors Altogether
If your cabinet doors simply aren't worth saving, take those cabinet fronts off and adopt the open shelf lifestyle, says Farmer. "With your dishes and glassware on display you'll never have to search through countless cabinets again. Plus, it's an added incentive for keeping the kitchen tidy!"
Upgrade your Backsplash
This technically isn't a cabinet upgrade, but a nice backsplash is a cabinet's ultimate accessory, says Farmer. "Subway tile is a classic. Contrast this white tile with a contrasting dark grout—or for the bold, a colored grout—to up the impact."