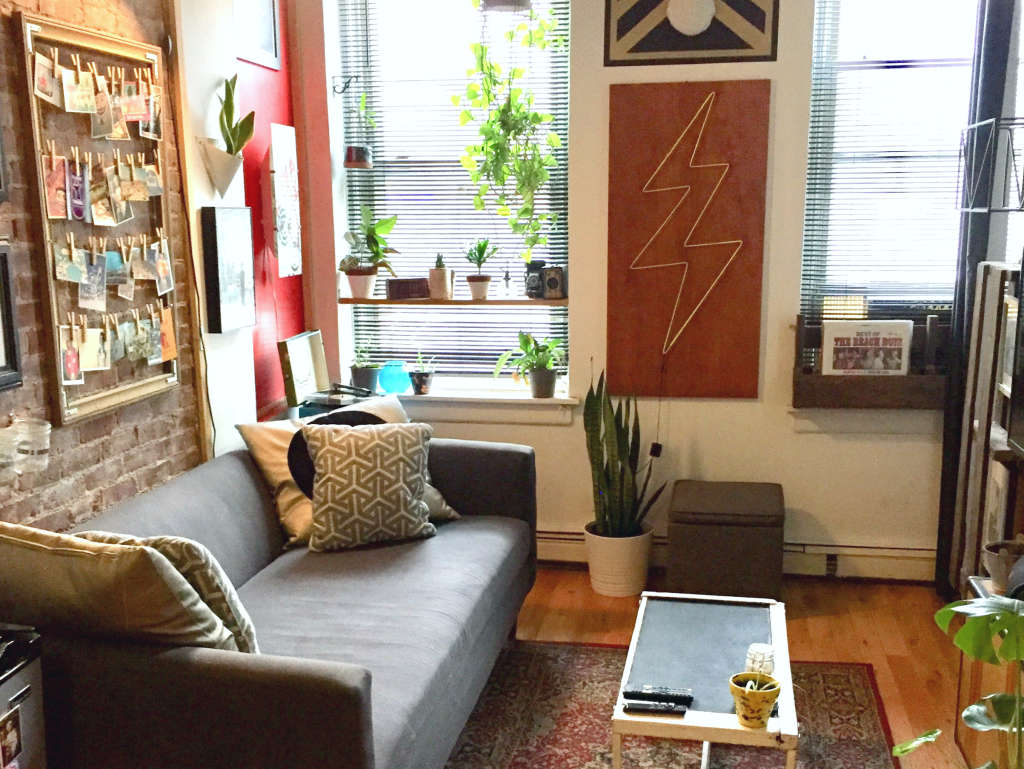 Name: Matthew Klein
Location: Union City, New Jersey
Size: 445 square feet
Years lived in: 3.5 years, owned
Located just 20 minutes outside of New York City and a short distance to Weehawken, Hoboken, and Jersey City; my 445-square-foot Union City apartment features an eclectic mix of rustic, vintage, and industrial styles with some contemporary pieces added to balance them out. I use a combination of upcycled found objects and secondhand furniture to fill the apartment while staying within budget. I use the vertical space on the walls as much as possible to keep the floor clear of clutter, which maximizes the square footage. I use shelving and storage units attached to the walls, a table that folds up onto the wall, and multipurpose furniture to help achieve this. Much of the art featured in the apartment is from thrift stores and flea markets, or are works I have created myself. I designed the entire apartment with the intention of creating a cozy, unique, and interesting space that feels very personal to me.
Describe your home's style in 5 words or less: Eclectic style on a budget.
What is your favorite room and why? My favorite room is the living room. There aren't many separate rooms in the apartment, but this one does feel the most dynamic out of all of them. It features a brick wall that I exposed myself as well as the most amount of upcycled pieces of furniture and decor. These include shelving units made from pallets, a chalkboard coffee table that I made from a plexiglass window and scrap pieces of wood, a folding dining table that I painted with the Union Jack symbol, and two large picture frames that I use to hang my postcard collection. Many of these were created from items I have found on the streets of Manhattan and New Jersey. They are great talking pieces and are just some of the upcycled items found throughout the apartment. I also have a large collection of houseplants that really gives a sense of life to the space. A special shout out to my bedroom, which I designed with a playful California beach vibe in mind.
What's the last thing you bought (or found!) for your home? The last thing I bought for the apartment was my area rug. I bought it secondhand from someone in the neighborhood for $15. I also recently got an amazing deal on my couch. It was originally $1,200 at CB2 that I bought for just $75!! I use websites such as Craigslist and Letgo for these purposes.
If you could magically change something about your home, what would it be? If I could change one thing about the apartment it would be to add a small yard. I incorporate nature into the apartment as much as I can with the use of houseplants but I think it would be absolutely amazing to be able to go outside for some fresh air in my own private yard. It would also be a great space for entertaining guests.
Any advice for creating a home you love? Think outside the box when it comes to furniture and decor. As I have previously mentioned, much of mine I created myself or found other uses for things I already owned. I was at a loss for what to do with this vintage piece of luggage that I bought from a flea market a while back, but after a lot of consideration I realized it would work great as a media shelf! Doing this really gives your place character and a look that is unique to you. Mix and match different styles, looks and textures.
I would avoid purchasing entire furniture sets from stores. If you are looking for a style that is a little more cohesive you can still achieve this without the pieces being too matchy-matchy. I think stores like IKEA are great especially if you're on a budget, but when everything comes from the same place it becomes less interesting and may resemble other people's spaces a little too much.
Also if you have low ceilings please do not hang artwork all the way to the top. Hanging it lower gives the illusion of higher ceilings and really opens up the space.
Thanks, Matthew!
• Interested in sharing your home with Apartment Therapy? Contact the editors through our House Tour & House Call Submission Form.