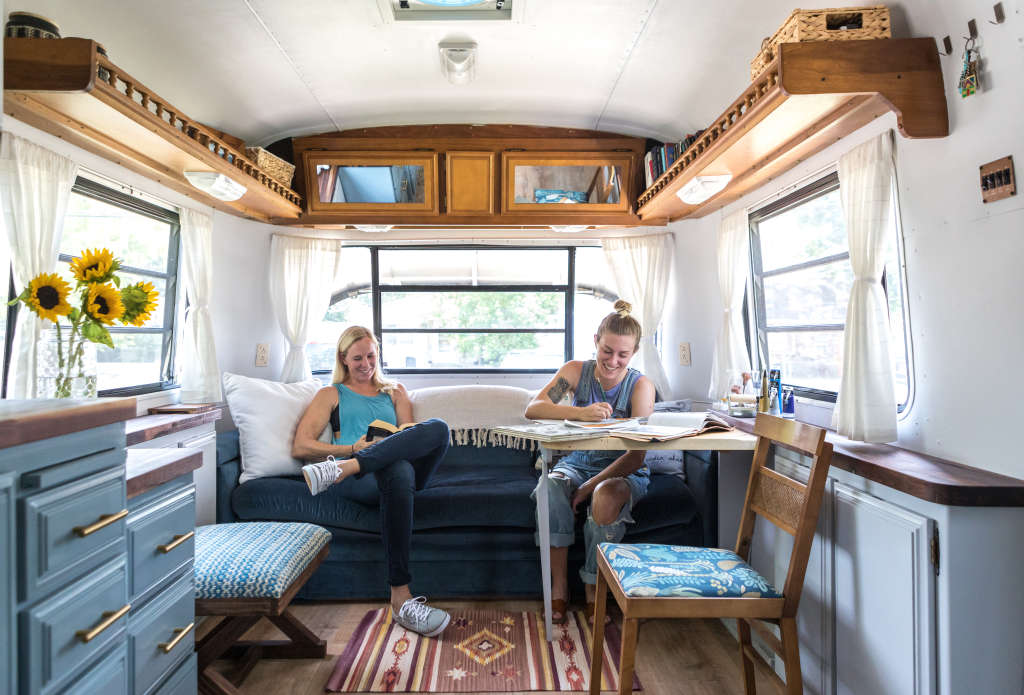 Name: Elyse DeLisle and Amanda Goelz and their cats Pig and Poe
Location: On the road; Currently in Palm Springs, California
Size: 240 square feet/ 34-feet long
Years lived in: Owned — We began renovating the trailer in Spring 2018 and started living in it in July 2018.
There were two things Elyse and Amanda wanted to do together: renovate a home and travel. They were living in Melbourne, Florida, when they decided to buy a fixer-upper. The couple was all set to close on a condo, but something just didn't feel quite right. They listened to their instincts, backed out of the sale, and shifted gears.
They wondered what could satisfy their desire to create a home without sacrificing their urge to explore new places. The answer: a travel trailer. With careers that don't require a permanent address—Amanda is a traveling physical therapist and Elyse is a former lacrosse coach turned printmaker—a life on the road seems tailor-made for the duo.
The couple set their sights on a 1986 Fleetwood Avion they found on Craigslist. They named her Geraldine, after an Avett Brothers song. The old gal had seen better days. She had sun-bleached pink fabric, dingy yellow walls, linoleum, and shag carpet everywhere. "It was all of '86 when we got it," Amanda says with a smile, "but it was well-made." Having dabbled in woodworking, Amanda admired the craftsmanship, noting that the joinery and small details were built with care. "When we saw this, we were like this is beautiful," she says while Elyse nods in agreement.
They began renovating what they refer to as their "bungalow on wheels" in late April, documenting their progress on Instagram. They gave the mobile home a complete overhaul, doing everything themselves except for plumbing. They replaced the carpet and linoleum with vinyl wood planks, built a custom wood dinette table, and applied peel-and-stick reclaimed wood panels to the walls. They reupholstered the sofa bed and dinette cushions, and ditched the dated '80s color palette for shades of blue, green, and gray. The kitchen cabinets, painted with Behr's Dark Storm Cloud and Silver Bullet, transform the whole space. Combined with brushed brass pulls, a tile backsplash, butcher block countertops, and a large stainless steel sink, the galley kitchen makes up for its small size with big style.
A couple of clever space-saving solutions go a long way in adding to the couple's comfort and everyday needs. Amanda transformed a farm table she made for Elyse into a fold-out desk for her to work on her art, and both of the dinette seats also double as storage. One holds wooden folding chairs that are original to the trailer and the other contains a litter box for cats Pig and Poe, who enter through a special door that practically goes unnoticed.
Elyse and Amanda have been living in Geraldine since late July, making their way from Florida to Albuquerque, New Mexico, where they lived for three months. They explored the national parks in Utah for a month and both say that it's their favorite place so far. "Just by traveling a few hours in different directions you come across an entirely different, striking landscape," Amanda says. Now they are living in Palm Springs, California, through March.
Amanda may miss having a bigger shower and Elyse has to get creative to find space for her prints to dry, but the couple agrees that their favorite part of living in Geraldine is knowing that home is always with them as they experience so many cool new places. "We may still be wearing rose-colored glasses," says Elyse, "but there's honestly nothing we would change."
Apartment Therapy Survey:
Our Style: Modern bohemian.
Inspiration: We love homes that reflect the personality and imagination of the owner. For us, we love to travel, handmade features, and inviting, colorful patterns. The goal was to have the trailer to feel comfortable, with room to add small touches of local items from the places we've visited.
Favorite Element: Amanda's favorite element is the combination of materials in the kitchen, paired with the fact that the kitchen was the most fun to create. She fabricated the countertops and we tiled the backsplash. We had big plans for this small space, and it all came together. Elyse's favorite element is the wood feature of the original cabinetry in the living room and above the dinette. We were going to paint it white, then decided last minute to keep it the original color. This warmed up the color scheme and felt cozier.
Biggest Challenge: The bathroom. It took the longest and most patience despite being the smallest space. We had to completely resurface the shower, which took multiple coats of heavily fumed, porcelain refinishing paint.
What Friends Say: One friend said, "If you would have told me five years ago that one day you would be moving into a travel trailer, I wouldn't have flinched." I take this as a compliment!
Biggest Embarrassment: This may be more like our biggest mishap. We will try anything on our own before calling a professional. We tried to figure out the plumbing on our own and there was water everywhere.
Proudest DIY: Amanda fabricated and installed the butcher block throughout the trailer. Elyse's proudest moment was completing the bathroom and the wallpaper.
Biggest Indulgence: The couch was extremely comfortable when we got it and pulls out into a queen bed for guests. It was one of our bigger purchases to have it reupholstered instead of replacing it.
Best Advice: However long you think it will take to complete a project, multiply that by three. Also, when working in tiny spaces on your own, your first attempt at something will most likely be followed by Plan B and Plan C. Have an open mind, and the patience, to rethink something you thought you had figured out.
Dream Sources: Anything from The Jungalow and Justina Blakeney Home.
Resources:
PAINT & COLORS
Interior Walls: Behr Paint "White Lie"
Interior Front Door: Home Decorators "Seaglass"
Kitchen Cabinets (lower): Behr Paint "Dark Storm Cloud"
Kitchen Cabinets (upper): Behr Paint "Silver Bullet"
Bathroom Vanity: Behr Paint "Summer Green"
ENTRY
Minimalist Peel & Stick Wall Hooks — Amazon
Wicker Shoe Basket – HomeGoods
LifeProof Essential Oak Flooring — Home Depot
LIVING ROOM
Flexsteel Jackknife Sleeper Sofa — Flexsteel (They no longer make our model but offer similar ones)
FJÄDRAR Throw Pillow Insert — Ikea (Upholstered with large coffee bean bag from Dark Matter Coffee )
Green ZigZag Throw Pillow — World Market
Classic RL Throw Pillow — Macy's
Kilim Area Rug — World Market
Rustic Farmhouse Throw Blanket — Amazon
Ottoman – Homegoods
Tommy Hilfiger Curtains – Homegoods
AutoEC Ceiling Lights — Amazon
Fantastic Fans — Amazon
Fold Out Desk – Made by Amanda
DINING ROOM
Dining Table – Made by Elyse & Amanda
Justina Blakeney Rainforest Jacquard Calypso (Dinette Cushions) — Fabric.com
Cat Door — Amazon
Reclaimed Wood Wall – Stikwood
KITCHEN
Brushed Brass Drawer Pulls — Amazon
Stainless Steel Sprayer Faucet — Amazon
Perfetto Sink — Amazon
Cut-to-Size Roller Shade — Home Depot
White Ceramic Triangle Tile — Lowes
Walnut Butcher Block — Lumber Liquidators
Chemex Coffee Maker 10oz — Amazon
Black Coffee Canisters — Homegoods
Safari Accent Rug — Target
Trash Can — Homegoods
BEDROOM
Down Alternative Duvet Insert — Target
Duvet Cover – Homegoods
Throw Blanket – Homegoods
Velvet Green Lumbar Pillow – World Market
Velvet Yellow Throw Pillow – World Market
Tribal Lumbar Pillow – Target
Tommy Bahama Wicker Laundry Hamper – Homegoods
Laundry Bag Backpack — Amazon
Versailtex Blackout Curtains — Amazon
Sheer Voile Cotton Curtains (hallway) – World Market
BATHROOM
Justina Blakeney Cosmic Desert Wallpaper – Hygge & West
Corian Countertop – Corian
Black Modern Bathroom Faucet — Amazon
Oxygenics RV Shower Head – Amazon
Dometic Toilet — Camping World
Bathroom Rug – World Market
Thanks, Elyse and Amanda!
---
Apartment Therapy supports our readers with carefully chosen product recommendations to improve life at home. You support us through our independently chosen links, many of which earn us a commission.