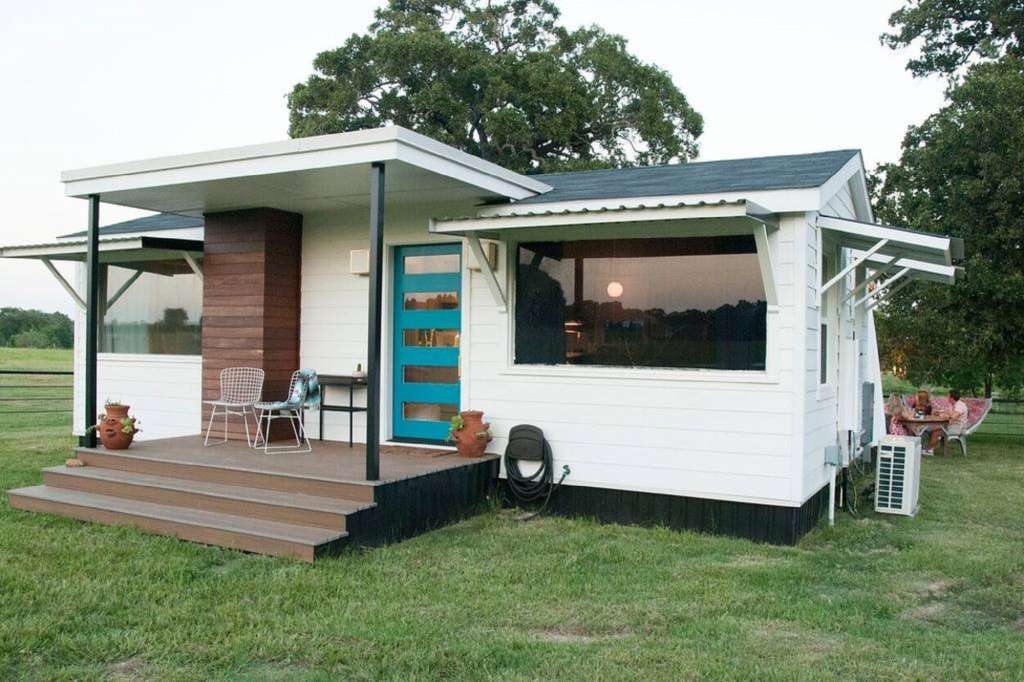 There are a lot of fabulous tiny houses out there, but very few of them started life as a car dealership office before serving as a beloved taco stand for two decades. This is no ordinary tiny house, and after 50 busy, bustling years, it now provides a peaceful retreat for visitors in rural Texas.
This darling tiny house has a long, intriguing history that's well worth reading, as told by its new owner, Molly Graham:
I live on a ranch outside a small Texas town (population 5,000) 60 miles from Austin, right in the heart of barbecue alley. When the City of Rockdale decided to build a new police station, they needed to get rid of the building occupying the lot where it would sit. The little red structure with metal awnings was built in the 1960s as the used car sales office for Gaither Ford Motor Company.
After the Ford dealership moved to the outskirts of town, it served as Pauline's Tacos, where lines formed early for daily doses of piping hot breakfast tacos every morning for 20 years until Pauline retired. The city was in a hurry to get rid of it, and my dear daddy, always my partner in crime, snatched it up for an insane $250. Yes, you read that correctly! It cost $3,000 to have house movers haul it to my property, where it sat for about a year before my husband Macy and I did anything with it.
It took a team of men, a tractor, and a chainsaw to cut the giant vent hood, which once funneled smoke from a hot grill, out of the ceiling. What was left was a sturdy, solid, well-built space, just under 500 square feet in size, with a huge gaping hole in the roof, that everyone assumed we'd use as a feed and hay barn. But I had other ideas: grand visions of a petite leather sofa from West Elm, some shiny white IKEA cabinets… so off to work we went.
That is quite a tale, and the house is now available to rent on Airbnb. Let's explore the interior of this former barbecue and taco emporium…
The interior is now bright, colorful, and comfortable, with tons of seating options, cozy textiles, and intriguing design. It's an excellent combination of magazine-worthy decor and Molly's unique personality: not too fancy or designed within an inch of its life, not too quirky or overwhelming. The furnishings are thoughtfully mismatched without clashing or creating chaos.
That delicate balance Molly achieved is due to the fact that "the decor was cobbled together from years of stockpiling treasures that I just KNEW would someday have a home." The accumulated collection was augmented by a classic tulip table from Bed Bath & Beyond, chairs from West Elm's Furniture Flea section, and a clearance record player from Urban Outfitters.
Once again, the bedroom is colorful and quirky while still looking serene. The Texas art impressively links together the green curtains and red pillows, while the white walls provide a soothing backdrop. And between the artwork over the bed, the NuLoom guitar rug (available from Walmart) in the living room, the leather accents, and the art in the kitchen, this rental property is a celebratory welcome to Texas without going overboard on the theme.
The bedroom feels spacious despite its small size, thanks to the white walls, large window, queen-sized bed, and the walking room on each side of the bed. Replacing the standard doors with pocket versions doors was a smart move that further opened up the space in the bedroom, as it did throughout the house. The walls, ceiling, and trims were painted Alabaster by Sherwin-Williams in a variety of finishes.
All of this renovation was, amazingly, accomplished in less than half a year. Molly worked slowly, spreading out the financial investment of the project over five months. Their contractor was invaluable, working closely with Molly to make design visions a reality. In addition to being Molly's partner in crime, the contractor removed the drop ceiling, opening up the interior dramatically, and installed a center beam for a more authentic look.
This shower is fantastic, and should encourage anyone on the cusp of a renovation to at least consider bright tiles. While bright orange can definitely feel playful especially when paired like a whimsical shower curtain like this one, the black, white, and orange palette is a tasteful one that easily can go in minimal and mid-century modern directions. The combination of slender herringbone tiles and tiny penny tiles is unique and intriguing. The old bathroom was just a sink and a toilet, and through thoughtful use of space Molly and the contractor were able to fit in this roomy, fabulous shower.
Vacation kitchens often feature only the barest necessities, but this one is incredibly well-stocked and airy, yet cozy. The apartment-sized appliances allow guests to cook complete meals, while all of the practical and decorative accessories provide utility and personality. The solid-walnut shelves and warm-toned metals add to the feeling of coziness without darkening the room. It's such an inviting space that would be lovely to come home to after a day of exploring.
The mirror backsplash makes the kitchen feel larger, and it's already quite roomy. Many apartments of similar size are far less efficiently laid out than this house, which boasts a full bedroom, kitchen, living room, bathroom, and laundry area. It is quite well-thought-out and designed.
This tiny house has found its home in the middle of a cow pasture, where coyotes howl, wild hogs meander past, sheep grace, and a campfire crackles under the star-filled sky. No longer a space for work—whether selling cars or crafting tacos—the structure is now all about relaxation and rejuvenation.
If you have access to any similar sort of property, whether it's a shed, trailer, or taqueria, heed Molly's advice for bringing out its best properties:
We turned an old building that had been used for purposes other than housing into a fun and funky little dwelling. I would encourage anyone who sees potential in a structure to determine if the bones are there. If so, don't hesitate to make it the home sweet home you know it can be.
If you're interested in staying at The Modern Molly, check it out on Airbnb!
Apartment Therapy supports our readers with carefully chosen product recommendations to improve life at home. You support us through our independently chosen links, many of which earn us a commission.