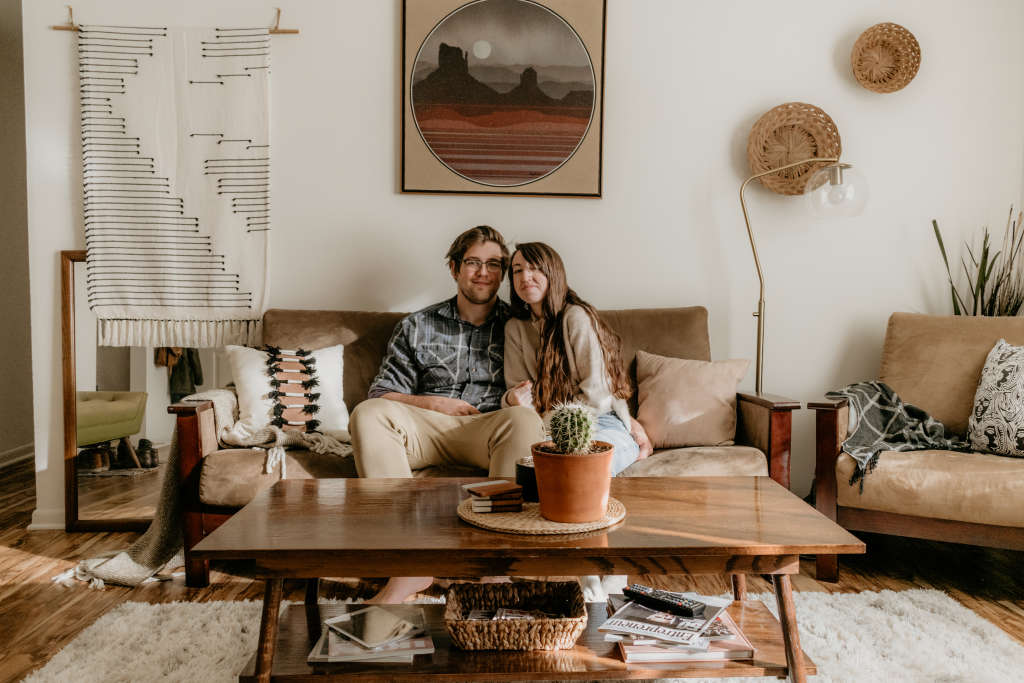 Name: Adrianne Herold (and my fiance Dylan and our cat, Scavenger)
Location: Champaign, Illinois
Size: 1,005 square feet
Years Lived In: 1 year, renting
We actually lived across the parking lot in the same complex but in a two-bedroom and one day I noticed them ripping carpet out of some units and replacing it with wood paneling. I quickly asked our landlord if we could just transfer our lease to one of the updated units and she actually let us do it! We decided to go with a three-bedroom so I could have a room just for my photography. We've been in this unit for just about a year now and this wood grain has honestly helped my interior style flourish so much more! (If only you could see how much has changed!)
I will say that this apartment has zero natural sunlight compared to our last unit so I've really had to learn to work with it. I'm a sunshine addict! The back of our building is littered with pine trees, which are pretty in the winter but they completely block the sun from coming into our kitchen and bedroom. And then our living room window has one large tree basically glued to it—so in the winter we get plenty of sun but when the leaves are there… It's nothing. After kind of embracing that low-light feel, we've made this apartment super cozy and a place I really don't ever want to leave. The trees give us a lot of privacy as well so we sometimes feel like we've got a secluded little cabin.
Apartment Therapy Survey:
My Style: Earthy, cohesive, handmade, and thrifted!
Inspiration: The Southwest, the desert, the woods.
Favorite Element: I love our faux wood flooring (obviously I'd love real wood more but this is what we've got!). Even though it's only in the living room, it's my favorite and it gets me really excited to have a house with all wood flooring. I've lived my entire life with beige carpets and having this beautiful brown is pretty much heaven to me.
Biggest Challenge: This apartment is insanely dark. We've got huge trees that cover almost all of our windows so our natural light is pretty scarce. We try to fill our rooms with light colors and mirrors to help bounce whatever light we can get. We also have to resort to pretty lamps with warm light bulbs!
Proudest DIY: Just about all of our furniture is handmade/custom-built! I think our coffee table is my favorite so far. When Dylan and I first moved in together, I started to really get into interior design and I saw this coffee table at Target that I reeeeally wanted but I definitely couldn't afford. So my handy dad and I decided to build our own! It was the first project we built together and we both got really into making furniture after that.
Biggest Indulgence: Hmmm. I think technically it would be our shag rug. I fell in love with it and splurged on it when I really didn't have the money to do so… But when I really think of indulgences—ceramic vases and kitchen items pop in my head. Whenever I'm at a vintage store or even in Target, those things catch my eye instantly and it's really hard for me to say "no" to them…
Best Advice: I like to keep a photo of our home's color palette saved to my phone. So when I'm out and about and I see something I like, I always pull up those colors to make sure it totally fits in. I didn't use to do that and I'd come home with new things and wonder why my home didn't look cohesive and "put-together." So I started to get tough with myself and my style and it's helped so much.
Resources:
LIVING ROOM
Sofa and Side Chair — Garage sale
Glass Lamp by sofa— Target
Bench in front of window — Amazon
Record Table — Custom Built
Coffee Table — Custom Built
Console Table — Custom Built
Lamp by records — Amazon
Shag Rug — RugsUSA
White and Black Tapestry — Hobby Lobby (not available anymore)
Green Bench — Vintage
Large Macrame with Mirror — Handmade and for sale at HartHaus Co.
Southwestern Art above sofa — Thrifted (my favorite thrifted find!)
KITCHEN
Table — Custom Built
Stools — Walmart
Corner Shelving — Custom Built
Knife Rack — Custom Built
Knives — Amazon
Runner Rug — Vintage
Painting — Handmade
Mirror — Target
Faux White Tile — Amazon
BEDROOM
Dresser — IKEA
Bedside Tables — Custom Built
Clip Lamps — IKEA
Duvet Cover — Shein
Orange Throw Pillow — Amazon (in the color Texas Orange)
Striped Sheets — Amazon
Vanity Mirror — IKEA
Geo Rug — Thrifted
STUDIO
White Table Top — IKEA
Rolling Clothes Rack — Amazon
Thanks, Adrianne!
---
Apartment Therapy supports our readers with carefully chosen product recommendations to improve life at home. You support us through our independently chosen links, many of which earn us a commission.