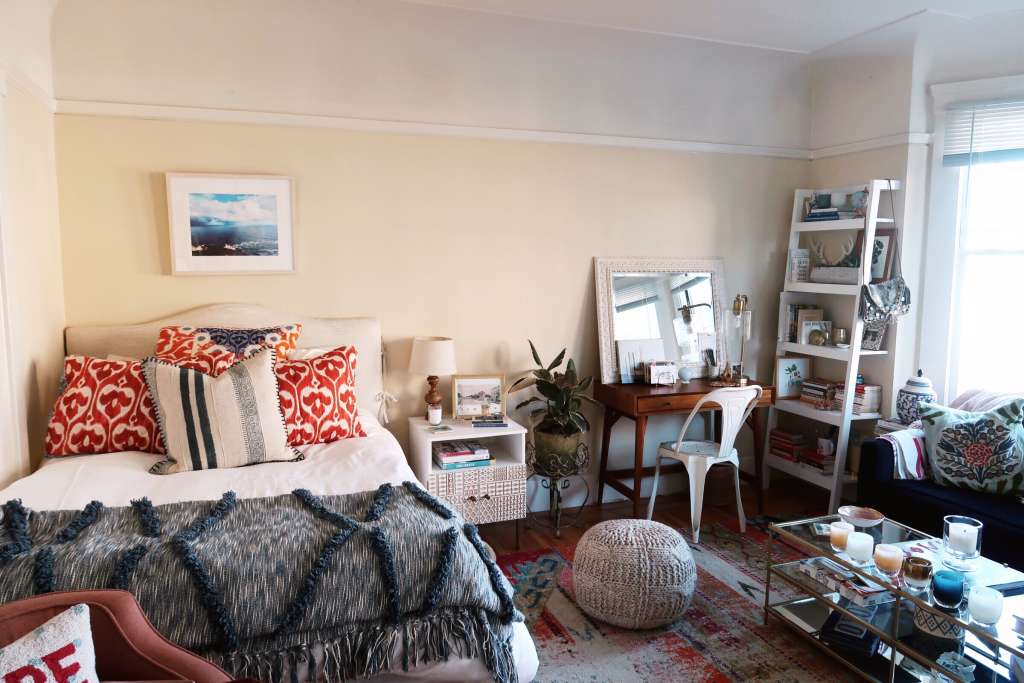 Name: Lauren Haden
Location: Inner Sunset — San Francisco, California
Size: 550 square feet
Years lived in: 1 year, renting
My apartment building was built in 1920… that's almost 100 years of history! I like to think about who lived in my unit when it was first built. The thing that really drew me to this space in particular were the classic San Francisco details that haven't been touched. For instance, the kitchen still has cold-air storage (I use it as my pantry) and an ice chest (I use it to hold appliances and miscellaneous items) and the tiniest little stove ever. I love the built-ins and a slim cabinet that hosts the world's oldest fold-down ironing board! There is incredible light in the place thanks to huge bay windows in my living area. I also love the giant closet… perfect for a shopaholic like myself! Hardwoods were a must for me, and so was crown molding. I seriously got everything I was looking for.
At first, I was worried about living in a studio where my bed and living area are combined. I thought I might get sick of the view! Luckily, my kitchen and dining nook are completely separate, which is nice in case I need a change of scenery. And once I moved in and got settled, I made my place so cozy that I never get tired of it.
My favorite pieces in the living space would have to be my white wooden buffet that acts as my TV stand, and my blue velvet couch. I had them in my old apartment, so they moved with me to this studio but fit so much better in this space, surprisingly! Both are stand-out pieces, as is my colorful patterned boho rug that ties things all together. Lighting is really important to me, so I made sure to have several table lamps to provide a nice warm glow in the evenings since that's the only time I'm home during the work week.
I spend a good amount of time in the kitchen cooking, even though it is so tiny! I've made it work, even with minimal counter and storage space. I have always loved the look of French bistro chairs, so when I signed my lease, they were the first thing I bought for my new place. Serena & Lily is local to San Francisco so I bought two of their comfy Riviera chairs, and paired them with a marble bistro table from World Market. I took a trip to Paris for the first time last year and used it as my inspiration for the look of my kitchen.
I incorporate subtle hints of pinks, blacks, and whites throughout. With one of my walls in the kitchen, I mounted this amazing cork board to create my own inspiration board. I've been collaging and scrapbooking since I was a kid, and love saving cards and paper mementos. I knew I wanted to showcase some of my favorites in some special way, and the kitchen space was perfect. I always get compliments on it when friends come over for the first time. It's also nice to have meaningful touches throughout your space—it makes it feel like it's YOURS!
I found a beautiful portrait of my grandmother (I think it was her sorority composite photo from the late 1940s). Her middle name, Bliss, inspired my home styling and happy living blog, Bliss This House. I hung her portrait up in my kitchen by the window, which overlooks the church next door. Her image on my wall is such a sweet reminder to me of the importance of family.
Sometimes living in a small space can get frustrating because I don't feel like I have enough room to play around! I want a whole house to style! When I finally felt like my apartment was close to "complete," I felt kind of sad. Then I remembered that it's like a living, breathing thing… and never will be done or finished if I don't want it to be. I can switch things up at any time! I made a habit out of rearranging my coffee table every time I clean it (about once a week) as well as my bookshelves. It's kept things interesting and I don't have to buy new items constantly to keep my apartment feeling fresh.
My favorite memory so far in my space is when I have groups of friends come over. It's not a large place, so hosting can become a little stressful, but there's nothing like everyone piling on the couch and finding a space around the coffee table to drink wine and catch up and chat!
Thanks, Lauren!
• Interested in sharing your home with Apartment Therapy? Contact the editors through our House Tour & House Call Submission Form.
*This submission's responses have been edited for length and clarity.