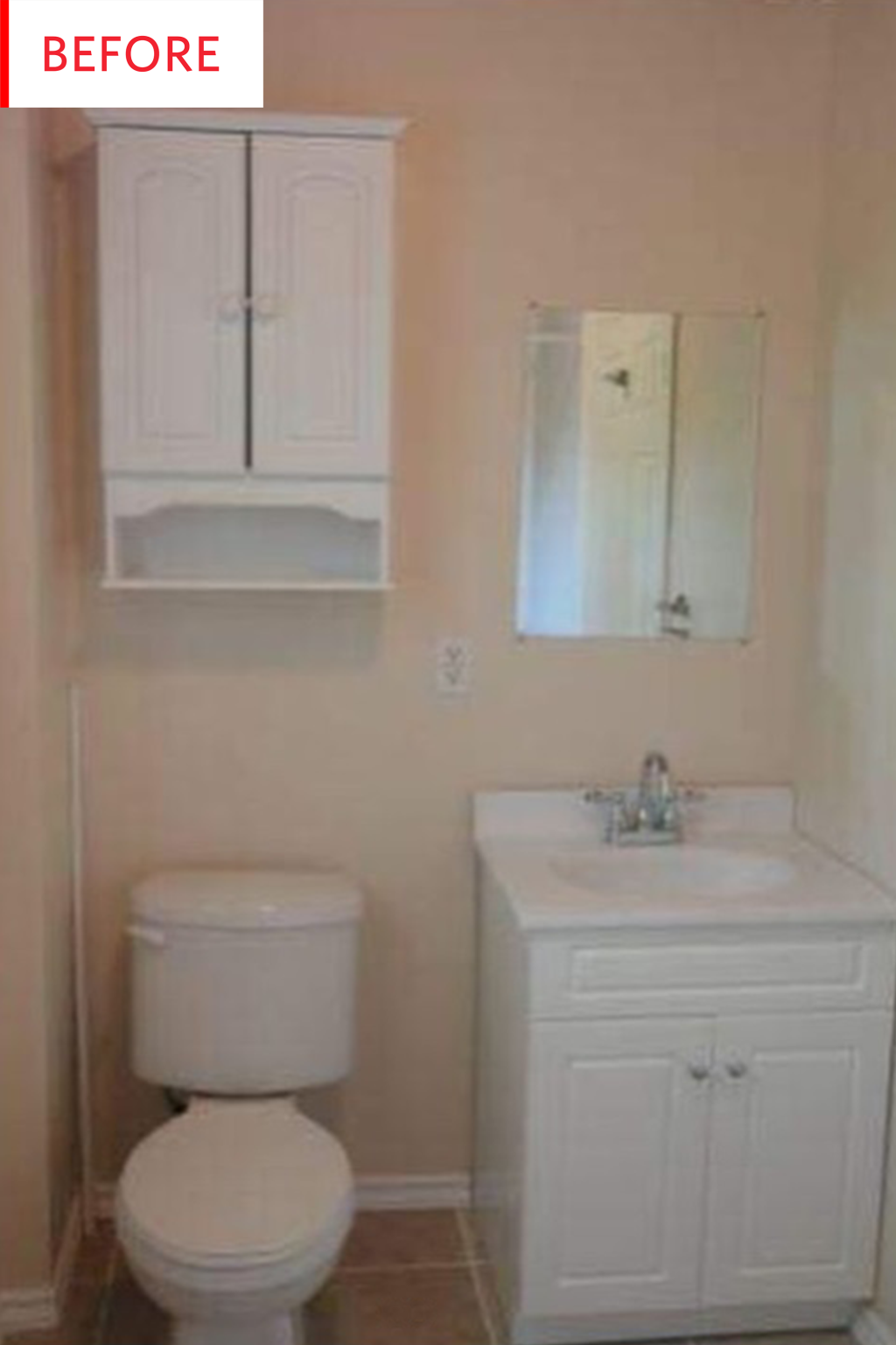 Thanks to just $100 and a few hours of work, this standard, beige, and builder-grade bathroom is now as bright and colorful as it is practical.
The Downtown Homestead certainly spent that $100 well, investing that money in paint and colorful, personal accessories. The art is a well-framed and beloved print by Kaila Erb given as a gift by a friend, and "everything else was picked based off the colors of the print." That is an excellent approach to decorating a small space, especially when the coordinating accessories are easy to replace if ever desired. The bottles, planter, plants, and hand towel draw out the aqua, gold, green, and red hues in the art. The rag rug from Target, similar to this one, ties into the aqua and expands the palette with pinks while covering a large portion of the builder-grade floor. The new wooden elements help incorporate the beige floor into the room's aesthetic.
White paint on the walls brighten the space as a whole, making this a much more inviting—and flattering—room in which to get ready in the morning. And after three coats of charcoal gray chalk paint, the vanity looks much more finished and far less standard than it originally did, and the white sink pops brightly. The paneled doors were overwhelming when there were two sets, but now that the wall cabinet has been removed, the vanity provides the perfect amount of refined geometry. As a bonus, the charcoal paint coordinates nicely with the shadows in the painting.
The new mirror adds so much personality and style to the room without a massive investment or a permanent installation; it is this one from Target, or at least incredibly similar to that one. (As always, pieces might have been purchased on sale or with discount codes.) The multiple hooks on the back of the door add utility as well as linking with the other black accents: trash can, picture frame, tiny planter, wall hook, and shelf brackets.
And speaking of those shelf brackets, the new wall-to-wall wooden shelf is a beautifully simple and life-changing addition: "Our house only has one bathroom, and while it was completely functional when we moved in it lacked surface space—adding the shelf has been a game changer for two women getting ready in the morning." Installing such a long shelf also visually elongates the relatively small room.
Thank you, The Downtown Homestead!