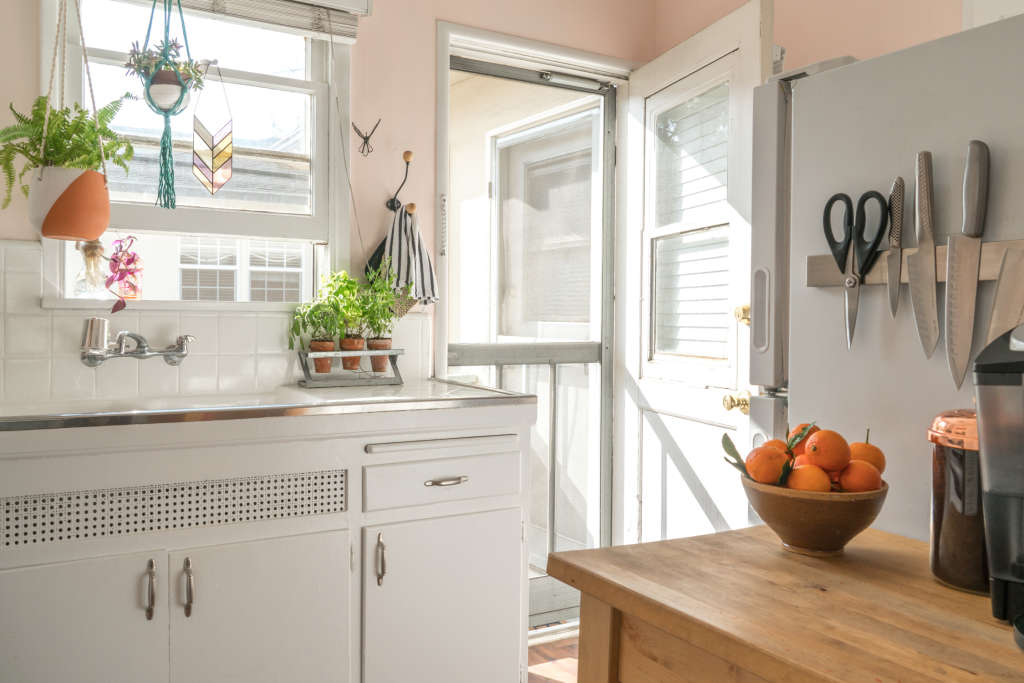 What is it about under-sink areas that make them so likely to turn into a black hole? Is it because they're sort of low to the ground and tucked away that we have a tendency to just crack the door, shove stuff in, and slam the door? As a result, sink cabinets turn into these dank, dark, places where all the stuff you don't want sitting on your countertop just accumulates. And searching through a precarious stack of kitchen mess can turn an otherwise fun kitchen occasion—like making a fabulous meal—into an exercise that makes you want to bang your head on the wall.
When we renovated our kitchen a few months ago, I thought out every last detail … except under the sink. I gave zero thought to that no-man's land—until we started piling all the detritus of kitchen life in there. Aluminum foil, parchment paper, dishwasher soap, household cleaner, trash bags, hand soap, butcher block oil—you name it—all crowded under the sink in a riotous mess. My beautiful, zen new kitchen, where I thought everything has its place, had a dirty secret.
Because the plumbing pipes get in the way of any kind of organization or storage system, I thought there was nothing to be done about it. Then, after one too many exasperated attempts to access just one thing, without having to first move everything else out of the way, I turned to Amazon to search for under-sink storage. And would you believe it!? There is a category of things designed specifically to fit around plumbing pipes. People are so clever.
It can be a crapshoot ordering something like this online, but I went with their top seller, figuring I could always return it if it didn't work. The organizer is expandable from 15 to 25 inches wide, with several height options, so it looked like it would work under the farm sink. The two-shelf organizer fit perfectly, and had the smartest sliding panel configuration so it fits around the pipes with no wasted space.
I have to admit I'm not at all good with assembling things, but fortunately I'm married to someone who is, so I had some coffee and watched while my husband assembled it. One note here: It basically had to be put together while inside the sink, which was a little awkward, but it still only took a few minutes and a drill.
The result? It seems like it should be a minor thing, but having shelves instead of a gaping opening makes all the difference. The small things, like foil and parchment paper, tuck away on the top shelf, with taller bottles of things on the bottom. Doubling up like this opened up so much room in fact, that I have space to spare. We did this just in time to make a big Christmas brunch for family, and it was so nice to open the cabinet, immediately spot what we needed, and retrieve it with no fuss—no banging of heads on walls necessary. I just wish I'd done it the day we finished the kitchen.
Apartment Therapy supports our readers with carefully chosen product recommendations to improve life at home. You support us through our independently chosen links, many of which earn us a commission.