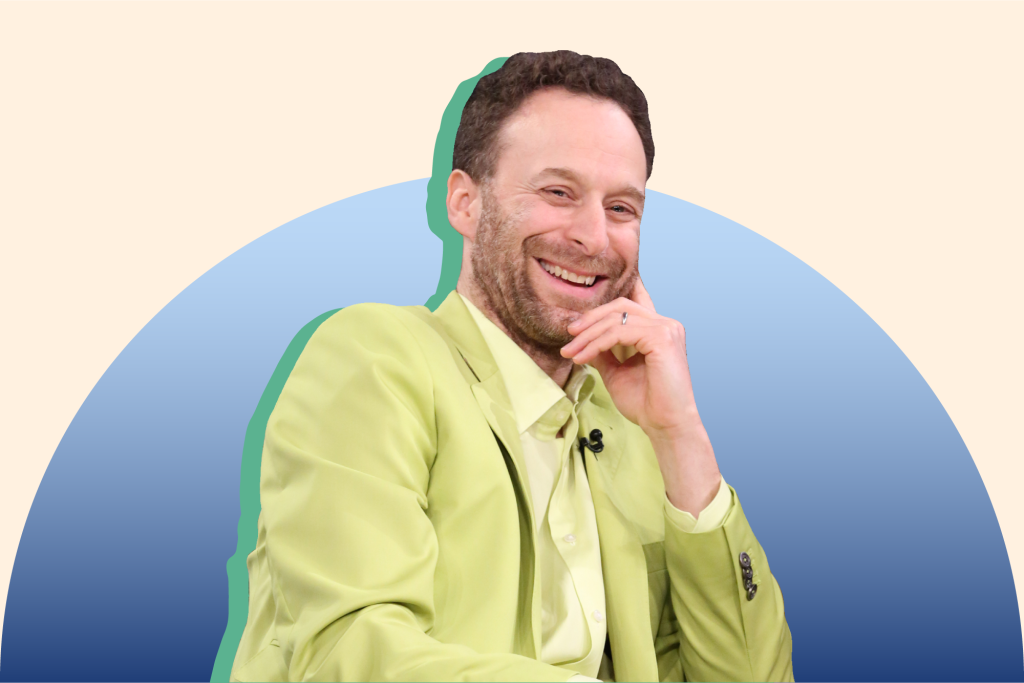 Welcome to My First Apartment! Whether it's your first studio, a four-bedroom deep in the city shared with a handful of roommates, or even an entire house (lucky you!), there's something special about moving into the first place that's truly your own. In this series, we'll showcase actors, artists, entrepreneurs, and beyond—asking them to revisit that oh-so-sweet nostalgia of newly-found freedom.
If you've laughed at something on television in the past three decades, there is a good chance Jon Glaser's fingers have been on it. It may have been at one of his sketches on "Late Night with Conan O'Brien" or his ski-masked face on "Delocated." Or his stint as Hannah's "complicated" neighbor Laird Schlesinger on "Girls," or maybe his appearances as Councilman Jamm on "Parks and Recreation." Or maybe it was the heightened version of himself he plays on "Jon Glaser Loves Gear," his sportswear gadget-focused mockumentary, which premieres for its second season on truTV tonight (10:30 p.m. EST/9:30 p.m. CST).
Anyway, if there was one thing that made you laugh, it was probably Glaser's signature sense of absurdist humor. It's pretending not to give two sh*ts, but actually deeply, truly caring—which I think sounds like a great metaphor for his first Chicago apartment (this is Apartment Therapy, after all). Though it may not have looked like much or received that much TLC, in retrospect it reveals itself to have been a safe haven as Glaser made his comedic dreams come. Here, Glaser takes a whack at the My First Apartment questionnaire… and gets a little emotional in the process. (If you're a comedy nerd, buckle up!)
My First Apartment: Jon Glaser
City: Chicago
Neighborhood: Lincoln Park—a good, conveniently-located neighborhood, not far from the zoo, the park, the lake, and Downtown.
Size: Studio
Rent: $425/month
How you paid your rent: Got a job as a host at a restaurant called Tucci Benucch.
Set the scene in three words: Small, cheap, decent.
Who came over the most: No one. I didn't do much there except eat and sleep. Otherwise I was at work or out doing comedy or parties elsewhere.
Craziest thing your neighbor ever did was: Nothing I recall, thankfully. Lincoln Park is nice neighborhood, so there wasn't much action—except once a group of Hasidic Jews asked me to help them form a minyan.
Worst idea you ever had in the apartment: After getting extremely high one night, I paced and paced around, convinced I was having a heart attack, until I finally left and walked to a nearby ER. I told them I had gotten high and thought I was dying, and could I please just sit in the waiting room just in case something happened? I think I realized I was fine and looked like an idiot and left five minutes later.
Best memory: Getting my cat, who I'd then go on to have for 17 years, including moving to N.Y., L.A., and then back to N.Y., until he made his final move to kitty heaven.
Three things on your wall: Not much. I think I had one of those clichéd Tournée du Chat Noir prints up somewhere. It was a depressing and sparsely decorated place.
Neighborhood haunt: I didn't really spend much time in that neighborhood. The comedy and improv I was doing took me elsewhere most nights.
Song that will always take you back: Liz Phair's "Exile In Guyville" came out while I lived in Chicago and any song on that album always immediately takes me back there.
Smell that will always remind you of it: Strawberry Pop Tarts. I was out getting some at a White Hen Pantry one night late and heard Bill Curtis and Lester Holt, who at the time were two huge Chicago news anchors, greet each other on the other side of the aisle. I didn't see them, just heard their baritone newsy voices: "Bill!" "Lester!"
Favorite piece of furniture: This dome-shaped wicker futon chair.
What you had too much of: Free time that I didn't take enough advantage of.
What you had too little of: Sex.
Thing you wish you knew back then: I had a great time living in Chicago and a lot of really fun memories, but I wish I would have been a little more adventurous in various aspects of my life.
Thing you hated most about living there: It was small.
One feature you'd never live with again: Tiny fridge.
One feature you'd never live without: Bathtub.
Happiest thing that happened there: If by "there," you mean the apartment, that would be calling Joyce Sloane, the legendary Second City producer. She had given me her business card six months prior, after calling me into her office after my touring company audition. She told me to finish college, but gave me her business card and said to call her when I graduated. I didn't think she meant it literally, but I called anyway. To my surprise, she took the call and actually remembered me. It was very, very nice. Meeting her was literally life-changing for me.
Why did you move out: Wanted someplace cheaper and bigger, which meant roommates and moving to Roscoe Village.
Did you get the security deposit back: I think so. I'm a good boy.
One item you still have today: Joyce Sloan's business card. And I might have my first cat's collar from when I adopted him. I also have a Chicago subway token. That's three. I'm listening to some emotional music right now (TV On The Radio "Love Dog" if you must know) and this questionnaire is hitting me hard!