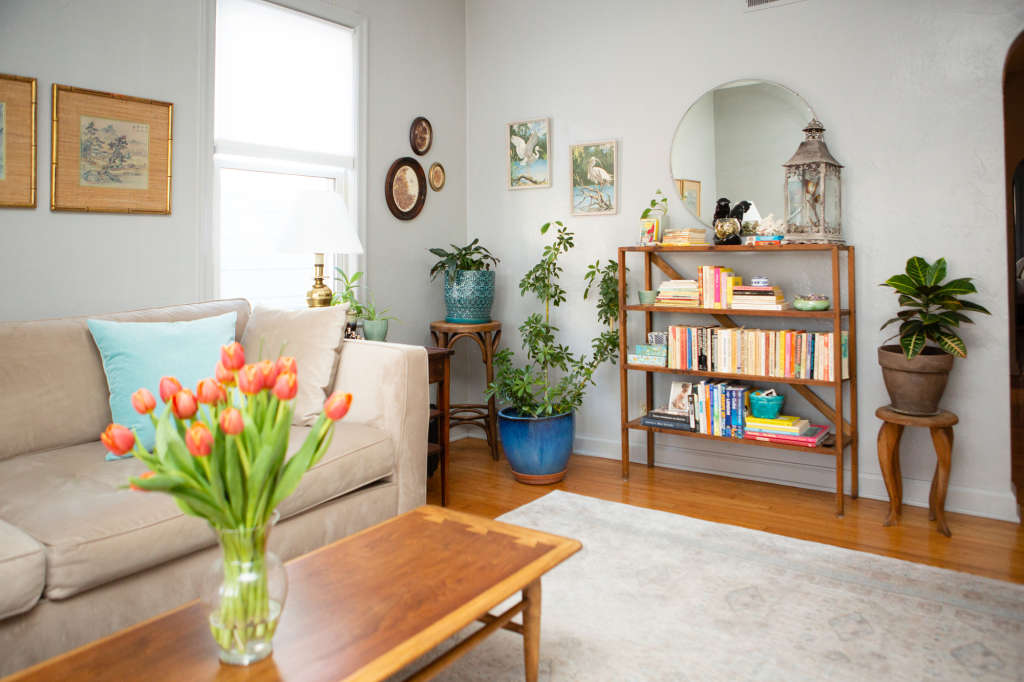 Name: Carly Koppen and husband James Koppen
Location: Columbus Park — Kansas City, Missouri
Size: 1,000 square feet
Years lived in: 5 years, renting
Carly signed the lease for her Kansas City house, sight-unseen, almost five years ago. But after seeing the photos of the pink tiled bathroom and the home's charming details—like the rounded archways—she knew she couldn't pass up this gem. It was only recently that she learned that the home was actually a Sears Roebuck kit home, a home that was ordered from a catalog. She started learning all about the kit home, starting with the podcast episode from 99% Invisible, The Home that Came in the Mail.
Carly's style complements the beautiful details of the home, and almost all of the art and decor in the home is second hand. It's no wonder—Carly actually runs an antique booth at one of Kansas City's largest (and best, IMHO) flea markets, River Market Antiques. When she's not stocking her booth, we can tell she's looking through the other booths, finding the best stuff.
Apartment Therapy Survey:
My Style: Vintage eclectic.
Inspiration: Nature, the 1970s, Florence Welch.
Favorite Element: I really love the house itself. The pink tile bathroom was a huge attraction for me.
Biggest Challenge: Keeping plants alive. It's a small house tucked between much bigger buildings, so natural light is a challenge. There's a big brick building about five feet away from the south side of the house. Also knowing when to stop investing in updates as a renter.
What Friends Say: There's a lot to look at.
Biggest Embarrassment: The kitchen. It's a dark little galley kitchen and it's functional enough, but I love to cook, so I wish it was a brighter, more inviting space, but I feel like making any significant changes in there will be a ton of work.
Proudest DIY: Painting white over high-gloss gray paint in the office and bathroom. It took so many coats!
Biggest Indulgence: Honestly, not much—I'm pretty thrifty! But I'd have to say the living room rug was a bit of a splurge for how light it is and how much traffic it gets. It's not gonna last forever and I definitely had to take a moment to be okay with that before buying it.
Best Advice: Take your time. I think it's better to fill your home slowly with things you really love rather than force an aesthetic or rush into purchases just to fill space.
Dream Sources: I really love the hunt so places like the Paris Flea Market or the Rose Bowl Flea Market appeal to me. I also always wish I had an unlimited budget at Anthropologie.
Resources:
ENTRYWAY:
Dining Set — Yard sale
Rattan Furniture — Buy/Sell/Trade board at work
Cushions on Rattan Furniture — Pier 1
Flamingo Mirror — Thrifted (Goodwill bins)
LIVING ROOM:
Sofa — Nebraska Furniture Mart
Accent Pillows — Ikea
Throw Blanket — Target
Rug — Magnolia Home at Nebraska Furniture Mart
Lane Acclaim Coffee Table — River Market Antiques
Side Tables, Stools — Thrifted
Book Shelf — Yard sale
Media Cabinet — Estate sale
Round Mirror — Hand-me-down from grandma
Paint-by-Numbers — Thrifted
Pressed Flowers — Thrifted
Four Seasons Prints — Hand-me-downs from my mom
Metal Fish Sculpture — River Market Antiques
Metal Horse Sculpture — 8th birthday present from a friend
Brass Lamps — Hand-me-downs from my mom
Butterfly Terrarium — Oracle (local store)
Cat Candy Bowl — ModCloth
DINING ROOM:
Rug — Nebraska Furniture Mart
Dining Table — River Market Antiques
Side Chairs — Facebook Marketplace
Bookshelf — Thrifted
Mirrors, Pressed Flowers — Thrifted
Framed Painting — Family hand-me-down
BATHROOM:
Wire Shelf — Estate Sale
Wall Shelves — IKEA
Toilet Seat — eBay
Wall Art — All thrifted
Shower Curtain — Urban Outfitters
Bath mat — Target
BEDROOM:
Bed frame — Wayfair
Rug — Overstock
Highboy and Dresser — River Market Antiques
Rocking Chair — Reupholstery Project of my mom's in the '80s
Crib — DaVinci Jenny Lind
Side Tables — Craigslist
Bedside Lamps — Target
Bookshelf — Thrifted
Small Lamps — Thrifted
Gold Wire Shelf — River Market Antiques
Audubon Prints — River Market Antiques
Framed Rose Oil Painting — Family hand-me-down
Other Wall Art — Thrifted
OFFICE:
Rug — Oriental Weavers at Nebraska Furniture Mart
Desk — Nebraska Furniture Mart
Chair — Nebraska Furniture Mart
Bench, Table — Thrifted
File Cabinet — Yard sale
Small Dresser — Hand-me-down from grandma
Round Mirror — Target
Ear Acupuncture Print — River Market Antiques
Bunny on Moon Print — Original Print from a studio visited in Cienfuego, Cuba
KITCHEN:
Buffet — Family hand-me-down
Side Chair — Thrifted
Blanket — Target
Cushion — Thrifted
Posters and Chalkboard — Thrifted
School Media Cart — River Market Antiques
Thanks, Carly!
---
Apartment Therapy supports our readers with carefully chosen product recommendations to improve life at home. You support us through our independently chosen links, many of which earn us a commission.